A Robot Tax is a Bad Idea: Automation Actually Saves and Creates Jobs
Despite what you might have heard, robots save and create jobs. Those who claim otherwise are presenting a misleading picture of the important role automation technologies play in the American economy.
Bill de Blasio, New York City mayor and candidate for the 2020 Democratic presidential nomination, is one of several politicians trying to reach the voters by continuing this false narrative. In the opinion piece Wired posted Sept. 5, "Why American Workers Need to Be Protected From Automation," de Blasio claimed the "impact on working people in America and across the world, unless corralled, will be devastating" and said if elected president, he'd issue a robot tax for corporations displacing humans and establish a federal agency to oversee automation.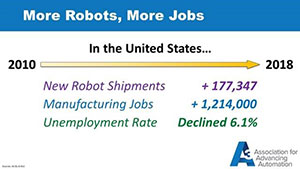 The arguments for both of these ideas are highly flawed. For starters, factory workers – and the companies they work for – are benefitting from automation today, and will benefit even more in the future. Our research shows that across the past 22 years, in every period that robot sales went up, unemployment in the U.S. went down. Conversely, when robot sales went down, unemployment went up. During the greatest period of expansion of robot use in America – from 2010 to today – around 180,000 robots have been shipped to American companies, and more than 1.2 million new manufacturing jobs were created. Unemployment has dropped from almost 10% to under 4%. Robots don't look or act like job killers because they are job creators.
The Real Threat to Jobs – Companies Who Can No Longer Compete
When companies can no longer compete in the world marketplace, all jobs are at risk. Over the past 25 years, many American manufacturers found themselves unable to compete with the lower costs and higher productivity of foreign companies, so they closed their doors or moved manufacturing operations and jobs to other countries.
We're seeing some of these jobs come back, thanks to automation. Many companies are using automation and robotics to make sure they never need to ship jobs overseas in the first place.
Vickers Engineering Inc, is a clear example of company benefitting from automation. The New Troy, Michigan-based auto parts manufacturer purchased its first robot from FANUC in 2006 to help grow its auto part manufacturing business and now has 37 robots. According to Matt Tyler, the company's CEO and owner, "We couldn't compete globally due to costs, and it was difficult to get employees to do certain jobs anyway, so for us to grow our business we needed to get involved in automation." Over the last 10 years, Vickers has grown significantly, with its employee headcount increasing from 170 to 190 employees. And instead of jobs requiring simple, manual and undesirable tasks, more require technical skills such as machine programming and design.
Vickers also improved productivity, raised quality, lowered costs, and won new business, all while providing safer, better, higher-paying jobs. "Automation made our environment safer while bringing young people into the business," Tyler said. "It brought back a lot of jobs that were overseas and created more jobs here."
The American Workforce Shortage & The Automation Opportunity
As Vickers shows, a big driver of automation is that companies can't find enough people to do a lot of necessary jobs, especially dull, dirty, and dangerous jobs.
According to a recent study by Deloitte and The Manufacturing Institute, more than 2.4 million manufacturing jobs are expected to remain unfilled in the manufacturing space by 2028. And with the Future of Jobs Report 2018 from the World Economic Forum projecting 133 million jobs will be created with automation, with only 75 million at risk of being eliminated, there will be a ton of jobs to fill.
Unfortunately, 80 percent of manufacturers report a shortage of qualified applicants for skilled production positions, and the shortage could cost U.S. manufacturers 11 percent of their annual earnings. This "skills gap" is a real problem that needs to be addressed. In the robotics industry, the highest skills in demand are those that can be learned at technical schools and community colleges, with even entry-level, automation-age manufacturing jobs starting at $20 per hour with a high school diploma and a few months of training and professional certification.
As in previous industrial revolutions, we know new, even previously unheard of, jobs will rise from innovation in automation, and the range of opportunities is already huge. These opportunities include the need for the engineers, the technicians, AI specialists, and workers with trade skills to help companies deploy automation solutions and make sure they are performing accurately. To fill these jobs, and other yet to come, we need advocates for STEM-based education initiatives, and we need to develop public-private partnerships around worker re-training, apprenticeships, and manufacturing certification programs.
We need to prepare for change and embrace it, not stand it in its way.
No Robot Tax
This brings me to de Blasio's proposal to close tax loopholes for companies investing in robots and actually tax large companies that eliminate jobs without guaranteeing a replacement. As Robert Atkinson, the president of the Information Technology and Innovation Foundation, shared back in April, arguments for this "robot tax" are "uniformly flawed," with a similar proposal already failing in the European Union in 2017.
As Atkinson explained, the arguments "arise from and contribute to an unwarranted techno-panic, and if implemented would slow GDP and wage growth." In addition, reducing the incentive for companies to invest in new machinery and equipment is the "last thing policymakers should do," and instead suggests that "to ensure strong growth, Congress should at minimum make first-year expensing permanent and, ideally, enact an investment tax credit," Atkins said.
This robot tax will simply stand in the way of growth in the U.S. We're sixth in the world in robot adoption – a metric that measures how many robots per 10,000 manufacturing workers. Other countries like China, the world's largest robot user, continue to spend big. In fact, China plans to invest $300 billion in manufacturing and automation technologies under its "Made in China 2025" initiative. In Europe, a public private partnership headed by the European Commission plans to fund more than 100 collaborative projects on research into robotics, with $700 million in funding through 2020 from the Commission, and triple that from European industry.
In the U.S., the slow rate of automation adoption – and any "robot tax" – will hamper the ability of our companies to compete.
It won't be robots that take jobs away, but it might very well be the lack of robots that costs the American worker.