A Record Crowd Visits ABB Technology Days to Learn About Robotic Technology for a Wide Range of Industrial Applications
Two-day event at ABB's Auburn Hills, MI training facility featured live, on-floor demonstrations and seminars from ABB Robotics and outside technology partners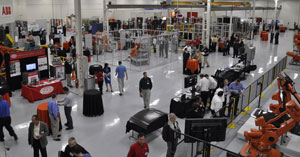 AUBURN HILLS, Mich. – ABB Robotics hosted over 1,100 people at its annual Technology Days held April 21st & 22nd, 2010 at its North American headquarters and training center in Auburn Hills, Michigan. The record attendance for the event included current and potential customers, system integrator partners, technology equipment partners, members of the media, and for the Thursday Open House, a steady crowd of industrial robot enthusiasts of all ages. The 55,000 sq ft exhibit floor included over 40 live robot related demonstrations from ABB and over a dozen peripheral equipment technology partners. Featured were the latest in robotic technology specific to a wide range of applications including metal fabrication and welding, picking, packing and palletizing, machine tending, assembly, and painting; as well as numerous product, software and control advancements that will enhance the full swath of general industrial applications.

On Wednesday, the day dedicated to current and prospective customers, a roster of ABB and technology partner experts presented over 30 seminars and tutorials on general and application specific advancements in industrial robotic technology. This provided a great opportunity for industry professionals to gain first hand intelligence and network with their peers in the industrial robotic, motion, control and automation industries. In addition to customers, the Thursday open house was attended by friends, family, youth organizations and students, many of whom were exposed to the agility, strength and versatility of industrial robots for the first time.

"ABB Technology Days 2010 exceeded our expectations on all counts", noted Joe Campbell, vice president sales and marketing for ABB Robotics, North America. "We hosted automation and manufacturing professionals from Los Angeles to Boston, and from Canada to Mexico. The interest in improving all aspects of manufacturing with robotics was impressive."
Campbell also commented on a notable visitor, Oakland County Executive L. Brooks Patterson.
"We were proud to host Mr. Patterson and Mr. Phil Bertolini from the Oakland County Executive's Office. We were even more proud that we demonstrated automation solutions for six of the top ten sectors in Oakland County's Emerging Sectors initiative, including Aerospace, Alternative Energy and Power Generation, Defense & Homeland Security, Entertainment, and of course, Robotics and Automation." ABB's Auburn Hills facility is located in Oakland County, Michigan.

New for 2010 was the presence of ABB Automation Products Rolling Road Show, a 45 ft long, 60,000 lb expandable trailer will be in the parking lot featuring an array of product and service solutions from the Drives, Low Voltage Products, and Low Voltage Motors business units. Also outside the facility was a mobile robot concept vehicle currently under development for potential military and other applications.

About ABB, Inc.
ABB (www.abb.com) is a leader in power and automation technologies that enable utility and industry customers to improve their performance while lowering environmental impact. The ABB Group of companies operates in around 100 countries and employs about 117,000 people.

About ABB Robotics
ABB Robotics (www.abb.com/robotics) is a leading supplier of industrial robots – also providing robot software, peripheral equipment, modular manufacturing cells and service for tasks such as welding, handling, assembly, painting and finishing, picking, packing, palletizing and machine tending. Key markets include automotive, plastics, metal fabrication, foundry, electronics, pharmaceutical and food and beverage industries. A strong customer focus helps manufacturers improve productivity, product quality and worker safety. ABB has installed more than 160,000 robots worldwide.


For more information, please contact:
Alex Miller
AE Miller Group, Inc.
Agency for ABB
262- 236-3710