A New Technology to Simplify Welding Robot Teaching from Robotiq and Yaskawa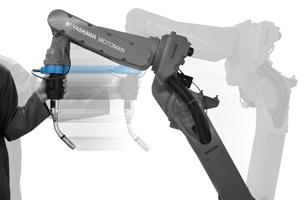 Quebec, Canada / Dayton, OH — Robotiq, in partnership with Yaskawa Motoman, releases Kinetiq Teaching™– a new technology to quickly and easily task welding robots without requiring in-depth programming knowledge.

Kinetiq Teaching enables job shops to easily implement robotic welding with simplified teaching and reduced set-up times by allowing operators to guide the robot by hand to desired weld positions. An icon-based menu is presented on the teach pendant's color touch screen to allow the operator to define the task. Programming time is greatly reduced with the more intuitive manual positioning. The Graphic User Interface allows robot programming to be performed with minimal training.

The Kinetiq Teaching system is being introduced on an ArcWorld® robotic welding workcell at FABTECH (November 18-21, Chicago, IL) in Yaskawa Motoman's booth (N818) and Robotiq's booth (N1871). The single station AWC-50 workcell with Kinetiq Teaching is a complete, economical solution that job shops can quickly install and start producing parts.

"Kinetiq Teaching has been designed to leverage the knowledge of welders. It enables them to move the robot welder with their hands and intuitively program welding paths by using a dedicated user-friendly teach pendant interface. No in-depth programming knowledge is required," says Samuel Bouchard, President of Robotiq.

"Major challenges of robotic welding in manufacturing are related to the shortage of available welders and the difficulty of achieving a compelling ROI for smaller companies. Kinetiq Teaching changes the equation, and manufacturing companies will be able to automate welding jobs by using only their in-house welding expertise. It opens the door to robotic welding at small and medium manufacturers, with high-mix and low-volume welding," says Chris Anderson, Welding Product Marketing Manager at Yaskawa Motoman.

With Kinetiq Teaching, the welder moves the robotic welding tip next to a workpiece by physically hand-guiding the robot. Once the welding point is reached, the welder determines the welding parameters through a touch screen interface. After all the points are recorded, the welder can playback the programmed trajectory and modify it on-the-fly. By doing so, experienced welders will be able to set welding jobs and oversee the productivity of more than one robotic welder at a time, or train less skilled operators to program the welding robot and act as a technical adviser and a quality assurance resource.

To watch a video of this application and get more information, visit www.robotiq.com/welding

About Robotiq
Robotiq makes tools for agile automation; flexible robot grippers to handle a wide variety of parts and a robotic teaching device that makes robot programming easier. Our goal is to enable all manufacturers — especially those dealing with a high mix of products — to take full advantage of robotics. Robotiq has sold products in more than 30 countries, through our global network of partners.

About Yaskawa Motoman
Founded in 1989, the Motoman Robotics Division of Yaskawa America, Inc. is a leading robotics company in the Americas. With over 270,000 Motoman® robots installed globally, Yaskawa provides automation products and solutions for virtually every industry and robotic application; including arc welding, assembly, coating, dispensing, material handling, material cutting, material removal, packaging, palletizing and spot welding. For more information, please visit our website at www.motoman.com or call 937.847.6200.