A How-To Guide: The End User's System Integrator Selection Process
For Robotics Week hosted by the Robotics Industry Association (RIA) in September 2020, AMT's Chief Operating Officer Craig Salvalaggio hosted a workshop on how to select the right system integrator partner for your project. With nearly two decades of experience at AMT in all levels of the organization, Craig is in a unique position to offer end users critical advice on selecting a best-fit partner.
Whether you're an experienced automation user or considering automation for the first time, following a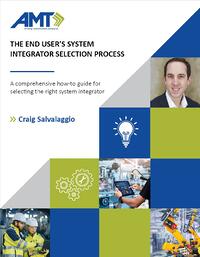 documented process when selecting a systems integrator partner will help you make a best-fit choice to ensure project success.
This informational article will provide you with:
Download to read the full eBook on our website.