5MP Industrial Camera Combines PoE Simplicity with Ultra-Compact Dimensions
WOB

URN, MA -- IDS GmbH, a global leader in machine vision technology, today announced the UI-5480CP industrial camera offering a five megapixel 1/2-inch CMOS sensor, Power Over Gigabit Ethernet (PoE), and 14 frame-per-second image capture at its highest resolution of 2560 x 1920.

At just 29 x 29 x 41 mm, this camera is one of the smallest models to feature PoE technology, which can supply the camera's power via the data cable.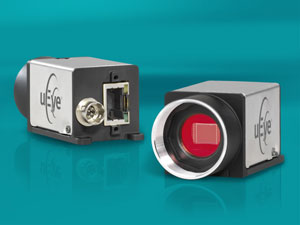 "The name of the latest member of the uEye family says it all: CP stands for Compact and Power over Ethernet," explained Daniel Seiler, Business Development Manager for IDS. "The UI-5480CP combines the simplicity of USB with the performance of GigE. It is connected with just one cable and offers true plug-and-play ease of use."

For users of analog cameras, the UI-5480CP is an optimal alternative - it combines all of the advantages of digital technology in the popular housing size of analog models. It also makes the most of its advantages in the industrial environment: the robust magnesium housing and screw-on connectors, as well as optically decoupled inputs and outputs, make this the perfect camera for any machine vision task. Other features include rolling and global start shutter and an external 12-24V power supply for those applications not requiring PoE. The camera has a C-mount for lenses plus offers a host of different filter types (IR, daylight-cut filter or glass).

The UI-5480CP, like all other uEye camera models from IDS, comes complete with the powerful, tried-and-tested uEye software package. Thanks to its automatic configuration capability, it can also be used with the GigE interface immediately, while software tools like Camera Manager and uEye Demo facilitate quick camera integration.

ABOUT IDS GmbH
IDS GmbH is a leading manufacturer of digital industrial cameras and frame grabbers. The company was founded by Jürgen Hartmann and Armin Vogt in 1997. Their mission then and now is to develop, manufacture and distribute industrial grade imaging components with an excellent price/performance ratio and maximum ease of use. IDS GmbH is internationally represented by a subsidiary in the USA and through a network of distributors in almost all European and Asian countries. About half of IDS employees are engineers in hardware and software development as well as applications engineering. IDS customers include OEMs, system integrators and manufacturers in the industrial, security, scientific and medical industries. Over 200,000 IDS frame grabbers and 140,000 USB and GigE uEye cameras are in use worldwide today.