3-Finger Centric Gripper PZN+ 380 from SCHUNK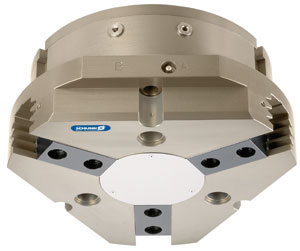 The proven PZN-plus series has been extended with the new size 380 to cope with the constantly increasing performance requirements. This series can be used with the handling of weights of up to 190 kg (420 lbs), making it perfect for the handling of heavy workpieces.
The multi-tooth guidance of the PZN-plus 3-finger centric gripper employs a large gripping force and high moment load capabilities. A wide range of different versions allows for universal use in areas with special requirements (temperature, chemicals, dirt, and many others.) This unique range of different versions means that a suitable gripper is available for most every application.
The new size PZN-plus 380 now expands this 3-jaw centric gripper family to 11 distinct sizes and allowing for grip forces up to 59,500N (13,400 lbf) as well as a stroke of almost 2 inches per jaw. With the other options like metallic dust covers and viton seals, the PZN-plus family is the broadest 3-jaw gripper on the market. This unique range and versions show that the PZN-plus grippers are able to handle almost any conceivable application.


Media Contact
Milton Guerry
President
SCHUNK Inc.
211 Kitty Hawk Drive
Morrisville, NC 27560
Phone: 919.572.2705
Fax: 919.572.2818