2012 Engelberger Robotics Awards to be Presented to Richard Litt and Martin Buehler
(An

n Arbor, Michigan) The robotics industry's highest honor, the Engelberger Robotics Award, will be presented to Richard Litt and Martin Buehler at a special ceremony on Thursday, August 30 in Taipei, Taiwan, during the 43rd International Symposium on Robotics (August 29-31, 2012).

The awards, named after the worldwide "father of robotics," Joseph F. Engelberger, are sponsored annually by the Robotic Industries Association (RIA), the industry's trade group. Each recipient will be presented a commemorative medallion and a $5,000 honorarium. Beginning with the initial presentation in 1977, 115 industry leaders from 16 nations have now been selected for this honor.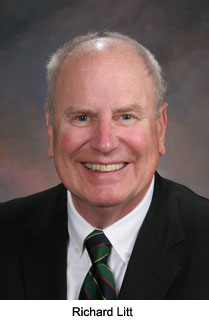 Richard Litt, founder and Chairman of Genesis Systems Group LLC, will be awarded the 2012 Engelberger Award for Leadership. Under Litt's guidance Genesis developed from a small welding supply firm to a global leader in robotic welding integration with more than 4,000 robots installed today. With a background in manufacturing engineering and welding, Litt was a pioneer in non-automotive robotic arc welding. He helped design and manufacture high speed, accurate, low cost auxiliary motion devices, workcell logic devices, robot-to-process equipment interfaces and safety interlocks needed for successful robotic welding workcells. "Prior to the early 1980s, non-automotive arc welding robotics was little more than a novelty," recalls Litt. "Today robotic arc welding cells are commonplace in general industry."

In 2008, Litt was elected the first Chairman of RIA to represent the system integrator community. As Chair, he helped create the RIA Certified Robot Integrator program that was officially launched in 2012 after more than two years of development.

He also expanded RIA's global outreach programs as well as its outreach to the academic community. As a result, RIA's membership rose significantly under his leadership.

"Rich has been a true force within the robotics industry for decades," said Jeff Burnstein, President of RIA. "He has helped mentor countless industry professionals, spawn new companies, strengthen end user application engineering groups, make RIA a more professional organization – he is truly deserving of the 2012 Engelberger Award."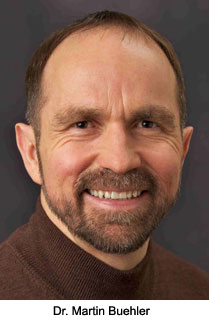 The 2012 Engelberger Award for Technology, recognizes Dr. Martin Buehler for over 20 years of industrial and academic contributions in developing advanced robotics technology. His expertise is in robot manipulation, mobile robots, and leading innovative R&D and product development organizations.

Buehler grew up in the rural Black Forest region of southern Germany and studied electrical engineering at the University of Karlsruhe. He received the Ph.D degree in electrical engineering from Yale University in 1990, and after a PostDoc at MIT's Leglab, he became a professor at McGill University in 1991, with tenure since 1997. His research focused on, dynamic grasping, direct drive motor control and legged robots. From 2003 to 2008 he was Director of Robotics at Boston Dynamics, and he was Director of Research at iRobot Corporation from 2008 to 2011. He is currently Vice President for Logistics Solutions at Vecna Technologies.

Buehler is best known in the academic world for his expertise in "intermittent dynamical" robotic tasks such as dynamic manipulation and dynamically stable legged locomotion. His research led to multiple breakthroughs in legged robot projects like BigDog and RHex. In the corporate world, Buehler's passion is to translate robotics technologies into successful product solutions, a calling he pursues at Vecna Technologies with the development of an autonomous hospital delivery robot, QC Bot.

"Martin Buehler's vast body of work has greatly accelerated technology advances in the robotics industry," Burnstein explained. "His insights have had an enormous impact and his solid record of accomplishment makes him an extremely worthy recipient of the 2012 Engelberger Award for Technology."

Founded in 1974, RIA's 290 member organizations include leading robot manufacturers, component suppliers, system integrators, end users, community colleges & universities, research groups, and consulting firms. RIA is best-known for developing the ANSI/RIA National Robot Safety Standard, collecting quarterly statistics on the North American robotics market, sponsoring the biennial Automate show and conference, hosting the annual Robotics Industry Forum, and producing Robotics Online, the world's leading resource for robotics information.

RIA is part of the Association for Advancing Automation (A3), formerly known as the Automation Technologies Council. Other associations under the A3 umbrella are AIA, an association for vision & imaging companies, and the Motion Control Association (MCA).

For more information on RIA, visit Robotics Online or contact RIA Headquarters at 734/994-6088.

Contact:
Jeff Burnstein
President
(734) 994-6088