2010 Engelberger Robotics Awards Presented to Heinz-Dieter Schunk and Scott W. Deming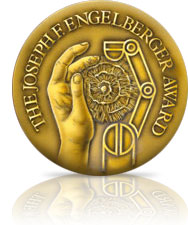 Munich, Germany — The robotic industry's highest honor, the Engelberger Robotics Award, was presented tonight to Heinz-Dieter Schunk, Schunk GmbH and Scott W. Deming, Corning Inc. during the 41st International Symposium on Robotics held here in conjunction with AUTOMATICA.
The awards are named after the "father of robotics," Joseph F. Engelberger. Each recipient was presented a commemorative medallion and a $5000 honorarium by Robotic Industries Association (RIA), the North American trade association that sponsors the annual award. Launched in 1977, the award has now been presented to 111 industry leaders from 16 nations.
"We are delighted to add Mr. Schunk and Mr. Deming to the list of industry leaders who have been honored with an Engelberger Award," said Jeff Burnstein, President of RIA. "Both men have spent more than 25 years in robotics and have accomplished a tremendous amount for our industry. Mr.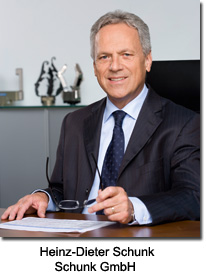 Schunk's innovations in gripper technology and Mr. Deming's successful applications at Corning have not only positively impacted their companies but also have served as an inspiration to other individuals and companies making and using robotics technology," Burnstein explained.
Heinz-Dieter Schunk, CEO, Schunk GmbH, who received the Engelberger Robotics Award for Leadership, developed a small garage business into an international leader in the development and manufacture of automation components. Today, from its modest founding in Lauffen, Germany, the company employs 1800 people in 23 countries. As CEO, his philosophy has been "only innovations will move a company forward." He has driven the company to continuously improve its core products, expand its product lines, and invest heavily in future technologies.
In presenting the award, RIA Chairman Dean Elkins of Motoman said of Mr. Schunk: "From grippers, to linear actuators, to three-finger multi-functional hands and light-weight arms, through innovation he has established himself as a true visionary in the automation industry. He has freely given back to the industry, the mark of a leader, by serving on the board of directors of the VDMA Robotics & Automation Group as well as other organizations."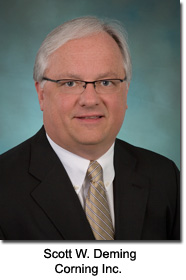 Scott Deming, Engineering Associate and Director of the Advanced Machine Systems Group with Advanced Enginering at Corning Incorporated, won the Engelberger Robotics Award for Application. He was a charter member of Corning's Robotics and Automation organization that was formed 25 years ago and implemented many of the company's first robotic systems. Among the robotic installations he's directed are CRT glass manufacturing, catalytic converter ceramic substrate manufacturing, LCD glass manufacturing, optical fiber manufacturing, and glass and ceramic consumer product manufacturing.
In presenting the award, Dean Elkins said: "Scott is a true champion for robotics at Corning, working with many divisions to implement innovative and sustainable high financial impact solutions into manufacturing. Like many other Engelberger Award winners, he also has found the time to share his knowledge, serving as a robotics instructor for Rochester Institute of Technology and an industrial advisor for Corning Community College and Alfred State College.
Until 2007, four awards were presented each year. Currently, there are just two awards, one for Leadership that is presented every year and the second for Application, Technology Development or Education (these categories rotate each year).
RIA is now accepting nominations for the 2011 Engelberger Robotics Awards, to be presented in Chicago, Illinois, USA during the 42nd International Symposium on Robotics and Automate 2011 Show, March 21-24 at McCormick Place. For more details about the award, or to submit a nomination, contact RIA Headquarters at 734-994-6088, or visit www.robotics.org.
About RIA
Founded in 1974, RIA is the only trade group in North America organized specifically to serve the robotics industry. Member companies include leading robot manufacturers, users, system integrators, component suppliers, research groups, and consulting firms. RIA co-produces the biennial Automate Show (formerly International Robots, Vision & Motion Control Show) plus many regional events, and is secretariat of the ANSI/RIA R15.06-1999 Robot Safety Standard. RIA is the sole source of North American robotics industry statistics which are included in the World Robot Statistics published by the International Federation of Robotics. RIA also is publisher of the industry's leading Web portal, Robotics Online (www.robotics.org).
Contact:
Jeff Burnstein
734-994-6088