2008 Engelberger Robotics Awards Honor Industry Veterans From South Korea and Belgium
Ann Arbor, Michigan - The 2008 Engelberger Robotics Award, the industry's highest honor, was presented to two industry veterans at the 39th International Symposium on Robotics in Seoul, Korea on October 16, 2008.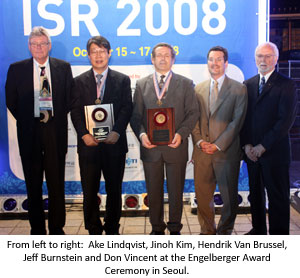 Dr. Jin Oh Kim of South Korea's Kwangwoon University received the award for Leadership, honoring his accomplishments during more than two decades in robotics. During the 1990s, as principal engineer of robot research & development at Samsung Electronics, he helped develop new robots for tasks such as welding and clean room applications. In 1999 he became the founder and Director of Planning for the Korea Association of Robotics, the first such group in South Korea. Since then he has been extremely active in government and industry groups and currently chairs the Korea Robot Forum. This group has taken a lead role in spreading the promotion of robotics use throughout Korea, where the government views robotics as an important emerging industry. Additionally, he founded a robotics company that has helped apply more than 3000 robots, helped develop the first robot technology qualification test in Korea, and is active in developing international robotics standards.
Dr. Hendrik Van Brussel of Belgium's Katholieke Universiteit Leuven received the Engelberger award for Education. During his nearly four decades in robotics as a researcher and teacher, as well as a lecturer at conferences throughout the world, he has helped educate thousands of students and researchers on robotics and automation issues such as systems theory; electronics, sensors, and measurement systems; flexible manufacturing systems; mechatronic drive systems; and precision engineering. Additionally, he has supervised student doctoral work on topics such as force feedback in robot assembly, vision assisted tracking, design and control of a multi-fingered robot hand, graphical simulation of sensor controlled robots, model-based offline programming, neural learning, and telesurgical robot systems. For the past decade, he has focused his research and teaching on service robotics including projects on intelligent wheelchairs and medical robotics.
"This year's winners are outstanding role models for everyone who wishes to pursue robotics as a career," said Jeffrey A. Burnstein, Executive Vice President, Robotic Industries Association (RIA), the North American trade group that sponsors the Engelberger Robotics Award program. "They have dedicated themselves to advancing the science of robotics technology as well as helping spread the use of robotics throughout industry and into new non-industrial application areas. The worldwide robotics community continues to benefit greatly from their efforts," Burnstein commented.
RIA has presented the Engelberger Robotics Award annually since 1977. A total of 107 recipients from 16 countries have now been honored. The award is named after Joseph F. Engelberger, regarded throughout the world as the "father of robotics." The 2008 winners received a commemorative medallion and a $5000 honorarium.
Founded in 1974, RIA represents some 280 member companies including leading robot manufacturers, system integrators, component suppliers, end users, consulting firms, research organizations, and universities. The association is best known for activities such as sponsoring the biennial International Robots, Vision & Motion Control show (next event June 2009 in Chicago), developing the American national robot safety standard, and hosting the world's leading robotics website, Robotics Online (www.robotics.org).
RIA is now accepting nominations for the 2009 Engelberger Robotics Awards to be presented in Barcelona, Spain, during the 40th International Symposium on Robotics in March, 2009. For more details on the award program, or to submit a nomination, contact RIA Headquarters at 734/994-6088 or visit the Robotics Online website at www.robotics.org.