20 Years of Baumer Machine Vision: Two Decades of Innovation and Passion for Our Customers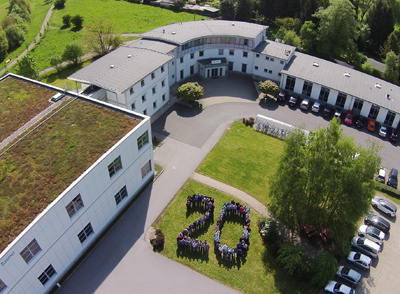 This November, Baumer Optronic GmbH in Radeberg will celebrate its 20th anniversary. Founded in the 1990s by Dr. Oliver Vietze who at that time was pioneering in the field of CMOS image sensor research, under his aegis the former locally-acting company with an initial team of 35 employees has evolved to the present 147-person Vision Competence Center of the Baumer Group and a global player in the field of industrial image processing.
"Our high-performance industrial cameras and intuitive vision sensors are successfully deployed in various industries and thousands of applications around the world. Our customer satisfaction is based on products renowned for the highest quality, precision and reliability," says Dr. Albert Schmidt, Managing Director of Baumer Optronic GmbH, when being asked to summarize the company's success factors. Whether used as eyes for robots, to ensure product traceability in the pharmaceutical industry or when checking best-before dates on food packaging – sophisticated, well-thought and innovative Baumer products are made to meet market and customer needs thanks to 20 years of know-how and industry expertise. Where standard products hit their limits, Baumer is a level above – from customer-specific components on to tailored OEM products with optimum price-performance ratio. "With this attitude, Baumer Optronic has evolved from a digital imaging pioneer to a global manufacturer of high-quality industrial cameras and vision sensors who all by itself and own power shaped technology trends over the past two decades," explains Dr. Oliver Vietze, who today is the CEO & Chairman of the Baumer Group. He adds: "This clearly reflects the innovative power, efficient teamwork and passionate commitment of all Baumer employees."
As the Vision Competence Center of the Baumer Group, Baumer Optronic develops and manufactures industrial cameras and vision sensors to support customers in their applications with cross-industry solutions. The robust CMOS and CCD cameras hedge high customer investments in process automation with cutting-edge sensor technologies, resolutions from VGA to 48 megapixels and frame rates of up to 891 fps. VeriSens vision sensors excel through intuitive operation as well as easy and quick integration and are an ideal image-based solution for complex tasks in process control without the need of an additional PC.
About Baumer Group
The Baumer Group is one of the worldwide leading manufacturers of sensors, encoders, measuring instruments and components for automated image processing. Baumer combines innovative technologies and customer-oriented service into intelligent solutions for factory and process automation and offers an unrivalled wide technology and product portfolio. With around 2,400 employees and 38 subsidiaries in 19 countries, the family-owned group of companies is always close to the customer. Baumer provides clients in most diverse industries with vital benefits and measurable added value by worldwide consistent high quality standards and outstanding innovative potential.