2.8-Megapixel CCD Camera from JAI with a CoaXPress Interface
v>JAI's Elite EL-2800 2.8 megapixel CCD cameras now available with CoaXPress interface

COPENHAGEN – JAI's new Elite EL-2800 industrial CCD cameras are now available with a CoaXPress digital interface. The new models – named EL-2800M-CXP (Monochrome version) and EL-2800C-CXP (color version) are equipped with a single CoaXPress connector supporting cable lengths up to 169 meters.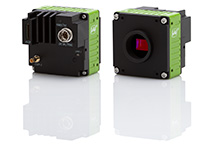 Just like the recently introduced EL-2800 cameras with Power over Camera Link interface, the two new EL-2800 camera models are based on the Sony ICX674 sensor with EXview HAD CCD II technology and designed for applications where image quality is paramount.

The EL-2800 cameras features high sensitivity, improved NIR response, reduced smear, higher quantum efficiency and excellent image uniformity while minimizing shutter leakage and readout noise for increased image quality.
They deliver 2.8-megapixel resolution (1920 x 1440 pixels), at 54.7 frames/s, currently making them the fastest industrial cameras on the market with this type of sensor.
Featuring Automatic Level Control (ALC), P-iris control and a programmable 3-axis motorized control capability, the cameras are well suited in outdoor applications with changing lighting conditions such as in traffic imaging, high-end surveillance and sports imaging.
The cameras are also suitable for semiconductor inspection, microscopy, and ophthalmology, plus other areas where high dynamic range, maximum image quality and high light sensitivity are key requirements.
Both cameras have a single CoaXPress connector providing the possibility to apply longer cables compared to other standard interfaces, such as Camera Link and USB3 Vision.
The EL-2800-CXP cameras can handle up to 169 meter long cables running at 54.7 frames/s in 8-bit, 10-bit or 12-bit monochrome and color output. For the 3 x 8 (24-bit) RGB output, the cable length can be up to 68 meters running at 54.7 frames/s in quad-tap mode. If the cameras are used with 24-bit RGB output and the frame rate is set at 27 frames/s or below, the cable length can be increased to 169 meters.
Both monochrome and color models feature fixed or variable partial scanning modes for increased frame rates, multiple trigger modes, a 256-point look-up table, and more. The monochrome model (EL-2800M-CXP) offers excellent NIR sensitivity and supports 1 x 2, 2 x 1, or 2 x 2 binning modes for even greater sensitivity.
The Elite series cameras offer a robust design and high MTBF for low cost of ownership.
Dimensions are (HxWxL): 62 x 62 x 55.5 mm
About the JAI Group
JAI is a manufacturer of high quality, industrial-grade cameras for the traffic imaging, machine vision, and life science imaging applications.
JAI's traffic solutions group is one of the world's leading manufacturers of specialized traffic systems. The solutions are based on JAI-developed hardware and software, which is often integrated with third-party products.
In addition to traffic imaging solutions, JAI's broad product line features high performance progressive scan CCD and CMOS cameras with spatial resolutions from VGA to 20 megapixels; traditional interlaced video cameras; intensified cameras with sensitivity to light levels as low as .00001 lux, and a range of innovative multi-imager prism-block cameras including both area scan and line scan models.
JAI cameras help improve customer businesses in a variety of ways, whether by improving traffic flow, catching traffic violators, providing safer traffic or improving the quality and accuracy in industrial processes increasing product quality and processing yields as well as lowering production costs.