2.3 MP Blackfly Camera Features the New Sony IMX249 Pregius® Global Shutter CMOS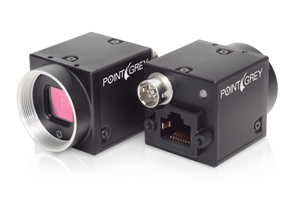 Point Grey, a global leader in the design and manufacturing of innovative, high-performance digital cameras, today announced the addition of a new 2.3 megapixel Sony Pregius global shutter CMOS model to its Blackfly family of GigE Vision™ cameras.

The latest Blackfly BFLY-PGE-23S6 camera models are based on color and monochrome versions of the new Sony IMX249, a 1/1.2" global shutter CMOS sensor capable of streaming 1920 x 1200 resolution images at 41 FPS. This sensor combines Sony Exmor® and Pregius technology to provide exceptional imaging performance. The Exmor technology brings high-speed performance of Sony CMOS, while the Pregius technology uses an innovative analog memory pixel design that enables global shutter and low read noise.

The new IMX249 sensor offers the same optical format, pixel size and imaging performance as the Sony IMX174, and supports many features required for industrial, scientific and traffic applications, such as high-speed triggering and region of interest (ROI) functionality.
The Blackfly supports cable lengths of up to 100 meters using Gigabit Ethernet, is compatible with third-party imaging libraries via the GigE Vision standard and provides a host of features including Power over Ethernet, temperature and status monitoring, in-field updatable firmware, color interpolation, look up table, gamma correction, pixel binning functionality, and much more.
"We're very excited about the expansion of Sony's global shutter CMOS sensor line-up", says Michael Gibbons, Director of Sales and Marketing at Point Grey. "We've seen huge success with the Sony IMX174 in the Grasshopper3 GigE and USB3 Vision cameras. The IMX249 offers the same impressive imaging performance as the higher-speed IMX174, but at much lower cost, making this new Blackfly model the ideal combination of imaging performance, compact size and unbeatable price".
The BFLY-PGE-23S6 is list priced at $495/€379 and is available to order now from Point Grey, its network of distributors, and the online store (for North American, Australian, and EU customers).