12-COM-Port Fanless Embedded Computers, MXE-1200
rong>Based on the Intel® Atom™ N270 1.6 GHz processor, designed specifically for intelligent transportation and home security applications

San Jose, CA – ADLINK Technology, Inc., a leading global provider of trusted embedded products, announced the release of the MXE-1200, an industrial and rich I/O fanless embedded computer with enhanced RF functions and LVDS and VGA dual display geared specifically for versatile applications such as intelligent transportation, factory automation, home security, environmental monitoring, and research. The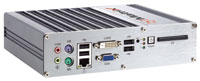 MXE-1200 retains all the optimal advantages of the ADLINK Matrix series, including a rugged fanless operation from -20°C to 70°C, 5 Grms vibration resistance, an Ethernet port, and 6-36 VDC wide range power input.

The MXE-1200 series is a compact-size 210 mm (W) x 170 mm (D) x 54 mm (H) I/O platform and suitable for operating in a relatively limited storage space. The cable-free architecture and wide temperature range of the MXE-1200 greatly benefits customers who require compact and reliable computing solutions and a lower maintenance cost of systems.



Featuring Rich I/O and RF support, two of the 12 COM ports can be configured to RS-232, RS-422 or RS-485 via a BIOS setting. The remaining COM ports are either RS-232 (MXE-1212/232), RS-422 (MXE-1212/422), or RS-485 (MXE-1212/485). The MXE-1200 series also includes with a mini-PCIe socket, a USIM socket, and a pre-installed SMA-to-IPEX antenna cable to support expansion of wireless communication capabilities. The MXE-1200 is designed to perfectly communicate with external devices which greatly benefits many applications such as toll gate controllers (RS-232), automatic fare collection systems (RS-232), and smart grids (RS-422/485).

For more information on the ADLINK Matrix series, please visit http://www.adlinktech.com/fanless_embedded_computer/index.html.

Pricing and Availability
The MXE-1200 is currently available. Single quantity pricing starts at $828.

About ADLINK Technology
ADLINK Technology provides a wide range of embedded computing products and services to the test & measurement, automation & process control, gaming, communications, medical, network security, and transportation industries. ADLINK products include PCI Express®-based data acquisition and I/O; vision and motion control; and AdvancedTCA, CompactPCI, and Computer-on-Modules (COMs) for industrial computing. With the acquisition of Ampro Computers, Inc., ADLINK also provides a wide range of Extreme Rugged and Rugged Single Board Computers, Computer-on-Modules and Systems under the brand name Ampro by ADLINK. ADLINK strives to minimize the total cost of ownership (TCO) of its customers by providing customization and system integration services, maintaining low manufacturing costs, and extending the lifecycle of its products. ADLINK is a global company with headquarters and manufacturing in Taiwan; R&D and integration in Taiwan, China, and the US; and an extensive network of worldwide sales and support offices.

ADLINK is ISO-9001, ISO-14001, ISO-13485, and TL9000 certified, is an Associate Member of the Intel® Embedded Alliance, an Executive Member of PICMG, a Sponsor Member of the PXI Systems Alliance, and a Member of the AXIe Consortium. ADLINK is a publicly traded company listed on the TAIEX Taiwan Stock Exchange (stock code: 6166).
Embedded Vision
This content is part of the Embedded Vision curated collection. To learn more about Embedded Vision,
click here
.