10,000 COMAU Robots Controlled by B&R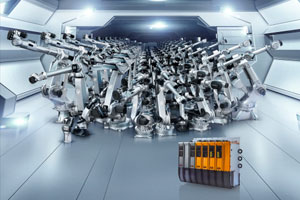 Comau and B&R celebrate a productive partnership with a promising future
As the collaboration between COMAU Robotics and B&R continues to mature and expand, the companies can already boast ten thousand units installed and operating all around the globe. This achievement underscores the quality of COMAU products, which rely on powerful, accurate and reliable control electronics from automation specialist B&R.
The two companies have been working for years to revolutionize the integration of robotics into production lines. OEMs and end users benefit from excellent synchronization and the resulting responsiveness of the combined system.
"This is the concrete result of an intense collaboration that has allowed both companies to become key players in the market, with the aim to continuously improve in technologies and grow in new market sectors," says Tobias Daniel, Head of Robotics Europe and Americas at COMAU.
"We are pleased to say that this cooperation is yielding tangible results on a growing market," says Walter Burgstaller, B&R's European sales director. "More and more companies are looking to robotics as a means to optimize production and respond to the ever increasing flexibility and complexity of their plants."
B&R company profile
As a global leader in industrial automation, B&R combines state-of-the-art technology with advanced engineering to provide customers in virtually every industry with complete solutions for machine and process automation, motion control, HMI and integrated safety technology. With industrial fieldbus communication standards like POWERLINK and openSAFETY as well as the powerful Automation Studio software development environment, B&R is constantly redefining the future of automation engineering.
B&R Industrial Automation, Inc. North America, based in Atlanta, GA, has been working closely with its customers since 1987. Since then, B&R North America has continuously grown as a sales and support organization through both direct sales offices and B&R's unique Automation Partner distribution network. Today, B&R North America has a network of more than 25 offices throughout the USA and Canada and is there for its customers locally.
Company Contact
Yvonne Eich - Marketing Communications Manager
Tel: +1 (770) 772-0400 - 3242