1-Q-EC Amplifier DEC Module 24/2
Compact speed controller for brushless DC motors with Hall Sensors.

The DEC Module 24/2, a digital 1-quadrant amplifier with speed controller for brushless EC motors with Hall Sensors up to 48 Watt and a surface area measuring less than 5 cm2.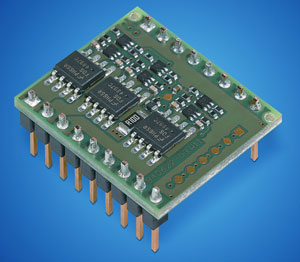 Maxon's DEC module 24/2 is a well-priced, miniaturized, powerful plug-in module that can be seamlessly integrated into most complex applications with little effort. The wide supply voltage range of 8-24 VDC (alternatively 5 VDC) and a continuous output current of 2A, permits flexible multifunctional operation at a high efficiency factor. The amplifier offers a large number of inputs and outputs (such as enabling, speed ranges, direction of rotation presetting, current limiting, operational status) and comprehensive protection features (such as over-current, undervoltage/overvoltage, thermal overload, blockage and short circuit).

The amplifier is also designed for a maximum motor speed of 80,000 rpm.

Two connector arrays arranged in a 2.54 mm (0.1") pattern support easy connectivity and integration into the OEM-side motherboard. A comprehensive Motherboard Design Guide to assist OEM's in their circuit board design as well as a detailed Evaluation Board for the use during initial starting up is available at our website.
Download all-inclusive operating manual (including Motherboard Design Guide) at www.maxonmotorusa.com.