1.3Mpixel, Mil-Hardened 1280 x 1024 Shortwave Infrared (SWIR) Camera
High sensitivity, lightweight and compact 60Hz SWIR camera – ideal for UAS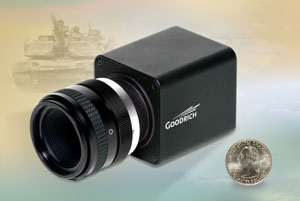 PRINCETON, NJ – Sensors Unlimited - Goodrich ISR Systems introduces a 1.3 Mpixel, indium gallium arsenide (InGaAs) video camera, the GA-1280J-15A, offering the highest sensitivity available in a military-hardened NIR-SWIR camera. The new, high-resolution J-Series SWIR camera features 1280 x 1024 pixels, with 15μm pitch and 60Hz full frame rate. Compact (less than 4.3 cubic in.) and lightweight (less than 125g), the camera easily fits on board most unmanned aerial or ground vehicle systems, hand-held, and mobile surveillance systems. For added convenience, the camera is also available in an OEM model which can be integrated into higher level systems.

The uncooled SWIR camera is available in two versions: one operates in the shortwave infrared from 0.9 µm to 1.7 µm spectral range; the other offers extended NIR-SWIR range from 0.7 µm to 1.7 µm. The cameras, which have no mechanical shutters, can image through fog, smoke, haze, or dusty conditions. From low-light to daylight, the ruggedized, solid-state SWIR cameras are ideal for persistent surveillance and other military, aerospace, and marine operations. Both OEM camera models integrate easily into existing gimbaled or handheld imaging systems, enabling visual verification of laser location and imaging during thermal crossover – the hours of sunrise and sunset – when the performance of traditional thermal imaging systems is degraded.

According to Dr. John Trezza, Vice President for Force Protection, Goodrich's ISR Systems' Princeton team, "The Goodrich high-resolution SWIR camera revolutionizes the SWIR imaging market with a 1.3Mpixel imager at 15μm pitch, demonstrating Goodrich's continued leadership in the SWIR marketplace. Combined with Goodrich's InGaAs detectors, which offer the lowest dark current in the industry, this new camera opens up many new applications where high resolution and sensitivity in the SWIR are critical."

The J-series SWIR camera features include on-board automatic gain control (AGC) and built-in non-uniformity corrections (NUCs). The internal circuitry of the ROIC and the dynamic range processing on board the camera address the challenges of urban night imaging without blooming. Camera Link® digital output provides intuitive plug-and-play video operation with high quality 12-bit images for digital image processing or transmission.

Goodrich will premier the new GA-1280J-15A SWIR camera at SPIE's Defense, Security and Sensing (DSS) exhibition from April 25-29, 2011 at the Orlando World Center Marriott Resort and Convention Center, Orlando, FL. For more information, please stop by Goodrich's booth #723 for a demonstration.

Sensors Unlimited-Goodrich ISR Systems, based in Princeton, NJ, has pioneered the design and production of NIR and SWIR cameras and systems utilizing advanced indium gallium arsenide (InGaAs) imaging technology for industrial, commercial, military, agricultural, and scientific markets. For additional information on InGaAs-based shortwave infrared imaging detectors, arrays, and systems, please visit www.sensorsinc.com.

Goodrich Corporation, a Fortune 500 company, is a global supplier of systems and services to aerospace, defense and homeland security markets. With one of the most strategically diversified portfolios of products in the industry, Goodrich serves a global customer base with significant worldwide manufacturing and service facilities. For more information, visit www.goodrich.com.