MoviTHERM Scheduled to Speak at the Automate 2022 Show

IRVINE, Calif., June, 01, 2022 – MoviTHERM is scheduled to speak at the Automate 2022 show. David Bursell, VP of Business Development, will lead the presentation by speaking on the topic of "How Thermal Imaging with IIoT is Advancing Industrial Fire Detection".
For the last 10 years, MoviTHERM engineers have been working on a solution for the reoccurring issue of fire outbreaks in industrial environments. Only recently have they discovered the advantages of combining IoT with thermal imaging cameras.
"I am looking forward to attending and participating in the Automate show this year. Especially since we have been in a lockdown environment over the past couple of years, I'm sure there will be much new technology to see, including our moviTHERM iEFD fire detection solution that I will be presenting on." – David Bursell, Vice President of Business Development, MoviTHERM
IIoT-based early fire detection systems can improve emergency planning by using algorithms and analytics to help quickly prepare evacuation plans. Analytics can consider the number of people in the facility, fire location, and the rate at which a fire develops to better improve evacuation plans. Analytics-based evacuation plans can prevent congestion by guiding workers to different locations for optimum evacuation routing.
Some advantages of IIoT-based early fire detection systems include:
Detection of fire formation at the earliest stages.
Connecting multiple sensor types for optimized detection.
Cloud-based connectivity and computing minimize hardware requirements.
Lower installation and maintenance costs.
Fast and broad notification to keep workers out of harm's way.
Automatic software updates keep systems running optimally.
Capability to control external processes, alarms, and extinguishing systems.
By warning earlier on the pathway to ignition, industrial facility managers avert costly and potentially life-threatening fires before they are permitted to start and spread.
David Bursell is scheduled to speak Thursday, June 09 2022, from 2:30 pm to 3:15 pm.
You can find the show's conference agenda here.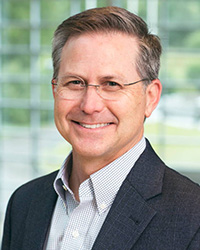 About David Bursell:
David C Bursell is passionate about imaging technologies. For over 23 years, he has been extensively involved with infrared imaging science. He has worked for imaging companies, including Inframetrics, FLIR Systems, and MoviTHERM, where he is currently the Vice President of Business Development. His education includes a BS in Mechanical Engineering from Brigham Young University and an MBA from Boston University. He has also studied Digital Marketing Analytics at the Massachusetts Institute of Technology. When not working with infrared cameras, David enjoys restoring old cars. A current project includes the restoration of a 1977 Toyota FJ40 Landcruiser.