ATI Industrial Automation's Multi-Axis Force/Torque Sensors Now Compatible with FANUC Robots
Seamless Integration with FANUC's Force Control Software Unlocks New Possibilities for Robotic Applications
Apex, NC, August 8, 2023 – ATI Industrial Automation, a leading provider of robotic tooling and sensing solutions, is pleased to announce the compatibility of their Multi-Axis Force/Torque (F/T) Sensors with FANUC Robots and FANUC's Force Control Software. This collaboration opens up new possibilities for advanced automation and precision control in robotic applications.
The integration of ATI's F/T Sensors with FANUC Robots and FANUC's Force Control Software brings enhanced sensing capabili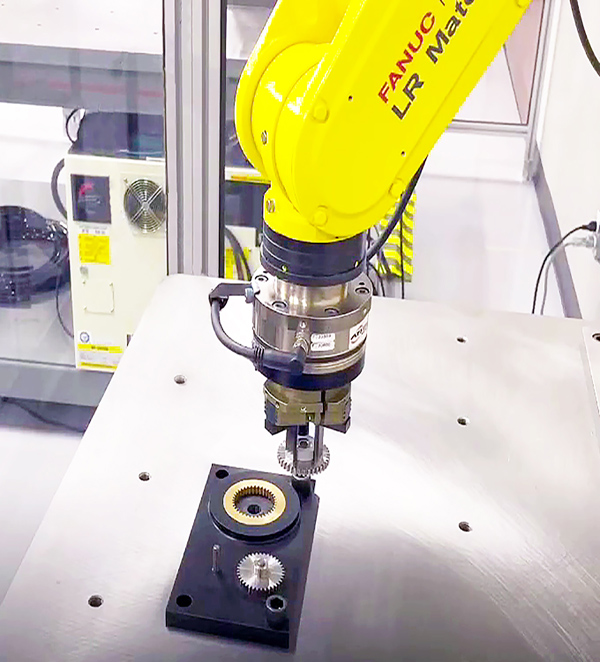 ties to robotic systems, enabling users to achieve greater levels of accuracy, flexibility, and responsiveness. With this compatibility, industrial manufacturers and automation professionals can now benefit from seamless integration between these powerful technologies.
ATI's Multi-Axis Force/Torque Sensors are renowned for their ability to provide accurate measurements of forces an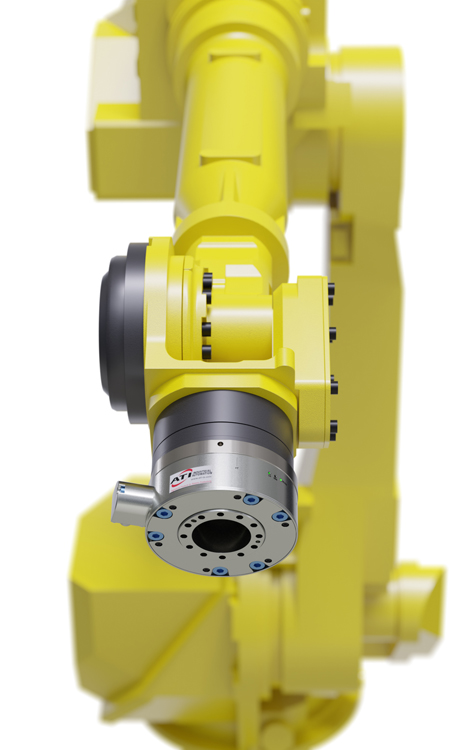 d torques in multiple axes, enabling robots to have a sense of touch and allowing them to perform delicate tasks with dexterity. These sensors are designed to withstand harsh industrial environments, ensuring reliable operation in a wide range of applications. Whether in research, medical applications, industrial operations, or even extra-terrestrial missions, ATI force sensing technology is revolutionizing the way robots interact with the world.
By combining ATI's advanced sensing technology with FANUC Robots, known for their industry-leading performance and reliability, users can now leverage the full potential of force control in their robotic operations. FANUC's Force Control Software allows for precise control of robotic motion based on real-time force feedback, facilitating tasks such as assembly, deburring, polishing, and material removal with unparalleled accuracy.
"We are thrilled to announce the compatibility of ATI's Multi-Axis Force/Torque Sensors with FANUC Robots and FANUC's Force Control Software," said Robert Little, President and General Manager of ATI Industrial Automation. "This collaboration brings together two industry-leading solutions, enabling our customers to achieve new levels of dexterity, efficiency, and reliability in their robotic applications."
ATI and FANUC are committed to providing comprehensive support to customers, offering expertise in system integration and ensuring a smooth implementation of the integrated solution. Together, they aim to empower manufacturers and automation professionals to unlock the full potential of robotic automation.
Target industry segments include metal fabrication, automotive, aerospace, electronics assembly, semiconductor, and general industry.
For more information about ATI's Multi-Axis Force/Torque Sensors and their compatibility with FANUC Robots and FANUC's Force Control Software, please visit www.ati-ia.com/FANUCFT
About ATI Industrial Automation
ATI Industrial Automation, a Novanta company, is the world's leading engineering-based developer of robotic accessories and robot arm tooling including Robotic Tool Changers, Multi-Axis Force/Torque Sensing Systems, Material Removal Tools, Utility Couplers, Manual Tool Changers, Robotic Collision Sensors and Compliance Devices. Their robotic end-effector products are found in thousands of applications around the world. ATI products enable customers to achieve a high level of flexibility in robotic automation. Their flagship product is the Robotic Tool Changer, a robotic wrist coupling that locks and unlocks automatically, allowing a single robot to perform many different tasks. ATI products can be found at some of the world's most renowned corporations and organizations including NASA, Ford, Honda and Johns Hopkins University. For more information, visit ATI at: www.ati-ia.com.
About FANUC:
FANUC America Corporation is a subsidiary of FANUC CORPORATION in Japan, a global leader in CNC systems, robotics and ROBOMACHINEs. FANUC's innovative and reliable automation technologies help companies achieve their production goals and stay competitive. For more information, visit www.fanucamerica.com.