What Material Removal Process is Right for You?
POSTED 05/16/2005
 | By: Bennett Brumson, Contributing Editor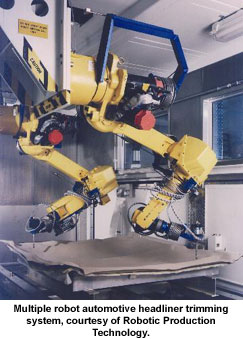 When manufacturing many automotive and non-automotive parts there is usually a need for a material removal operation.
Wise manufacturing engineers will choose robotics as a means of performing material removal. With several types of robotic material removal processes available, integrators have a choice of waterjet cutting, router trimming, blade and ultrasonic knives, and laser/plasma cutting. Deciding which types are most suited depends on the type of material being trimmed or cut, the design of the part, the cleanliness requirements of the part and other factors.
''Selecting a robot system integrator with experience in multiple material removal processes is key to determining the process that best meets the needs of each specific project. Manufacturers have many factors to consider, including material type and thickness, features to be cut, design of the part, and cleanliness requirements, among others,'' said Chuck Russo, CEO of Robotic Production Technology in Auburn Hills, Michigan. ''Many robotic material removal processes have progressed to the point of reliable application and we find there is usually a best choice process for a particular set of requirements.''
There are many experienced integrators with scores of systems in place to help guide users toward a rewarding experience with robotic material removal applications. Case studies by the dozens can be found right on the pages of Robotics Online in the Tips and Tech Papers section, and many examples of concerns are covered in this article.
''Waterjet cutting may seem relatively straight forward,'' says Mark Hardig. ''(But) there are real issues on safety and fixturing of parts in waterjet systems. Manufacturers need to go to an experienced integrator of waterjet cutting systems since it is a specialized application. The integrator needs to make sure that the part design will accommodate a waterjet process and manage the energy of the high pressure water.'' Hardig is an Applications Engineer at Automated Concepts, Inc. (ACI), Council Bluffs, Iowa, a systems integrator and robot distributor.
''Ten years ago, robotic manufacturers used general purpose robots for material removal applications,'' said L.P. Musunur, PhD, engineering manager for material removal, FANUC Robotics America, Inc. ''Many of today's robots are developed to meet the process requirements of material removal applications. This includes having adequate stiffness to withstand the back pressure of water while still maintaining accurate paths at high speeds. The same is true of robotic cutting and grinding of metals where the forces involved are much greater.''
A Cut Above
As with any robotic system, waterjet cutting has many advantages and relatively few drawbacks. A major advantage is cost.
''Waterjet cutting typically cost about two to three dollars an hour to operate, with abrasive waterjet cutting running about $15 to $30 an hour,'' says Duane Snider of Flow Robotic Systems. ''The added cost is the abrasive and a hardened mixing tube.'' Snider is a Sales and Applications Engineer at Flow Robotic Systems, a system integrator and engineering firm based in Wixom, Michigan. Abrasive waterjet utilizes garnet, a crushed inert gemstone, entrained into the waterjet stream that is used for non-thermal cutting of denser materials. Job shops, particularly those cutting stone and tile as well as aerospace composites, use abrasive waterjet.
''Abrasive waterjet is more typically used on hard materials such as metal and tile, rarely on fabrics. Items such as automotive headliners, insulators, carpets, etc., use regular waterjet cutting without garnet,'' said Musunur.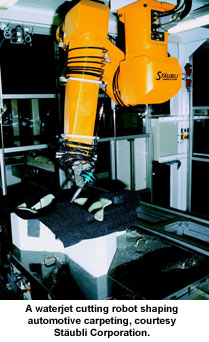 An eye on cost was also on the mind of Gerald Vogt, a general manager at Stäubli Corporation, of Duncan, South Carolina.
''Waterjet cutting is an economical solution for material removal. Equipment investment is just a pump and a robot, so it is less expensive when compared to sophisticated laser systems.'' The robot and the intensifier pump that generates the pressures necessary for cutting are the major capital expenditures in a waterjet cutting work cell.
''A major consideration in selecting a waterjet system supplier should be management of the consumable costs of the system, such as cutting nozzles and coils,'' said Russo. ''The end user needs a reliable source to work with them to optimize their consumables use. Some integrators offer a comprehensive consumables management system to help manufacturers control their costs.''
Vogt went on to say that fabrics that could be cut with waterjet include leather for automotive interiors and other car parts.
''Dashboards are made of different materials, including foam, fabric, and sometimes leather. It requires a three-dimensional system such as a six-axis robot to successfully shape them,'' Vogt says.
Robotic-based waterjet cutting is particularly suited for this type of material removal due to the fact there are a mix of materials in a component. Waterjet cutting is often the best way to remove material on composites without any special treatment because there is not a heat-affected zone. This is primarily due to water's cold nature and its ability to absorb heat generated through friction between the stream itself and the material being cut. Minimal heat is introduced when doing waterjet cutting compared to laser cutting.
Robotic Production Technology often recommends routing for instrument panel applications. Routing doesn't generate a slurry of water and dust that can end up back on the part being cut. The routing process often results in a cleaner part that doesn't require secondary cleaning operations. Router trimming is an ideal process for thermoformed parts.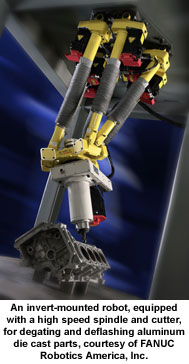 Manufacturers can also choose to use knife technology for deflashing and edge trimming as possible material removal options. ''With the compliant knife we can deal effectively with the part shrinkage that occurs as the part cools during the trimming process,'' said Russo.
For some materials, when cutting with a laser or other type of robotic removal application, the heat generated often will weaken the material or cause it to become hardened. Knowing how to convert these attributes into advantages is an important service of systems integrators.
For instance, the lack of fumes when cutting fabrics is a major advantage that robotic waterjet cutting has over other forms of material removal methods. Stäubli's Gerald Vogt addressed the issue of fume generation:
''Waterjet cutting does not create any toxic fumes as in laser systems, which burns the material. When generating toxic fumes, a complex environmental filtration system is necessary. Waterjet is very clean and all you have left is water.''
Sometimes, though, there is a need to take precautions with waste water. RPT's Russo addresses this:
''With waterjet cutting there is residual in the water used for cutting that needs to be removed from the waste. RPT developed the JetVac high volume vacuum system to help clean up this process. The JetVac holds the part down and removes the waste generated during the waterjet cutting process (and) allows the waste to be separated from the water so that the used water can be disposed of effectively.''
Water is also particularly effective in reducing and removing dust. Not only that, there are other advantages to waterjet cutting. It can pierce most materials without the need to drill a pilot hole, and is versatile enough for cutting fragile materials like glass, tile, and stone. Furthermore, robotic waterjet material removal saves raw materials due to a small cutting kerf.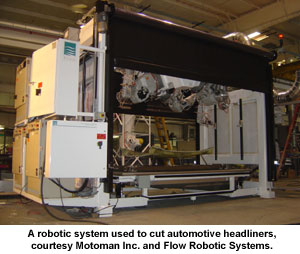 Fire & Water – When to Use Lasers or Waterjet Cutting
One of the few negatives of waterjet cutting is that frayed ends could be left on the part (depending on the type of material you are processing). To avoid this, Vogt described the advantages of laser systems. He gave the example of cutting automotive door panels: ''With laser systems, the ends of the fabric are burned into the plastic. The result is a nice edge, with no fibers hanging out.''
Woven fabrics present a particular challenge with waterjet cutting. Duane Snider of Flow Robotic Systems addresses this as he spells out textile applications suitable for waterjet cutting and those best left to other forms of robotic material removal:
''One consideration for integrators is the materials being cut. Waterjet cutting on non-woven items such as automotive headliners or carpeting is an excellent choice,'' says Snider. ''Waterjet does not do well with woven materials because the interwoven strands tend to deflect the water.''
Robotic Production Technology's CEO Chuck Russo agrees that woven materials are a challenge to trim with waterjet processes.
''RPT has had great success in processing low pressure molded textile and plastic parts with a robotic laser process,'' said Russo. ''The result is a crisp edge and a very clean part. We have also helped achieve great success for our customers using laser for trimming paint and appliqué films.''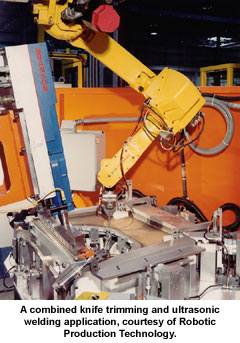 For layered woven textiles, Snider suggests using an ultrasonic knife. He added that the majority of clothing that is cut with robots entails ultrasonic knives.
Gerald Vogt of Stäubli advocates the use of ultrasonic blades if there is a need to exactly control the depths of the cut. Vogt uses automotive airbag assembly as an illustration:
''Automobile manufacturers have to precut where the airbag is coming out. This requires the cut to be at a precise depth.'' He added that if the depth of the cut is not just right, the airbag might not deploy correctly, loosing its lifesaving qualities, or, if the cut is not sufficiently smooth, the airbag could rip so that it will not hold its pressurized air cushion.
Robotic Production Technology has also developed a laser scoring process that allows for controlled depth of cut in instrument panels for airbag applications.
Food Industry Creates New Pressure for Robotic Waterjet Cutting
What will the next few years bring to robotic waterjet cutting? There is a rising tide toward using waterjet cutting in the food processing industry.
''Flow International is developing systems for the food industry with pressures up to 100,000 pounds per square inch for non-thermal food product sterilization. We are moving toward higher pressures and advanced metallurgy to withstand these pressures,'' says Duane Snider. He also says Flows' standard high-pressure systems (60,000 pounds per square inch) are used for cutting chicken or fish without the need for a blade. This aids in keeping food product sanitary.
Another trend in waterjet cutting is deploying multiple robots in a single work cell. Carl Traynor, Motoman's Senior Director of Marketing, says the vast majority of new waterjet work cells have multiple robots in a single cell.
Flow's Snider explained the benefit of multiple robots in one cell: ''One robot could do the cutting while others do the material handling. One robot holds a part and the other cuts. This eliminates the need for expensive fixtures.''

Snider continued by saying that with one cutting nozzle, it takes two minutes to cut a car's headliner. If there are four nozzles, it may take only 30 seconds.
Grinding Away: More Robotic Material Removal Applications
There are many other types of proven and emerging material removal applications for robots. More than 100 end-users, systems integrators and suppliers are converging to exchange ideas at the Robotic Grinding, Deburring & Finishing Workshop (RGDF) to be held June 15 and 16 in St. Paul, Minnesota. Here, industry experts will conduct workshops on the latest and greatest technology, equipment, and processes that manufacturers will be using in the coming years for robotic surface finishing.
ACI's Mark Hardig will discuss ''CAD (Computer-Aided Design) to path.'' He gave a preview of what he intends to present at RGDF: ''There has been a long history of using CAD in systems and to turn that data into code that could be used on a machine tool. There has not been that history with robotics. For a long time, no one thought much about using 'CAD to path.'''
Hardig continued by saying that currently there tends to be more CAD in welding applications but not material removal. CAD allows integrators to take a three-dimensional model and use software to trace a path around it in a virtual world. CAD calibrates the path to the ''real'' world and runs a program that will actually cut the part.
''CAD to path is a fairly young technology but is moving very quickly. The advantage is that integrators do not have to shut a robot down while programming the part off-line,'' Hardig says. ''With CAD to path, the robot could still be working on another task.''
Hardig gave the example of a guitar body needing to be polished to illustrate CAD to path in action:
''Guitars have a lot complex curves and angles that the polishing head has to get around. Programming this by hand is time-consuming. If integrators have an accurate three-dimensional model of that guitar body, they can bring it into a virtual world.''
The robot can trace a path across the surface of the virtual guitar. By taking that data and plugging it into a real robot, the robot has the data to polish the guitar exactly as in the virtual model.
In another session at the Robotic Grinding, Deburring & Finishing Workshop, Ronald Potter, Motoman's Senior Director of Emerging Markets, gives a one-hour session on the importance of good specifications in project success.
''My workshop will deal with how to get the end-user and the system integrator on the same page,'' said Potter. ''I will ask: 'How do end-users work with integrators and robot companies? What kind of specifications can be developed for projects that are more dynamic?'''
Potter went on to say extra preparation is necessary to assist end-users, especially on their first robotic project: ''Robotic end-users have to be successful the first time or there will be no second or third projects for them.''