What Is New with Robots in Press/Machine Tending and Material Removal
POSTED 12/07/2009
 | By: Bennett Brumson, Contributing Editor
Material removal or press/machine tending: Which task is more dull and dangerous? Manufacturers often have had difficulty in finding people to fill these positions. With improved vision systems and off-line programming (OLP), manufacturers are increasingly investing in robotics to perform tending and material removal chores.
"I see the overall acceptability of robotics in material removal and tending applications increasing despite some angst about using robotics. More manufacturers apply robotics in these applications, especially in press brake tending," says John Burg, President of Ellison Technologies Automation (Council Bluffs, Iowa).
Aerospace Accuracy
With the advent of more precise robots and better support tools, robotics have been on the rise in tending and material removal applications.
"Positional repeatability has always been a focus for robot manufacturers, and material removal applications need path repeatability not just positional repeatability. Trimming and surface finishing are path-intensive applications requiring different automation strategies than point-to-point material handling or spot welding applications," warrants Roberta Zald, Director of Business Development with KMT Robotic Solutions Inc. (Auburn Hills, Michigan). "Improvements in hardware and software provide better quality in robotic material removal applications. Advances in OLP tools and methods for effective movement of those programs from the virtual world to real world robots have made OLP much more useful."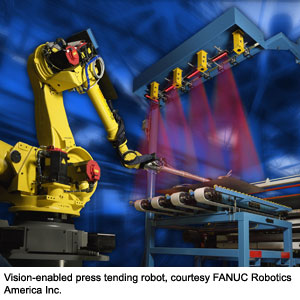 Material removal applications in the aerospace industry is also addressed by Virgil Wilson, Senior Material Removal Engineer at FANUC Robotics America Inc. (Rochester Hills, Michigan). "Applications in aerospace have accuracy requirements as high as 0.10 mm and use a different set of tools to achieve the required accuracy. FANUC Robotics offers a range of accuracy tools and options can address these levels of accuracy requirements."
Accuracy in aerospace applications is also on the mind of Michael Aughtman, Robotics Sales Engineer with Vulcan Engineering Co. (Helena, Alabama), when he says, "In aerospace and medical applications, where the parts are complex and have the most demanding tolerances, integrators use three-dimensional computer-aided design (CAD) OLP." Aughtman speaks of robotic handling of inconsistent parts. "Removing material from dimensionally inconsistent work is half our challenge. We employ force control and vision to meet these challenges."
Likewise, "Precision is a big challenge in material removal in aerospace and medical device manufacturing applications. We do profiling and deburring based on very tight tolerances in point-to-point applications that require high precision and extreme accuracy," denotes Éric Beauregard, Chief Executive Officer of AV & R Vision & Robotics (Montreal, Quebec, Canada).
Beauregard goes on to say that vision-enabled robotics help refurbish used aerospace parts. "In aerospace material removal applications, I see a growing trend of using robots to clean, inspect and repair used parts. Because new aerospace parts are so expensive, robots are used increasingly to use these parts longer."
Consistency
In both material removal and tending applications, the high mix of parts going through robotic work cells is facilitated by advances in vision, software and OLP. "In press and machine tending work cells, the range of products introduced into the work cell can be a challenge. OLP plays a significant part, allowing integrators to take a part's geometry as a starting point for programming the robot based on actual dimensions," points out Thomas Sipple, Handling Technology Leader at Motoman Inc. (West Carrollton, Ohio).
"In material removal applications, leakage from molds is consistent so de-gating die-cast parts is more challenging and lends itself to OLP programming." Slowing the robot or having it make several passes over the part to remove the proper amount of material might be required, concludes Sipple.
Sipple says parts with inconsistent amounts of material to be removed require integrators to design work cells with OLP and external force control devices in order to ensure that the tool is not overheated. "Integrators can use force sensing devices but must program it to respond to a part which is the finer art of programming in material removal of applications."
Sipple continues by saying vision systems and software have made dramatic improvements in recent years. "Response time has improved communication between the robot and the vision system through visual servoing and better force sensing. As a result, the market for tending and material removal applications will increase."
Chad Henry, Stäubli Corp.'s (Duncan, South Carolina) Applications Engineering Manager, has a similar take on software, saying, "New software tools simplify the teaching and the interaction between the operator and the robot while providing for a user-friendly interface when compared to programming the robot with a teach pendant. Software will continue to evolve and bundling of common tools allows the integrator to save time and money in integration."
Plastic parts change shape as they cool, cautions Zald. "In material removal applications, the system integrator must understand the shrink rate of plastic parts and develop a strategy that trims parts in the correct location, independent of the part's temperature."

Zald speaks of inconsistencies in the thickness of fiberglass parts. "Fixturing large parts repeatedly can be expensive, especially parts of variable thickness such as fiberglass bath tubs or boats. Most of these parts should not be touched by the automation equipment on the side without the fiberglass, while fixturing fiberglass demands accommodation for the varying thickness," Zald says. In these instances, it makes best sense to roughly locate the part in a fixture off the fiberglass side and then find the quality surface of the part with a sensor mounted to the robot, thereby keeping the costs of fixtures low while delivering the trimming required in an accurate location."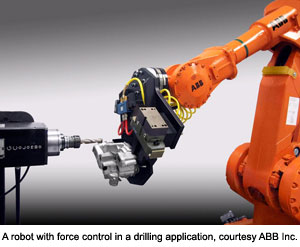 Compliance
Advances in force control is yielding better results in material removal applications, says Joshua Williamson, Robot Automation Laboratory Manager with ABB Inc. (Auburn Hills, Michigan) " I see changes in force compliance devices and smarter tools. Robots have more incorporated force control software," Williamson says. "Girding and deburring are some of the least utilized applications for robotics. Some applications use compliant devices, others use more complex software like force control." Williamson anticipates an increase in robotic material removal applications as software evolves.
"Force sensing is becoming more common and more sophisticated," says Ellison's John Burg. "Multi-axis force sensing give feedback to the robot to adjust its path based on that feedback. Advances in force sensing and OLP has lead to a substantial increase in those technologies and are hot topics in many applications."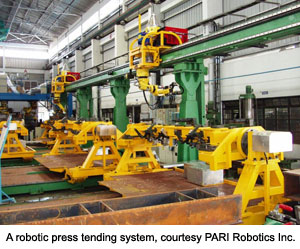 Changing Tools
Refinements in tool changers is paving the way for increased flexibility in robotics, says Rophin Paul, General Manager with PARI Robotics Inc. (Lake Orion, Michigan) "I see the drive toward increased flexible robotics and the ability of robotics to be retooled in a very short amount of time. Better tool changers allow robots to change quickly to different parts with the help of improved vision systems and torque sensors."
Better vision systems is also important to Charles Gales, Automation Sales Manager at Weldon Solutions. (York, Pennsylvania) "Improved vision systems and force compliance have had a major impact on the design and cost of robotic work cells. I see continued development in force control in material removal applications and force compliant devices can simplify programming requirements."
Probes are used increasingly in material removal applications, says Asa DeForest, Senior Product Development Engineer with PRE-TEC (Eugene, Oregon). "PRE-TEC integrated a work cell where the gripper had a touch sense probe to determine how much material had to be removed from a cast part. The parting line was already removed but a probe was used on other features where accurate material removal was needed to remain within the end-user's tolerances."
DeForest uses material removal on turbine blades as to illustrate his point. "The amount of material removed from turbine blades is critical. If too much of the coating is removed, the blade will wear excessively so we used a touch sense probe on these parts."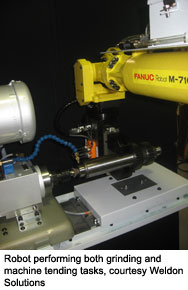 All in the Family
Robotics can handle a high mix of parts within tending or material removal work cells, but integrators caution about attempting to deal with a too many types of parts. Burg says, "A common error integrators make in designing tending and material removal applications is not understanding the end-user's real requirements. End-users need to be clear about what family of parts should be processed."
Burg adds, "Additional parties on the end-user's side often become involved and want the robot to process a very wide variety of parts. That is possible but the scope of the project grows to the point that the solution is no longer cost-effective."
Éric Beauregard expresses a similar sentiment, saying, "Some end-users expect the ability to easily introduce new part types into a work cell. We must explain they should have a work cell for a family of parts with similar shapes and dimensions." Beauregard believes processing a family of part types within each work cell makes for introducing new parts easier because the tooling will similar and the robot suited for new part types is already deployed there.
Combining other tasks with tending or material removal applications is what makes robotics so flexible. FANUC Robotics' Virgil Wilson says, "Machine tending and welding are two applications where a secondary operation like material removal could be included as long as cycle time permits. In small stamping systems, metal-forming operations can be connected to welding and assembly in a work cell."
Weldon's Charles Gales describes a project his company recently completed, combining material removal and machine tending. "We did a project for grinding the outside diameter of truck transmission gear-shafts. The robot then tended several other machine tools while improving quality." Gales says adding secondary operations while the robot is idle adds value to a work cell. "If a robot is doing nothing in a work cell, we see if that robot can wash, mark, label or package parts. We try to have the robot do something other than load and unload a machine tool."
Chad Henry of Stäubli observes, "The more processes combined in a work cell, the more efficient it becomes. While waiting for a computer numerical controlled (CNC) machine to process parts, the robot could easily sort, inspect, assemble or package finished parts."
Similarly, Burg says, "Material removal is often tied together with a machine loading application. If the robot is not busy during the machining process, it makes sense to use the robot to deburr the part." Burg sketches out a press tending work cell combined with laser cutting. "The robot processes a part in a specific way and the next part coming into the work cell might be a different type. That is a rare sort of work cell but is becoming more common."
Moving and Removing
As software and vision systems evolve, the advantages they lend to robotics in general but particularly to tending and removal applications will grow. "Manufacturers have realized the benefit of using robots for handling product into and out of presses. Safety considerations for the operator have driven stampers to accept the use of robots," says Virgil Wilson of FANUC Robotics. "We see investments to modernize equipment either by replacement or retrofit so that parts may be produced consistently, accurately and without a great deal of in-process handling and storage."
Likewise, Burg says, "I encourage manufacturers to investigate robotics and I ask management in companies who have not used robotics how they plan on doing press or machine tending and material removal in ten years. If these manufacturers do not have a plan, I suggest they investigate robotics and make an investment unless they find a good reason not to use robots in their company."