Vision Standards Raise Opportunities for Business and Innovation
Standards operate under the principle that a rising tide raises all boats. An individual machine vision company may build a better camera than its competition. But unless that company ensures its product complies with relevant industry standards, integrators cannot be confident the camera will work compatibly with connectors, software, network protocols, and other commonalities of a machine vision system. The lone wolf — however more competitive — constrains itself to a limited number of business opportunities.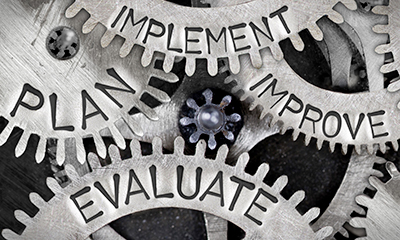 "Standards are good for business because they support component interoperability that, in turn, supports more flexible design latitudes, faster time to market, and potentially lower component costs," says Bob McCurrach, AIA Director of Standards Development. All of these benefits are particularly critical for machine vision, which is characterized by some extremely complex systems technology that requires multiple volunteer committees to keep key standards up to date with emerging technologies, automation protocols, and application demands.
Over the past decade, most of those committees have operated under the collaborative auspices of AIA, the European Machine Vision Association (EMVA), and the Japan Industrial Imaging Association (JIIA). More recently, China's CMVU and Germany's VDMA trade organizations have begun contributing input and expertise. The collective efforts of these committees have laid the groundwork for five standards governing digital imaging hardware: Camera Link, Camera Link HS, GigE Vision, CoaXPress, and USB3 Vision. Two additional software standards – GenICam and IIDC2 – promote the development of uniform approaches to mapping a camera's low-level registers.
Camera Link HS 2.0: Low Latency, High Data Density
Camera Link HS (CLHS) enhanced rather than replaced its predecessor, Camera Link, which recently received an update of its own to version 2.1 – introducing a broader array of interconnect options to the standard's simple, high-speed interface.
The CLHS standard emerged in 2012 to address Camera Link's issues with undetected bit errors, short cable distance, and limited bandwidth. CLHS also allowed the use of low-cost, off-the-shelf telecommunications components, accommodating both copper and high-speed fiber cables.
"We try to adopt telecom technology after it's been out for a few years, so the bugs are worked out, the cost is lower, and components more available," says Mike Miethig, Technical Manager at Teledyne DALSA and Chairman of the CLHS Standards Technical Committee. "SFP+ connection transceiver moules, for example, were $200 to $300 a few years ago. Today, they're $16."
Supporting 3.125 Gbps per lane with the M protocol and 10.3 Gbps per lane with the X protocol, "CLHS delivers triggers with the highest frequency, lowest latency and jitter, and the highest data densities of any vision standard," Miethig says.
The CLHS committee aims to publish version 1.2 soon with cable speeds updated to 5.0 Gbps for the M protocol and adding 12.5/13.75/15.9 Gbps per lane for the X protocol. The C3 cable will be able to achieve a peak throughput of 11.4 GB/s in the size of a Camera Link connector. Data forwarding is low cost and able to send the data to adjacent frame grabbers for parallel processing.
"In terms of bandwidth, the telecom industry has moved to 28 Gbps," Miethig says. "We've reviewed our standard's IP core to confirm it's able to achieve that speed — and it is — but FPGAs that run that fast are not yet cost-effective."
Although the release date for revision 2 hasn't been determined, the update promises to extend support to 3D imaging applications with new pixel types and bit depths within a single frame.
GigE Vision 2.1 Adds a New Dimension to 3D Imaging
Though GigE was nominally able to support 3D imaging before version 2.1 was published last year, the latest iteration introduced multipart image transfer capability and added expanded leaders, trailers, and data packets to describe each payload. In practical terms, version 2.1 allows 3D vision integrators to take advantage of GigE's simpler and lower-cost internet protocol.
The latest version also fielded a new mechanical supplement defining requirements for over-molded RJ45-based locking screw cables for secure connections, as well as for M12 and iX connectors to support the use of smaller cameras.
Supporting 10 Gbps data rates, GigE is not a slow interface standard but is better known for its simplicity and long cabling options. Indeed, GigE's ability to interface cameras with any computer has helped it dominate more than 50 percent of the market for standardized vision components. Support for faster cameras is part of the standard committee's long-term plans, however.
"GigE doesn't scale that well to support frame rates operating at 50, 100, or 400 Gbps," says Eric Bourbonnais, Chairman of the GigE Vision committee and Software Design Leader at Teledyne DALSA. "We are exploring options for adding that capability eventually. But there are no clear winners right now."
In the nearer term, the GigE committee is preparing to issue version 2.2 sometime next year, which will leverage the flexible GenDC software specification for ethernet protocol packages.
USB3 Vision 1.1 Promises Multiple Data Streams
The USB3 Vision (USBV) committee continues its advance toward version 1.1 that will introduce support for multiple data streams.
"This [planned upgrade] reduces the need for buffering data in the device and therefore reduces cost and latency," says Uwe Hagmaier, Product Manager at Matrix Vision GmbH and Vice Chair for the USB3 Vision committee. One practical application of this is for multi-head cameras and other multi-stream sources, which will now be able to stream data from each image source at a different frame rate and resolution without the need to buffer full frames in the device, Hagmaier adds.
Notably, the USB3 Vision standard is advancing in parallel to USB technology itself. The move to version USB 3.2 is a more significant development for machine vision developers than the earlier introduction of USB 3.1 connectors, which offered few practical benefits to the industry in their first generation. The second generation of USB 3.1 connectors more than doubled the specification's bandwidth, from 400 Mbps to 900 Mbps. However, USB 3.2 will further raise bandwidth again to 20 Gbps over a 1-meter cable. The upcoming update to the USB3 Vision standard will take advantage of this by adding compatibility with the new USB 3.2 bandwidth options.
CoaXPress 2.0 Doubles Speed or Halves Cable Count
CoaXPress (CXP) version 2.0, due to go to ballot in February, will introduce a speed upgrade of its own, effectively doubling the current CXP-6 specification of 6.25 Gbps per cable to achieve 12.5 Gbps per cable core. In a typical system with four cable cores, that translates to a raw bit rate of 50 Gbps or a sustainable image data rate of around 4.8 GB/s. The new version will also define an intermediate speed specification of CXP-10 supporting 10 Gbps per-cable data rates.
The upgraded version of CXP will not only extend the standard's support for high-speed cameras, it will also expand options for longer and simpler cabling schemes. "A two-core cable can now run as fast as a four-core cable did previously, so for markets where the cabling is demanding, this can be a significant benefit," says Chris Beynon, CTO of Active Silicon and Technical Chair for the CXP committee. "Similarly, a single CXP-10 cable is faster than Camera Link 80 bit, yet with massively more compact, cheaper, and longer cables. So, I'm expecting that we will see very neat, small, and fast cameras being launched using a single CXP-10 core, and some were shown at the VISION show in Stuttgart."
One intrinsic advantage of the coaxial cables specified under CoaXPress is that they can simultaneously power the camera and allow camera control and triggering. "CXP v2.0 also doubles this uplink speed for CXP-10 and CXP-12 to 41.7 Mbps, which will allow line-scan trigger rates up to almost 600 kHz," says Beynon.
In an effort to summarize all the multivariate details and advances underway for machine vision standards, the G3 (which includes AIA, EMVA, CMVU, JIIA, and VDMA MV) recently published a brochure providing updated details for each. AIA will also host a Standards booth at the Automate 2019 exhibit in Chicago April 8–11 for those who wish to learn more.