Vision Standards Prepare the Industry for a Wide Spectrum of Applications
POSTED 05/22/2012
 | By: Winn Hardin, Contributing Editor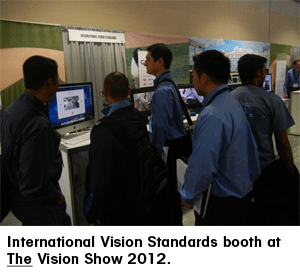 The Vision Show, just held at Hynes Convention Center in Boston (May 8-10) showcased a flurry of activity in the area of vision and imaging communications protocols. These industry interface standards enable vision components (cameras, frame grabbers, imaging boards) to communicate with each other and support interoperability between different manufacturers products. These standards are important to the industry because they allow manufacturers to focus on the features of their products as opposed to proprietary interfaces, enabling them to bring their new products to market faster. End users benefit from the interoperability of their components, enabling them to purchase from multiple vendors and allowing changes to just one element of system as opposed to the whole system.
The Vision Show is organized by the AIA, the largest global trade group representing the vision and imaging industry. A special exhibition dedicated to demonstrations of international vision standards ran 70 feet long and featured AIA's standards – Camera Link®, Camera Link HS™, GigE Vision® and USB3 Vision™. The European Machine Vision Association's GenICam™ and Japan Industrial Imaging Association's CoaXPress and IIDC2 were also on display.
Additional educational opportunities on standards included a class in The Vision Conference on understanding vision standards and two public presentations in a theater on the show floor – one on the new Camera Link HS standard and one that covered GigE Vision, Camera Link and USB3 Vision.
The latest developments in standards include the release (at the show) of the Camera Link HS version 1.0 specification and the continued fine tuning of the USB3 Vision standard in preparation of its release later this year. Camera Link showed off it version 2.0 release from earlier this year and GigE Vision also demonstrated version 2.0 from its late 2011 release.
Camera Link HS – A Quantum Leap in Bandwidth
Attendees at the show got a first look at the new Camera Link HS standard. Building on the strengths of Camera Link, Camera Link HS boasts transmission speeds of up to 16 GB/s. Other important advances include enhanced data reliability through packet re-transmit, low jitter GPIO, improved determinism and latency control, and a big plus with cable lengths of up to 300 meters using optical fiber and 15 meters of copper cable.
The key to Camera Link HS's success will be its easy, plug-and-play capability and its scalability – it covers a wide spectrum of bandwidth needs.
"Now that there are Camera Link HS products on the market, we were able to show live demonstrations of fiber optic and copper cable systems using Camera Link HS at The Vision Show" said Bob McCurrach, AIA Director of Standards Development. "This will be an exciting year of growth for Camera Link HS - watch for more and more products to be introduced into the market."
The Camera Link HS 1.0 specification is available free of charge on the AIA website. In early June, AIA will make an IP core available on the site as well, which will help companies greatly reduce their product development time.
What about Camera Link?
Camera Link 2.0, which was released in February of this year and represents a fully integrated standard including all recent annexes such as Power over Camera Link (PoCL) will continue to be a popular standard in the market as it serves a large group of established users in the market. "This standard will be updated and supported by the AIA for years to come," said AIA's Bob McCurrach.
The Camera Link 2.0 specification is available free of charge on the AIA website, Vision Online.
USB3 Vision Builds on GigE Vision, GenICam
"When you have a standard, the market grows faster than when you don't," explains Dr. Friedrich Dierks, Director of Platform Development at Basler, Secretary of EMVA's GenICam Standard Group, and member of the USB3 Vision Standard technical development committee. "The USB3 Vision standard is a good example of how companies realize that they need to team up to make a standard – even if they have to work closely with their competitors – because the market growth will be attractive enough to support their efforts."
Using the GigE Vision standard as a model, the first draft of the USB3 Vision "standard on wire" was made available at The Vision Show, says Bob McCurrach. The speed at which this draft was completed is a new record for machine vision standard development.
"We started the discussion about USB3 Vision in May of last year, had the kick-off meeting in September, and another technical meeting in Vancouver in February," Dierks notes. "We had all been wondering whether LightPeak would be the next vision standard, but delays in the development of this system led us to believe USB 3.0 would be the way to go. We realized we had a small window of opportunity because if you move too early, the technology isn't ready, but if you wait too long, companies issue their own proprietary solutions, and that works against the standard. So we had a bit of pressure to produce a standard quickly."
According to McCurrach, USB3 Vision will use the GenICam standard for feature definition and device control similar to GigE Vision. "This brings modules and templates to parts of the USB3 Vision standard," he explains. "By reusing GenICam in a modular fashion, we can speed development of the USB3 Vision standard and allow vendors to reuse large parts of the GigE Vision development for USB3 Vision."
USB3 Vision version 1.0 will cover all important use cases for machine vision cameras such as device discovery, device configuration, streaming, events, and chunk data. The initial release will make use of USB's bulk transfers to focus and speed up the development of the standard. Release of version 1.0 is planned for November this year at the VISION show in Stuttgart, Germany. In a second version of the standard, other USB transfer types like isochronous and interrupt will be supported which in certain cases can reduce latency and improve determinism. Machine vision vendors should be able to start developing drivers for hardware implementations based on the draft of the initial 1.0 release, according to Dierks.
USB3 Vision will also deviate from USB 2.0 machine vision solutions in that camera control will be dictated completely by software on the camera rather than partially by software located on the PC host. "The committee decided to develop USB3 Vision as a 'standard on wire,' where devices behave similarly to GigE Vision devices," explains Dierks. "Devices boot on their own, wake on their own, and behave on their own." Many machine vision USB 2.0 products require a camera vendor's driver on the PC host and many manufacturers only support drivers for Windows operating systems. By putting the control software on the camera itself, Linux or any other operating system can be used without needing a specialized driver.
GigE Vision – Now the Most Widely Used Global Interface
According to AIA's recently published Machine Vision Camera Study, cameras using GigE Vision dominate the market. GigE Vision version 2.0, released in November 2011, accommodates networked video distribution applications that leverage switched Ethernet client/server video networks. Devices such as GigE Vision-enabled lights are automatically recognized by the computers on the network. Version 2.0 introduces support for faster data transfer through 10 gigabit Ethernet and link aggregation, and also enables transmission of compressed images (JPEG, JPEG 2000 and H.264), accurate synchronization of multi-camera systems, and enhanced support for multi-tap sensors.
The GigE Vision 2.0 specification is available free of charge on the AIA website, Vision Online.
For enabling technologies such as machine vision, the variety of customers and breadth of applications means that multiple standards – each with its own strengths and benefits – can peacefully coexist without being disruptive to the overall market. Be sure to visit the Standards section of this website for the latest information on global machine vision standards and how they're opening new markets for industrial automation solutions.