Vision Guided Robotics Spreads Its Wings
POSTED 10/08/2013
 | By: Winn Hardin, Contributing Editor
With North American robotics companies posting record sales through June 2013— a total of 10,854 robots valued at $679.3 million were ordered during this period, according to statistics released by the Robotic Industries Association (RIA) in July, a 1.3% increase over the previous first-half record—you might think the automotive industry is buying more robots than ever.
But while Detroit remains the largest consumer of robotics in North America, the auto industry actually saw a 5% decline in overall orders during the first six months of the year. The substantial growth in sales is in fact largely attributable to industries like food and consumer goods, semiconductors, and the life sciences, all of which posted double-digit growth in the first half of 2013.
This growing diversification of the industries served has been accompanied— indeed, helped along—by the increasing number of applications made possible with advances in robotics technology. Not least of these: vision guided robotics, or VGR.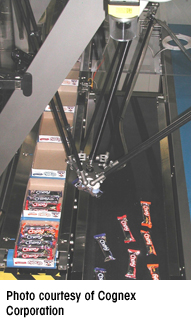 So-called "blind" robots of course still have a place, says John Lewis, Market Development Manager with Cognex Corporation (Natick, Massachusetts), a provider of vision systems, software and sensors, and surface inspection systems; they often play a key role in automated assembly where there are very high volumes of one part or a few similar parts. But adding vision into the mix brings a host of additional benefits: helping to prevent accidental tool collisions, minimizing the need for precision fixturing and, of course, enabling automated applications with a variety of different parts.
Or a variety of different colors. Cognex, which cut its teeth serving the semiconductor, electronic, and automotive industries, has recently seen increased activity in consumer packaged goods. Lewis points to packaging of snack foods, in particular, as an area that has benefited from use of the company's In-Sight line of vision systems. "The In-Sight smart camera vision systems provide X, Y, and rotation information to the robot, which can then case pack several different flavors into a variety pack." he says. "Moreover, the In-Sight vision system can also be used as a stand-alone inspection device to verify assembly, wrapping, and labeling functions."
VGR has traditionally used 2D vision, but the incorporation of 3D vision technology into industrial robots is emerging. 3D is making it easier to maneuver within tight spaces and detect objects of varying sizes and geometries—even when they are overlapping, for example. But achieving sufficient object recognition in three dimensions can prove challenging.
2D VGR is challenging, Lewis notes; you have to take into account variations in contrast, lighting, and any number of other factors that might influence the appearance of the part. "But VGR gets even more difficult in 3D because the appearance of the part is now affected by the angle of the part to the camera, or the angle of the camera to the part," he says.
The past several years have seen considerable advances in 3D technology, however. Researchers have been able to overcome some of the longstanding challenges in using the technology—poor contrast in low light, for example—and more companies are now working to incorporate it into their products.
Cognex is embracing 3D vision, Lewis says, "but we're doing it one step at a time to make sure that what we offer is really very robust and very powerful in a real-world situation to ensure that our customers succeed."
Embedded systems and roving robots, together again
Embedded computing platforms are ever more widely used for a growing array of applications, including many in the vision guided robotics arena. Such systems are particularly attractive because they consume less power, which equals greater battery life and/or lower operating costs. To achieve this with VGR, developers are looking to incorporate vision standards, such as GigE Vision or USB3 Vision, that do not require internal frame grabbers.
In part because of this demand for embedded computing platforms, Pleora Technologies (Kanata, Ontario, Canada), a supplier of video interfaces for system manufacturers and camera companies, is reporting strong business with what it calls external frame grabbers. These allow developers to treat either analog or traditional CameraLink cameras as GigE-type products.
"We've seen a couple of instances where one of our external frame grabber products coverts images from multiple cameras to Ethernet for an embedded computing platform sitting on top of a roving robot," says John Phillips, Senior Marketing Manager for Pleora.
Phillips is referring to the burgeoning field of service robotics, where robots—and now vision guided robots—assist humans by performing tasks that are repetitive, distant, or even dangerous. "It's still a bit of a niche market for us," he notes, but it's a growing one. This year alone, Pleora has seen more service robotics applications than in all previous years combined.
These include hospital-based systems, with robots delivering medicine from room to room. Especially because they are mobile and roaming the halls of the hospital, the robots benefit from the lighter, smaller embedded computing platforms, which allow them to operate longer and faster on battery power. Service robotics can also play a role in telemedicine, where robots might stand in for doctors diagnosing or treating patients from afar.
Pleora has also helped with an application in defense, with an autonomous roving surveillance system that decides on its own where it needs to go, looks around once it's arrived, and reports back on what it sees.
These systems have moved beyond the prototype stage and are now in full production, Phillips says.
Embedded Vision
This content is part of the Embedded Vision curated collection. To learn more about Embedded Vision,
click here
.