Updating Drives in Automation Projects
POSTED 06/23/2017
 | By: Ray Chalmers, Contributing Editor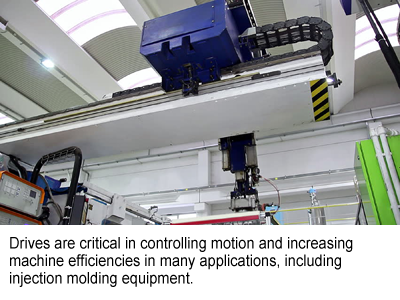 In one of the clearest examples of chains being only as strong as their weakest links, remove drives from any automation project and the entire concept comes to a screeching halt. Far from being weak links, however, survey a number of technology suppliers and they will tell you these critical components can often be treated as afterthoughts once control architectures, network requirements, and motor choices are specified. Not taking the latest thinking on drives into account can seriously shortchange your best automation efforts.
"Where drives are concerned, we're still getting talked to rather than doing the talking," says Jim Wiley, product manager, servo and stepper drives at Parker Hannifin Corp., Electromechanical & Drives North America. "With the number of different control architectures available – the established, the new, and the upcoming – it requires a lot of effort determining what drives need to do to fit in."
Drives may be simple to define but grow quickly in function and performance. Essentially, drives are paired with motors to provide motion or function, and requirements are evolving as fast as global competition demands. Take plastic injection molding machines, for example. Traditionally most machines were hydraulically driven, using a hydraulic pump driven by a fixed (constant-speed) electric motor powering most of the machine's processes. Now, the all-electric machine uses electric servo motors together with gears, racks, and ball screws to drive most of the machine's capabilities.
The right drive choices are critical for achieving higher speeds, greatly improved energy efficiency, and higher reliability, according to a recent tech paper from Bosch Rexroth Corp. There are many types of drives to choose from including:
Variable frequency drives (VFDs) that vary the frequency of the drive
Output according to the motor RPM. They are relatively low-cost but only provide speed accuracies of around ten percent.
Vector drives that use microcontrollers to precisely manipulate drive output to control torque of a standard AC induction motor.
Servo drives that offer a broad speed range, maximum torque available at zero RPM, and very high dynamics.
Servo drives can be more costly and require more complex drive electronics; but they deliver the ability to precisely control speed, torque and position of the servo motor. In certain molding machines, servo drives used with variable displacement pumps dynamically control pump speed to match varying flow and pressure requirements through the course of a machine's duty cycle. This reduces energy consumption and increases operating efficiency.
Brains a Constraint
The brains of a system can be a constraint on drives, says Jim Wiley of Parker. Some limit discrete signals in the area of plus or minus 10 volts, basically telling the drive what to do and where to go. Certain network protocols allow building bigger machines with more axes of motion, but can require different wiring, different languages, and following different standards.
"Over the last 10 years, it's been Ethernet, EtherCAT, and Ethernet/IP, taking advantage of Ethernet hardware and standard cabling and being open protocols for connecting drives to control systems more efficiently," he says. The results are high-bandwidth networks with more opportunities to move information in both directions.
The challenge is that these and other open protocols continue to evolve. A drive supplier has to choose what protocols to grow with, how much you can add, and how much you can support. "Network compliance comes with a cost," Wiley says. "Customers can have machine life expectations of 15 to 20 years or longer. System requirements can be one thing for machines in 2000 as opposed to 2018. Are customers able to migrate their platforms or do they have to scrap them? It's not a trivial exercise."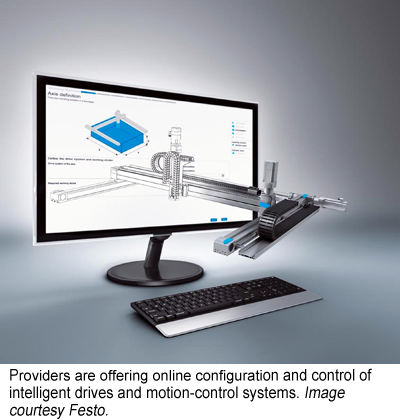 Keeping It Simple
Tim Sharkey, electronic business development manager at Festo, sees a healthy economic picture for automation in general and automation componentry (drives, motors, actuators, sensors, and more) in particular. "It's really the right space at the right time as more companies want to automate their processes where labor costs are rising and technology costs are falling."
With his company's ability to customize products and solutions, Sharkey Is seeing rising requests for individualized automation projects while at the same time having those solutions be more straightforward. "We think the market is looking for low-cost, simple-to-integrate components that match overall control architectures," he says. He gives the example of the semiconductor industry having very sophisticated production equipment but having relatively basic movement needs. "We do plenty of higher-end and 3D interpolation, but market opportunities for products that control a few variables yet communicate with everybody is huge."
He points to components he calls "hybrid drives," such as the Festo CMMO-ST motor controller that can actuate rotary drives, toothed-belt axes, stepper motors, and electric cylinders. It uses a sophisticated control algorithm to create smooth motions and minimize motor noise. Additionally, as a fully-fledged closed-loop servo system, the CMMO-ST uses an optimized motor characteristic curve for the high operational reliability and fast dynamic response. With a number of configuration choices (I/O, Modbus TCP, Ethernet), data profiles and communication between controllers, sensors, actuators, and drives, is seamless. "If you don't make it easy to implement on a network, you're committing a lot of support time connecting and monitoring," Sharkey says. "It has to be bulletproof."
Safety Critical

Another thing automation projects must be is safe, and intelligent drives are, in Jim Wiley's words, a linchpin of safety compliance. "Safe-torque-off came out in the early 2000s and originally required discrete wiring at every device," he says. Now safety over the network is evolving with dedicated channels for communicating safety instructions to all devices with a single wire. Furthermore, such instructions are increasingly "functional safety," communicating safe speeds and safe positions as opposed to on/off. "You can potentially slow down and recover efficiencies much more quickly with much less loss of cycle time," he says. "There's a lot more intelligence building around safety at the motor and the drive."
Training and certification can also be key differentiators in employing the latest thinking on drives, motors, and motion control issues. Certification through the Motion Control and Motors Association benefits everyone – system integrators, technology providers, and end users working with motion control, motors and automation technologies. To learn more about MCMA's Certified Motion Control Professional Training, click here.