Unique Robotic Applications
POSTED 02/07/2011
 | By: Bennett Brumson, Contributing Editor
Whe

n people think of industrial robotics, the automotive and electronics industries often come to mind first. As robots and their peripheral equipment improve, robotics are called on to perform tasks in industries such as the food and beverage business, as well as in the aerospace, medical device and pharmaceutical markets, among others.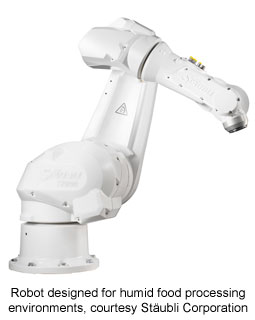 "More specialized robots for the food, pharmaceutical, and medical industries are available in the market now. Robots performing some of these specialized tasks were very limited five years ago," says David Arceneaux, Operations Manager at Stäubli Corporation (Duncan, South Carolina). Some of these applications requiring specialized solutions were not plentiful five years ago but are increasing along with the evolution for specialized robotic automation."

Specialized Applications
Food and beverage applications promise to be among the fastest growing and most important sector for the robotics industry. Traditionally, jobs in food production facilities were performed manually and were extremely repetitive with high ergonomic risks in a cold environment. Robotics hold the promise of mitigating the dangers of working in food processing plants. Robots are cleaner and more consistent that human workers and offers flexibility to stay current in an ever-changing market.

"We see a nice future for robotics in both primary and secondary packaging applications, More food manufacturers are using robotics for placing food into trays and for tray manipulation," asserts Sylvie Algarra, Food Activity Manager, Arceneaux's colleague at Stäubli.

Likewise, "The handling of food products promises to excite increased investment in robotics because the food industry has been under-served," says, Rush LaSelle, Director of Global Sales and Marketing with Adept Technology Inc. (Pleasanton, California). "As the robotics industry focuses its attention to that market, better means of addressing the specific needs of the food industry will continue. Robot manufacturers and integrators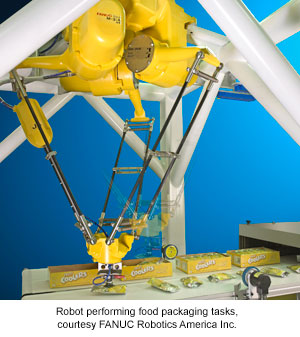 will service this market with products that satisfy sanitary requirements of regulatory bodies."

Upstream Apps
According to Dick Motley, Senior Account Manager at FANUC Robotics America Inc. (Rochester Hills, Michigan), "Robotics in the food industry perform tasks in four categories: processing, picking, case packing and palletizing. Robots doing the processing, actively forming food products, is the newest classification. Robots butchering meat is an example of that," Motley argues."

Until recently, robots in food processing facilities only did palletizing chores towards the end of the line. Motley contends palletizing is an application that robots do best. "Palletizing has notorious ergonomic issues because of the repetition." The food product was already packaged in its primary wrapper and packed into cases or cartons. The final step before shipping has robots placing those cases onto pallets. With improved robots and tooling, robotics are steadily making their way upstream in food processing operations, from palletizing to primary and secondary packaging, towards directly handling product prior to wrapping or packaging.

Direct robotic handling foods is also on the mind of Clay Cooper, Applied Robotics Inc.'s (Glenville, New York) Corporate Development manager of Food and Packaging. "I see more robots handling fresh and sliced meats because companies look at reducing labor costs on meat slicing lines." Turning his attention to other foods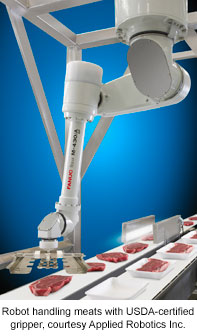 handled directly by robotics, Cooper says, "Other than donuts, I have not seen many robots handling pastries yet. Donuts with chocolate on them are tricky for a robot to pick without leaving an impression."

Likewise, LaSelle points out "Meat cutting represents a growth area for robotics. Vision and laser technology combine to provide three-dimensional rendering, enabling systems to precisely process products with highly variable geometries." Grading and portion control are areas of heavy investment. "Grading meat is subjective and portion control helps producers ensure they deliver exact amounts to maintain customer satisfaction," LaSelle says.

Varying Inconsistently
Unlike industrial products, foods are inconsistent in both size and shape. Vision and flexible end-effectors manage these variations. "Tooling for picking food products is a challenge. Providing end of arm tooling to allow robots to achieve targeted rates, properly handle the product without damage and that can be cleaned, are key. Tooling that provides for variations in food products must be considered in a joint effort with the end-user," professes John Schwan, Director of Sales and Marketing with QComp Technologies Inc. (Greenville, Wisconsin). "Vision is more flexible and can be set to reject products outside of limits."

Consumers' fickle taste drives end-users towards robotics to remain competitive and flexible, observes Tim DeRosett, Director of Marketing with Motoman Robotics, a division of Yaskawa America, Inc. (West Carrollton, Ohio). "Food companies use robots because of product variation and to easily differentiate their products from competitors. The variety of choices is greater now than any time in history, particularly how food is packaged," notes DeRosett.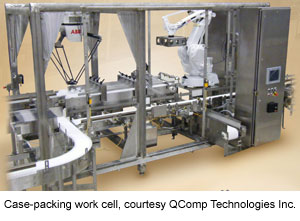 A Cold, Damp Place
Robots in the food industry must function in an environment rife with moisture and cold. That setting poses challenges to integrators and end-users not found in other industries, notes Terry Zarnowski Sales and Marketing Director at Schneider Equipment Co. of Brewerton, New York. "The biggest challenge is that food products are often cold, wet, slippery, might have frost on them or be statically charged. Some products coming from food processors are dramatically different than when on store shelves."

To illustrate his last point, Zarnowski speaks of packaging for blocked cheese. "The plastic looks like it was shrink-wrapped but when the cheese is initially packaged the plastic resembles a football. The packaging is filled with an inert gas that is absorbed into the product by the time it gets to store shelves." End-effectors must deal with those shapes. "Designing around an application's variations is challenging. We provide standardized designs customized for a particular application that takes into account all aspects of what end-users see in their real world operations."

Cleanliness
Robotics play an increasingly important role in maintaining a safe food supply. People are most often the threat to safe food processing practices rather than the process itself. "Robots do not gather contaminants, do not get colds and are consistent, unlike people. Recalls of food products and the following litigation are on the forefront of managers' investment decisions," posits Schwan.

LaSelle echos Schwan's sentiments. "The Center for Disease and Control (CDC) says 70 percent of food borne disease are due to viruses spread by infected individuals. With 40,000 cases of salmonella reported in the United States each year, companies that do not adhere to sanitation requirements are saddled with tremendous financial burdens."

In most robotic applications, integrators design work cells to protect the robot from the environment. In food applications, protecting the environment and the product from the robot are paramount. To sustain cleanliness, food industry robots are constructed of easily cleaned materials.

Robots are one way to comply with the newly signed Food Safety Modernization Act of 2011. The statute empowers the Food and Drug Administration (FDA) to inspect food production facilities and order recalls of contaminated foods. To ensure the safety of the food supply, the law requires larger food processors to formulate and adhere to safety procedures. Food-grade robotics will help producers to consistently abide by FDA requirements in ways that people cannot.

"Robots for the food industry are made with stainless steel to be easily cleaned with high-pH chemicals. Using robots without covers is the goals," declares Algarra. "Food industry robots are enhanced to operate in wet, harsh environments while subjected to aggressive sanitizing chemicals."

To withstand a rigorous cleaning regimen, robots and their end-effectors must comply with sanitation requirements. "Food industry robots and end-effectors must be food-grade and capable of being washed. They need to meet IP69K ratings, to withstand high pressure wash-down and harsh solvents," reports Robert Pitera, Global Innovation Manager at DE-STA-CO (Auburn Hills, Michigan). "The environment and regulations for wash-down and bacteria control are a challenge." IP69 requires food handling equipment to resist hot water sprayed at high pressure for a specified of time.

The design of food robots is important, stresses Motley. "Robotics in the food industry are constructed so as not to cause contamination and so they can be easily cleaned and inspected, because draining and pooling of contaminates is an issue. The design ensures that contaminates are not drawn into gaps and crevices that cannot be cleaned."

Exotic Apps: Food, Pharmacy, Space and Beyond
Robots are called on to perform unusual applications, such as harvesting, says Algarra. "Picking mushrooms is an exotic application. Milking cows is possible but managing the environment in agriculture is not as easy as in industrial plants."

"One of the early breakthroughs has been accomplished by Green Source Automation using sophisticated vision technology to enable industrial robots to interact reliably with dairy cattle in a rotary milking parlor," said Motley.

Erik Nieves, Technology Director at Motoman Robotics, recalls a unique application where a robot performs masking on printed circuit boards (PCBs). "Before etching printed circuit boards, areas you do not want etched need masking, an intensive process if done manually."

With so many different types of PCBs, programing robots to handle each is time-consuming, Nieves says and a more automated means to teach robots to etch the boards was necessary. "The goal was to import the PCB's drawings, detail-in where the masking parameters are. These parameters are downloaded into the robot."

The PCB masking application uses a dual arm robot. Nieves says, "The robot does its own material handling, picking a PCB from the rack, does the processing and puts it onto the out-going rack. In typical automation, the process and handling are separate devices, so having one robot handle both was an advantage."

Nieves also describes a unique application where robotics simulate repair of orbiting satellites. "The National Aeronautics and Space Administration's (NASA) satellite servicing initiative wants the ability to change batteries, refuel or repair satellites. Otherwise, a satellite becomes space junk and is a lost investment." Robots tele-operated from earth or the international space station will repair satellites when the system is fully implemented.

While robotics are commonly used in the manufacture of medical devices, Nieves sketches a prosthesis fabrication application. "One of our system integrators provided a robot for waterjet cutting of composites for prosthetic lower extremities. The system was integrated several years ago, but the programming was cumbersome." Prosthetics are customized by definition and programing the robot meant printing out a template superimposed on the composite. "Someone had to manually teach points with a pendant, which took all day and was fraught with error. If a mistake was made, the process had to start over."

Nieves gives an account of the improved robotic system. "We found a means to import the computer-aided design (CAD) data directly and generate a robot program through software without manual intervention. This process was very successful and increased throughput." The system uses Jabez Technologies Inc.'s (St. Laurent, Quebec, Canada) Robotmaster software. "The application revolutionized how prosthetics are made, going from teach-intensive to teach-less with no programing required."

Arceneaux says robotics can be used in numerous hazardous environments now such as in automated pharmacies. "Mixing cancer drugs is not friendly to people. Automated pharmacy applications is one example of specialized robotics on the rise because operators do not have to worry about contaminating the product or the human." Arceneaux anticipates more specialized robot applications for various industries in the future.

Arceneaux anticipates more robot-based surgery. "Using robots to perform surgery requires following Food and Drug Administration requirements by providing the necessary capabilities of the robot and its vision system to perform its tasks." An example is Intuitive Surgical's da Vinci robot, now approved for use by the FDA.


Aerospace applications offer unique challenges and unique robotic solutions, says, Michael Muldoon, Business Development Manager of AV&R Vision & Robotics. (Montreal, Quebec, Canada). "We can do precise and complex applications such as profiling trailing edges of propeller blades. The system inspects the surface, analyzing critical components of aircraft engines and ensures they have no nicks, dents or scratches. If a defect is found, the system automatically tells the robot how to remove it."

Muldoon says the random nature of defects in aerospace applications is challenging. "The defect could be anywhere on the airfoil. Depending on where the defect is, the system has different ways to repair it."

James Kravec, Senior Sales Engineer with Girard Engineering Inc. (Strongsville, Ohio) agrees. "Grinding and polishing of aerospace and other high precision parts have progressed, providing tighter tolerances."

Automate 2011
End-users and integrators will have chance to check out the latest and greatest robotic technology at Automate 2011, North America's premier automation showcase. Taking place March 21-24 in Chicago, Automate 2011 will combine cutting-edge manufacturing solutions in robotics, machine vision and motion control technologies. Co-located with ProMat and the International Symposium on Robotics, Automate 2011 will also include a comprehensive educational conference featuring a series of tutorials, workshops and the opportunity to upgrade skills through certification exams on machine vision.

Adept, DE-STA-CO, FANUC, Jabez, Motoman Robotics, Schneider and Stäubli, among others, will showcase their capabilities at the Automate 2011 show. Complete details on the show, agenda for the companion conference, registration and hotel information and more can be found at http://www.automate2011.com or call RIA at 734/994-6088.