Trends and Motivations for Robot Purchases
POSTED 11/06/2006
 | By: Trevor Jones, President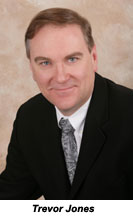 An ongoing trend in the life sciences sector is adoption of robots for research and development, and when I think about why robots matter, it's just obvious to me they are critical to the drug discovery process. That's a reflection of the automation market focus we have at Thermo Electron (a focused view that started during my time at CRS Robotics, which was subsequently acquired by Thermo Electron) but as RIA president and veteran of the industry, I can say without doubt that the underlying value of robots is the same in any industry. Robots allow us to get to market faster, with more product features, and we couldn't compete with emerging, low-wage industrialized nations without them.
I had the pleasure of speaking to a packed roomful of potential robot users when RIA held Robots 2006 in Las Vegas, and this kind of program helps us (the RIA) hear from people who are worried about outside competition. The most common shared interest regarding robots was a desire to examine cost justification. The next most common issue was robot integration. RIA gathered 17 speakers from companies that use, install and sell robots and automation equipment, and we spent two days hearing about what works and doesn't work with examples from a wide cross section of industries.
Speaking of trends and industries, we know the automotive sector accounts for some two-thirds of sales in the robotics industry, but what's interesting is how much variety was in the audience. We had companies of all sizes from a wide range of industries serving customers that buy concrete, ceramic arts, guitars, spas, healthcare products, aluminum and plastics, consumer goods, electronics, airplane parts and more.
There are thousands of opportunities to use robots in all kinds of applications. As we watch trends and buying patterns in the robotics industry, we see that the product life cycle phase plays a key role in the decision to use robots. Products go through four distinct stages: Introduction, Growth, Maturity, Decline. Each stage is characterized by different business needs when determining the justification for capital equipment purchases.
Before you implement robotics, it is important to understand where your product is in the product life cycle phase. Justifying automation for a new product can be very different than it is for an old product. Management is motivated to get to market quickly with as much penetration as possible when a product is new. When a product has matured, efficiency of production and maximizing cash return is important.
Product Introduction: The Case for Robots for When Your Product is New
When a product is new, manufacturers usually need to achieve fast growth and the ability to respond to competition with rapid model changes and redeployment. There is a strong desire to take advantage of new processes to provide competitive advantage: cost, quality, labor reduction. The potential for growth in the market may be the main factor when assessing the justification of automation. What new features will be added? How will you stay ahead of the competition? These important drivers should be considered when assessing automation, and robotics offer huge advantages over fixed automation in these areas.
Innovators and early adopters are key figures at companies with new products. They may choose robots for rapid prototyping and testing. In some industries, like life sciences, there is the opportunity cost of delay. In others words, there are some cases where every month that you hold back the introduction of a product there is a sizeable amount of revenue lost, and from a pragmatic standpoint, profitability will not be what it has to be, or what it could be.
On another level, for people in this zone (new product introduction, that is), robots can appeal as much from an emotional payback of the thrill of using something ''new'' as much as the competitive advantage of using technology that allows rapid deployment of new products with short life cycles. This is a subjective rationalization, which is okay, because it relates to a vision for how early adopters see themselves and their business. ''Variety is the spice of life'', and North American industry owes a debt to those pioneers who try new things and take risks for all sorts of reasons.
Hurdles that can get in the way of flexible technology at companies with new products are just as important to understand. There may be limited funding if the company is new, or in larger companies there can be internal competition for budget between new products and older ones. There may be no manufacturing process in place or a lack of expertise to design automation for a new product. When resources are scarce, it can be easy to overlook investments with long-term benefits such as quality and flexibility. So, one might go with ''easy'' fixed automation, the shortfalls of which don't appear until you need to respond quickly to changing market conditions. Fixed automation can lock a company into a particular product mix, and these days you cannot stand still for too long.
Growth Stage – Robots Help You Dominate the Competition
Using automation to ramp up capacity or to maximize the sales line with new features is key for capturing market share when your product in the growth stage. Now you are looking for ways to dominate the competition, through an increase either in product variety and features or through lower lead-time. Growth expectations can be the basis of a capital equipment investment. During the growth stage, there is enough time left in a product's life to see a multi-year payback. What you find is robotic automation allows you to add product features and still make it affordable to build.
On the other hand, you wouldn't use robots in the manufacturing process if you have high volume and no need for product flexibility. So if a product has limited variety, or has a very high production volume and will never change (or be converted to do something different), then fixed automation is typically the right choice for the manufacturing process.
Late Product Lifecycle – Robots and the Traditional Payback Scenario
When the product is well established and competitors are numerous, operational excellence is important. This generally leads to efforts to reduce overhead costs and labor costs. This is a ''traditional payback'' scenario. Here, the end of the products lifespan may be in site, and there is little time to recover investments. If robots are to be used, it will be for very pragmatic reasons.
At the final stages of a product, the window for getting money out of an investment is small. The basis for using robots would be an operational decision. If robotic automation would increase cash flow, that would be a good reason to use robots. Or if the company is planning to divest the product line, then installing robots may make it more saleable. However, even if there are advantages to using robots, there is a good chance management will be reluctant simply because in this situation, risk aversion is too high, or there may be a lack of available capital.
In some situations, do not overlook using re-tasked robotic equipment. When new products share many of the manufacturing attributes of older or discontinued products and where the re-tooling costs are low and the age of the existing robotics equipment is low, these are prime opportunities to use re-tasked robotic equipment quickly and effectively. When existing robotic equipment is too old, you are better off adopting the performance advantages of newer equipment rather than re-tasking the older equipment. Buy new, invest in product training and move ahead of the curve!
Once you know where you stand on the product lifecycle, you can examine a number of other factors to help you decide if a robot is right for you. For some companies, lean is a driving force. In that case, there are several ways in which robots makes sense. For instance, robots contribute toward inventory reduction through improved quality, consistency, fewer errors and less scrap. Waste reduction is inherent in the design considerations for lines that use robots (automation demands properly designed shop flow). Robots can also contribute toward improved metrics by enabling in-process inspection and other benefits that contribute to continuous improvement.
Eventually it all boils down to cost analysis and payback. Be sure to keep in mind certain basics, including:
One time costs:

Cost of capital outlay

Robotics, tooling, training, plant & process reconfiguration, integration

Cost of Operation

Power (air, electricity)
Routine (mandatory) Maintenance
Routine (mandatory) staff re-training
Residual (remaining) direct labor
You can prove robot ROI on paper, and what you'll find is that the majority of costs are up front. That's where you do all your reconfigurations, buy your equipment and your integration services. Once you've invested in robots, the runtime cost is rather low – some say thirty cents an hour, which is a bit of a generalization, but it is a calculation of power and gives you an idea of how minimal the long-term costs are, even when you include scheduled maintenance. And robots last 10 years or longer, so the investment is well protected. Other ways to look at payback is in terms of savings on consumables, which can be reduced significantly by robots, so depending on the cost of the material, payback can happen much faster.
Some benefits that are harder to quantify are things like reductions in workplace injuries, improved quality, improvement in working conditions and higher worker satisfaction. These all contribute to payback; they are real costs, but they are not as easy to quantify. Nevertheless, these are actual benefits to a company. However, few customers consider these savings in the traditional payback analysis.
One sector that looks at payback a little differently is the pharmaceutical industry, and I'd like to leave you with a few thoughts that may help you make your case for why robots matter in your situation. (I'll be using U.S. dollars in this example.)
In the pharmaceutical industry, robots are used in the drug discovery process. Companies in this sector have to take a long-term view for their product; it takes up to 14 years to develop a drug and costs are upward of $800 million to $1 billion. Unfortunately, 30 percent of all commercialized drugs never pay off, and most drugs fail before product introduction, but after 90% of the development budget has already been spent. Improving drug development efficiency by 10% can save $100 million in development costs. Finding a dud faster can save millions, too.
Laboratory managers, scientists and automation engineers at these companies have to look more than a decade into the future and estimate the viability of their product – and figure out how the processes they adopt will affect that. If they can save $100 million in development costs, the decision to automate is quickly bolstered. And if, thanks to automation, product gets to market one month earlier and creates an opportunity for $20 million more in profit, the decision to automate is well made. We have a great need for improved drug development and commercialization success, and robots matter a great deal if we want to reap the health benefits of modern medicine. In these cases, opportunity cost is a great motivator behind the use of automation.
For your company, look at your product portfolio and gauge the payback of automation based on the product life cycle. Invest accordingly in new and re-tasked equipment. Look beyond single product opportunities. Gauge the effectiveness of automation to give you a competitive advantage in areas such as time to market, reduced cost, and increased capacity. With proper planning and good partners, which are plentiful inside the member ranks of Robotic Industries Association, you'll be successful with robots, and that's really what matters.