Timber Is Growth Industry for Machine Vision
POSTED 12/17/2013
 | By: Winn Hardin, Contributing Editor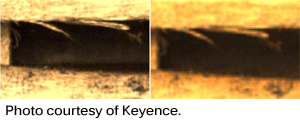 There's a reason the classic image of the lumberjack still resonates today. The timber industry still heavily depends on manual labor. The lumberjack may only break out the ax occasionally when large construction equipment lacks the finesse to get a log out of a tricky spot, but based on expenditure, the lumber industry has invested heavily in people, and less in equipment.
A recent market report from IBISWorld reveals that the lumber wholesaling industry only allocates $0.10 on capital equipment for every $1 spent on labor. This represents both challenge and opportunity to automation industries, including machine vision and robotics. And that opportunity has been growing in recent years.
According to machine vision experts that serve the lumber industry, producers increasingly are turning to automation, and specifically machine vision, to increase efficiency and wring out every possible productivity gain to counter low-cost materials from emerging markets while maximizing returns during the recent real estate upturn following the 2007-2008 housing market crash.
Moving Fast in Hazardous Environments
Traditionally, companies that process timber into lumber have depended on non-contact sensors to measure log diameter, maximize produced lumber compared to waste, and monitor lumber spatial dimensions during processing – namely width, height, length, and camber (or straightness). Lumber mills are messy, hazardous environments. Therefore, non-contact sensors offer the benefit of measuring from a distance, and that helps to keep the sensor safe from harm or fouled by waste. Point-source laser measurement systems have dominated these applications because they are faster than camera-based systems, but that is changing.
"Customers primarily used 1D laser sensors to feed back spatial data to processing equipment," explains Mike Montgomery, Technical Marketing Manager at Keyence (Itasca, Illinois). "Measuring a board would require eight or more single-point laser sensors – two per side. Today, customers are moving toward laser-line generators to cut the number of sensors they need in half. At the same time, we're seeing more systems that combine a laser triangulation system to measure dimensions and to look for surface defects that affect the grade of the wood. It's a marriage between dimensional sensors and vision systems, allowing the customer to do both inspections at the same time."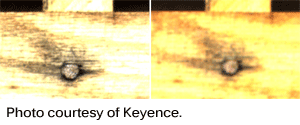 An added benefit to using machine vision with a structured light, or laser, generator is that the spatial data can help the vision system identify knots and surface defects that vision systems had difficulty doing alone.
"One example is finding a knot on white pine," explains Montgomery. "There's not a lot of contrast between the knot and the rest of the board. But if you're collecting dimension data, the knot will often be slightly raised compared to the rest of the board. So by combining the visual inspection with accurate dimension information, it helps the vision system to be more accurate."
Lumber producers are also one of the many industries benefiting from higher-resolution cameras. According to Montgomery, Keyence's LJ-V7000 line-scan cameras and the new XG-8000 series 21-megapixel (MP) camera is helping plywood and particle board producers reduce the number of cameras they need to inspect very wide boards and panels. "They can use one camera where they used to use three or four," says Montgomery, adding that possible distortion at the edges of the field of view can easily be corrected in software, especially in the lumber industry where defects are measured not in microns but in larger units. "We've actually developed an algorithm specifically for finding defects at the edges in our Video Editor software and on our smart camera products. The algorithm works on extrusions too in plastics and related industries that often inspect large areas and want to make sure they can accurately find defects no matter where they're located in the field of view."
IDS Imaging Development Systems GmbH (Obersulm, Germany) also supplies cameras to the lumber industry for log scanning and precise measurement, grading, and quality inspection. "IDS cameras are chosen for a great variety of reasons: robustness, size, variety of interfaces available, competitive costs, and finally their reliability and performance, offering highest quality and accuracy as well as real-time scanning and options for multi-camera systems," says Bettina Ronit Hoermann, Media Communications Manager at IDS. "Combining Ensenso 3D cameras and standard IDS color cameras, a multi-camera system captures not only depth but also color information, hence adding substantially more information and making quality grading even easier. The robust and compact Ensenso N10 3D camera offers a range of benefits particularly for fast inspection and quality control with 30 fps at full resolution for capturing static yet also moving objects. It's designed for working distances from 280 to 1600 mm and offers live-composition of one single 3D point cloud from all cameras, making image processing much easier.
"There is a lot of room for process optimization within the value chain in the lumber industry," she continues. "Machine vision generally, but in particular the latest 3D stereo vision data acquisition, processing, and analysis methods, offer extremely promising possibilities to dramatically increase throughput and to provide more reliable and accurate results. To survive in an ever more competitive market, process automation is the key for the lumber industry."
Despite recent softness in the U.S. housing market and continuing softness in real estate markets in developed countries around the globe, the lumber industry should remain a bright spot for machine vision as the market strives for greater efficiency through automation. "Whether it's paper, lumber, card board, or any wood product, they're pushing for greater efficiency and shorter cycle times to be more globally competitive," Montgomery notes. "When they reduce scrap, they make more money. That's what is driving Keyence to help our customers in the wood and related industries."