The Robotmakers – Yesterday, Today and Tomorrow – Part 2
POSTED 04/24/2018
 | By: Tanya M. Anandan, Contributing Editor
2017 was another record-breaking year for the robotics industry. For seven straight years now, North American robot shipments have continued their upward trend. Last year shipments were up 9 percent over the previous year.
Automotive still represents the largest sector, however, it was non-automotive that posted the most growth. Plastics and rubber (60 percent), metals (54 percent), and food and consumer goods (44 percent) were the largest growth sectors for North American robot shipments. Robotics use is diversifying into varied industries and applications. Robots are moving beyond gargantuan assembly lines to the shop floors of small and midsized companies, helping SMEs compete in a global economy.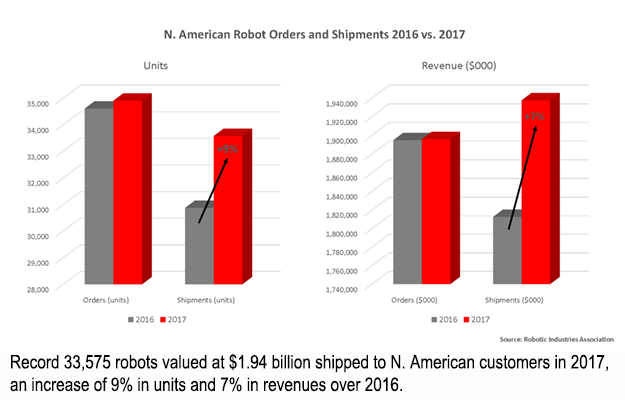 Click the image to view at full size.
The world robotics view is also positive as robot density rises globally. All eyes are on Asia, especially China.
Last year we profiled the RIA Platinum Robot Manufacturers, which represent the largest robot builders in the world. In part two of this retrospective, we will explore the origins of four more traditional robot manufacturers. Although these robotmakers may not be on the tip of your tongue like some of their cohorts, they have equally illustrious histories and have made their impact on industry and the automation world. The four companies profiled here all hail from Japan.
TOSHIBA est. 1875
Toshiba's corporate DNA stems from the aspirations of two notable Japanese inventors, Hisashige Tanaka, who founded Japan's first manufacturer of telegraphic equipment in 1875, and Ichisuke Fujioka, who established Japan's first factory for electric incandescent lamps. In the late 1930s, the two companies merged to form an integrated electric equipment manufacturer, Tokyo Shibaura Electric Co., Ltd. Well known as Toshiba, this became the official name in 1978.
Over the decades, Toshiba Corporation and its heritage companies invented many Japan and world firsts, including Japan's first induction motor in 1895, the world's first double-coil bulb in 1921, and several electric appliances first introduced to Japanese households, including the washing machine, refrigerator, microwave, color TV and DVD player. In 1985, Toshiba introduced the world's first laptop PC.
In 1938, Toshiba's machine tool division was incorporated as an independent company named Shibaura Machine Tools Co., Ltd., the forerunner of Toshiba Machine, which now includes injection molding machines, die casting machines, extruders, machine tools, and industrial robots. Last year, Toshiba Machine's stock buyback reduced the parent corporation's holdings from about 20 percent to only 2 percent, making Toshiba Machine no longer an equity-method affiliate.

Toshiba Machine offers a comprehensive range of robots, including 6-axis, SCARA and Cartesian, all designed and built in house. In partnership with Toshiba Machine, TM Robotics markets and distributes Toshiba robots outside of Asia. TM Robotics has installed thousands of robots in factories throughout the world, including North and South America, India, Russia, Europe, the Middle East, Africa and Australia. They also provide training and support services for industrial and commercial applications.
"Automating manufacturing processes is a complex issue, and there's no one-size-fits-all solution," says Nigel Smith, CEO of TM Robotics in Elk Grove Village, Illinois. "According to TM Robotics' Global Robotics Report, which will soon be released as a downloadable report, 55 percent of our distributors stated that the dawn of the so-called fourth industrial revolution is influencing how customers choose industrial robots. But, despite having a vested interest in robotics investment, we believe manufacturers should take this opportunity to properly assess their application and make informed business decisions in relation to automation.

"What sets TM Robotics apart is our dedication to providing practical advice to our customers, not simply pushing to sell more," continues Smith. "Studies show that 64 percent of manufacturers say their greatest area of concern when implementing connectivity was that initial development costs were too high. There's no denying that investments in automation can reap incredible rewards, but it is vital that manufacturers are investing in the right kind of technology. TM Robotics can provide this advice."
TM Robotics recently expanded its six-axis robot range with the Toshiba Machine TVM models. Longer reach and higher payloads enable robotic loading and unloading of larger machines, such as large plastic injection moulding machines, and other industrial applications in the automotive, medical, packaging and pharmaceutical sectors.
The TVM series is available in three models. The largest, the TVM1500, provides a maximum reach of 1715 mm. The TVM1200 can reach up to 1418 mm, and the smallest model, the TVM900 (pictured), provides a maximum reach of up to 1124 mm. The operating range of each model can be expanded by mounting the robot on an optional linear actuator.
Even though the robot body has been reduced in weight, the six-axis TVM range can still manage payloads up to 20 kg with the TVM900 model. The larger models, the TVM1200 and TVM1500, can handle 15 kg and 10 kg, respectively.
The TVM robots also provide complete hardware compatibility with other Toshiba Machine equipment, including the company's robot vision recognition package, TSVision3D. All three models are compatible with the TSL3200E robot controller and are programmed in SCOL, a programming language similar to BASIC.
Watch the TVM1200 and other Toshiba Machine robots in action at Japan's International Plastic Fair this past October.
Toshiba Machine also provides one of the largest selections of SCARA robots on the market. The newest addition is the THE400. To meet rising demand for fast cycle automation, the THE400 robot thoroughly redesigns the mechanism and control functions of previous SCARAs to achieve operating speeds of 7000 mm per second, with cycle times hitting 0.3 seconds for a standard 2 kg payload. It also boasts improved servo control performance, enabling enhanced arm-tracking and more accurate movement.
MITSUBISHI est. 1921
Mitsubishi may be best known for its cars, especially if you're a fan of action hero Jackie Chan, who uses the brand's vehicles exclusively in his films. The company's roots actually span nearly 150 years to the 1870s when Yataro Iwasaki set up his own shipping company by chartering steamships from the powerful Tosa clan on the island of Shikoku.
Iwasaki used a triangular icon on his ships' flags. The emblem combined the three oak leaves of the Tosa clan's family crest and the three stacked tiers of a water chestnut from his own family crest. Mitsubishi is a combination of the words "mitsu" meaning three and "hishi" meaning water chestnut, which the Japanese often use to denote a rhombus or diamond shape. They often bend the "h" sound to a "b" sound when it occurs in the middle of a word. Hence, you have Mitsubishi. The three diamonds, the company logo, has stood the test of time.
Over several decades, Iwasaki's company went through rapid growth, family successors, stiff competition, expansion into other industries, and eventually Mitsubishi split into semiautonomous companies. What later became Mitsubishi Heavy Industries developed automobiles, aircraft, tanks and buses.
Mitsubishi Electric Corporation was founded in 1921 when the shipbuilding company (now Mitsubishi Heavy Industries) spun off a factory in Kobe, Japan, that made electric motors for ocean-going vessels. It became a leader in home appliances and electrical machinery, known for its advanced air conditioning systems, automobile electronics, satellites powered by photovoltaic technology, and nuclear power generation equipment.
Mitsubishi Electric also introduced many breakthrough technologies, including the world's first large-scale LED screen for sports arenas, the world's largest CRT television screen for the consumer market, the world's first spiral escalator, the world's fastest elevators, and the antenna technology behind the world's first commercial in-flight Internet service.
Since 1980, Mitsubishi Electric has provided a comprehensive lineup of automation products and has become a single-source solution for users' automation needs. In addition to the MELFA line of industrial robots, the company offers CNC control systems, laser electrical discharge machines (EDMs), programmable logic controllers (PLCs), servo systems, motion controllers, human machine interfaces (HMIs), variable frequency drives (VFDs), low voltage switchgear (LVS), energy monitoring devices, SCADA and analytics software, and even industrial sewing machines.

"Manufacturing technology is becoming smarter every day and the requirements for machine intelligence has now become the norm," says Alex Bonaire, Product Manager for Mitsubishi Electric Automation, Inc. in Vernon Hills, Illinois. "As primary advocates for the Smart Machine movement that is occurring globally, commonly referred to as Industry 4.0, we are working closely with our customers and e-F@ctory partners to create new products that address the new and exciting ways people want to interact with automation.
"From software packages that give you access to critical production information anywhere in the world, Edge computing platforms with 'deep learning' capabilities that turn runtime data into actionable intelligence by identifying unseen trends, to robots that can increase their precision by compensating for thermal conditions in the environment, Mitsubishi Electric is focused on developing the next generation solutions to provide users with the connected experience they are looking for as well as the tools that enable truly intelligent machines."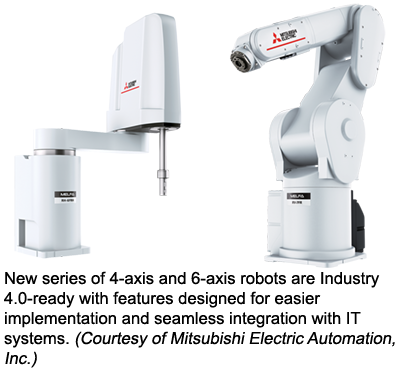 Mitsubishi Electric, a newly minted RIA Platinum Supplier, recently introduced the MELFA FR series of industrial robots. The MELFA FR series provides new, more intelligent solutions that underpin "next-generation manufacturing" and offers a simpler approach to advanced and flexible production. New capabilities include the MELFA Smart Plus, which provides greater accuracy and shorter startup times, making installation simpler and more advanced tasks possible through sophisticated force sensors and enhanced cooperation with vision sensors.
The new RH-FR series 4-axis SCARA robots and the RV-FR series six-axis robots (pictured) both support the "e-F@ctory" solution for seamless integration of robots and IT systems. The new CR800 controller allows users to enjoy next generation performance with the same controller no matter if their preference is a standalone or PLC control-based setup.
Check out this autonomous mobile solution for Mitsubishi's new MELFA RV-FR six-axis robot.
OMRON est. 1933
While OMRON may not be a household name, you have probably interacted with its facial recognition sensing technology incorporated into more than 500 million devices worldwide. OMRON also invented the first automated cash dispenser (a precursor to modern ATMs), the first automated traffic control systems, and a distance warning system for automobiles. It is the global market leader in home blood pressure monitoring technology.
The origin of the OMRON name can be found in Omuro, the district where company founder Kazuma Tateisi first set up shop in Kyoto to peddle his own invention, a trouser press. A friend who was an X-ray salesman soon gave Tateisi the idea for his next invention, a timer for X-ray machines that combined an induction-type relay with an oil circuit breaker. In 1933, Tateisi Electric Manufacturing Co. was born.
Tateisi then developed an induction-type protective relay for use in power switchboards. As demand for protective relays soared, Tateisi decided to stake his company's future on relays. In 1941, prompted by a request from Tokyo University's Aeronautics Research Institute, Tateisi engineers began work on Japan's first micro switch. The team was successful, but World War II prevented commercial success. To stay afloat, Tateisi made adjustable heating devices, hair irons for women, and desktop electric lighters using micro switches.
After the war, the company embarked on a new start under a new name, OMRON Tateisi Electronics. OMRON focused its energy on expanding sales channels for newly developed products such as the micro switch relay, the thermal switch, and the pressure switch. As automation spread throughout Japan during the late '50s, market demand increased for high-performance precision switches capable of withstanding more than 100 million cycles. In 1960, OMRON unveiled the world's first non-contact (solid state) switch at the Osaka International Trade Fair, accelerating the incorporation of electronics into automation devices.
During the 1970s, the interaction between computers, communications, and control technologies became more prominent. OMRON focused its efforts on development of the programmable logic controller and image processing technology with the ultimate aim of creating a new kind of interaction between people and machines. In 1987, OMRON developed the world's first ultra-high-speed fuzzy logic controller. The merger of fuzzy logic and control technology spurred the advancement of factory automation. The OMRON Corporation name became official in 1990.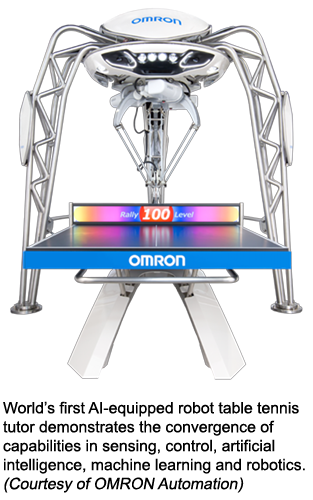 In 2015, OMRON acquired Adept Technology, the only remaining U.S.-based traditional robot manufacturer. This expanded OMRON's robot products range to include SCARA, delta, six-axis and autonomous mobile robots. Today, OMRON Automation is a fully-integrated industrial automation solution provider. Its product portfolio includes robotics, sensing, motion, logic, safety and vision.
OMRON recently exhibited for the first time at the Consumer Electronics Show (CES) in Las Vegas, the stage for its U.S. debut of FORPHEUS, the world's first AI-equipped table tennis tutor (pictured). The AI-equipped robot demonstrates how OMRON technologies come together to create machines that work in harmony with humans, helping to enhance and extend human capabilities.
Rather than competing with a human opponent in table tennis, FORPHEUS judges the skill level of the player and adjusts its play to help promote longer rallies, all the while coaching and encouraging the human player throughout the match. FORPHEUS has a three-camera system to identify the ball and evaluate players, a high-speed robotic arm that moves in response to its AI controller, trajectory prediction, a motion controller "brain" which tells it how to hit the ball, and machine learning to evaluate players' capabilities.
FORPHEUS also has the ability to toss and serve the ball, predict a smash based on the movements of the human player, and produce sounds appropriate to the state of the match. Watch it in action at CES.
"OMRON's automation technologies are always striving to create more advanced solutions to enable smart manufacturing and factories of the future," says Robb Black, President and CEO of Omron Automation Americas headquartered in Hoffman Estates, Illinois. "Throughout the years, we have been witnessing the increasing challenges of the Industrial Internet of Things (IIoT) and 'Big Data' and the role they play in robotics and automation within industries such as automotive, food and beverage packaging, and semiconductor. This year, Omron will introduce solutions to these and other automation challenges for flexible manufacturing, while improving traceability and overall equipment effectiveness. Our vision is to bring innovation to manufacturing through automation to enrich the lives of people all over the world."
EPSON est. 1942
In the spring of 1942 along the shores of Lake Suwa in Nagano, Japan, a local clock shop owner established Daiwa Kogyo Ltd. to manufacture watch parts. This became the predecessor of Seiko Epson Corporation.
In 1956 the Seiko Marvel, the first original mechanical watch, made its debut. When the Seiko Group was selected to be the official timekeeper for the 1964 Summer Olympics in Tokyo, a printing timer was required to time events. The company started developing an electronic printer. The printing timer and the world's first portable, high-accuracy, battery-operated quartz timer, the Seiko Crystal Chronometer QC-951, both played important roles during the Games.
In 1968, the company introduced the world's first miniature digital printer. The EP-101, where "EP" stands for electronic printer, was soon incorporated into many calculators. In 1975, the EPSON brand was born when the next-generation printer, or the son of electronic printer (EP-son), was released.
EPSON Robots began developing robotic technology in the early 1980s to improve the productivity and quality of its in-house watchmaking processes. The SSR-H Series, a precision assembly robot was the company's first commercialized factory automation product in 1983.
Today, EPSON robots still assemble Seiko watches along with a variety of the company's products, including EPSON print heads, other printer components, projectors, print cartridges, and electronics. EPSON robots are also hard at work in other top manufacturers' facilities across the globe.
In 2016, EPSON introduced the Flexion N2, a unique six-axis robot featuring the world's first compact folding-arm technology. All of EPSON's six-axis robots feature a SlimLine design to save valuable factory floor space and "fit where other robots can't" without compromising power, speed or reach.
EPSON offers a wide range of integrated options including vision and force guidance to enhance robot capabilities, and integrated motion sensors to reduce vibration and increase performance. EPSON RC+ software is user-friendly, making automation setup fast and easy.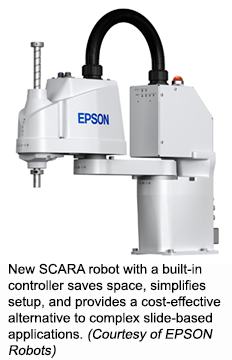 The Synthis T3 All-in-One SCARA robot (pictured) made its debut at the Assembly show in October. It comes with a built-in controller in the robot base that saves critical workspace and simplifies setup. The all-in-one robot installs in minutes, unlike complex linear slide-based systems. It runs at 110 v or 220 v and requires no battery, reducing factory downtime for maintenance and the overall cost of ownership. The compact, lightweight solution uses less space than linear-slide systems, while providing a large work envelope. Applications include pick-and-place, assembly, parts handling, and dispensing in industries ranging from automotive and medical development, to lab automation and consumer electronics.
See how EPSON's Synthis T3 All-in-One SCARA robot takes less time to install than slide-based systems, and makes integration fast and easy.
"EPSON has one of the broadest lines of SCARA robots in the industry (over 300 models) and is the #1 SCARA robot manufacturer in the world," says Gregg Brunnick, Director of Product Management for POS printers and Robots at EPSON America, Inc. in Carson, California. "We will continue to focus on improving the entire EPSON SCARA lineup in precision, speed and ease of use. Our focus is on high-speed, high-precision applications with some SCARA robots delivering precision down to 5 microns. Future solutions will address Industry 4.0 integration, including self-teaching robots, self-diagnostics that indicate when components start to fail, and AI integration for assembly processes."
As Industry 4.0 and cyber-physical systems play an ever-increasing role in our world, we look forward to exploring the solutions RIA members will bring to the stage. Since the trade group's founding in 1974, RIA has been honored to celebrate and support the journeys of all of our members.
RIA Members featured in this article:
EPSON Robots
Mitsubishi Electric Automation, Inc.
OMRON Automation
TM Robotics (Toshiba Machine)