The Many Faces of High-Speed Machine Vision
POSTED 06/13/2013
 | By: Winn Hardin, Contributing Editor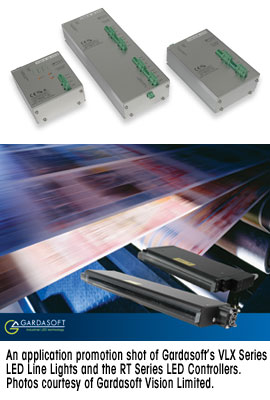 Speed can refer to overall line speed, maximizing available data bandwidth across multi-inspection systems, adjusting to new 29-megapixel cameras, and minimizing latency for right-time reject actuation.
A production line that manufacturers 10,000 widgets per minute is "high speed" because relative to other lines in other industries, production volume is high. But how about the production line that only produces 10 parts per hour, but the parts are so large that an industrial camera has to take 1,000 pictures to inspect the entire part? Or a line that produces 100 parts but requires a camera with 100 times the resolution of our 10,000-widget-per-hour inspection station?
The obvious answer is that, when viewed purely from a bandwidth perspective, all of these applications are "high speed," "high bandwidth," and a challenge for any machine vision system. Now, if these three options were the only three definitions of "high speed" that machine vision component manufacturers and system designers had to solve…if only.
What a Long, Strange Trip
"We have to remember that 20 years ago, a machine vision inspection system was challenged to find if a barcode was present and in the right position" recalls Donal Waide, Director of Sales at BitFlow Inc. (Woburn, Massachusetts). "Now, machine vision affects almost every industry on the planet in some shape or form. We see new challenges every day, and right now, part of the challenge is providing the bandwidth, transmission distance, and on-the-fly control for new high-resolution cameras up to 29 megapixels in electronics and medical imaging and similar large-relative-area inspection applications."
LED panels are one example of large-relative-area inspection. "As LED panels have grown in size, manufacturers have gone from using a single camera to inspect every pixel's operation and find scratches on the order of 1 millimeter," Waide explains. "Now companies want to do that same operation on a 72-inch panel and find defects as small as a few microns, and still do it all with a single camera. This is one of the areas where the larger sensors up to 29 megapixels are being used. To maximize the data bandwidth, LED panel manufacturers are looking at new connectivity solutions, such as CoaXPress [CXP]—especially as these large-sensor cameras transition from 5 to 7 frames per second to 30 frames and above."
While Camera Link can deliver a maximum of 850 MB/s (6.8Gb/S) , BitFlow's new four-channel Cyton-CXP4 board offers four channels, each capable of transmitting up to 6.25 Gbps, for a total of 25 Gbps. The Cyton also offers a fifth uplink channel of 6.25 Gbps just for camera control systems, which can be useful for high-volume manufacturing lines that produce thousands of parts per hour. "In producing thousands of parts per hour, a few seconds' delay in finding a defective production line can result in hundreds of defective parts," adds Waide. "Over the course of a year, that's a lot of waste. The control channel can also be used for outdoor applications where the camera configuration has to change on the fly in response to changing ambient conditions, such as in toll tracking for intelligent transportation systems [ITS]. Combined with CXP's 100+ meter transmission distance, fast camera control, high data bandwidth, and long cable runs are particularly useful for ITS applications."
Let There Be Light
High-volume production lines also put an extra burden on illumination systems. "The faster the line, the faster you run out of your light budget," explains Peter Bhagat, Managing Director at Gardasoft Vision Limited (Elsworth, Cambridge, United Kingdom). "If you have a slow production line, you can use a DC LED lamp and it's simple enough. But for faster exposures, you quickly run out of sufficient light for virtually any application from surface inspection to linear measurements. In these cases, you need to switch to strobe or pulse mode, where you can overdrive your high-brightness LED light by up to 10 times without being concerned about thermal damage because the light has the opportunity to cool between pulses. Then the question becomes: What's the best method for controlling lighting output to produce consistently high-quality images?"
According to Bhagat, "LED datasheets will indicate that very small changes in LED voltage result in large changes in the LED current, and large changes in LED current result in large changes in light output intensity. Gardasoft LED controllers, for example, therefore regulate the current, not the voltage, so that light output is stable, tightly controlled, and highly repeatable. Controlling the current allows for precise control of the LED light output. Additional benefit is then also available to users who are looking to overdrive their lights to increase light output."
Gardasoft's SafePower LED controllers simplify retrofits and other installations that can supply the base 24V power but cannot step that power upwards of 48V and 1 amp to overdrive the light for strobing applications. SafePower controllers can also control multiple lights with built-in synchronization capability for applications that require multiple images per inspection step; using multiple lights for greater output; or to isolate different features on the device, such as indirect illumination for checking surface finishes at speed and direct illumination for linear measurements.
For more complex installations that would normally require an inexpensive PLC to monitor position encoders, sensors, and trigger multiple light/camera combinations as well as downstream motion-control reject mechanisms, Gardasoft's CC320 Trigger timing controller offers more precise temporal control as low as 100 microseconds compared to a few milliseconds for standard PLCs.
"Rather than spending two or three days to program a PLC, our Trigger timing controller is designed specifically for machine vision systems," explains John Merva, Gardasoft's new head of North American Sales and Marketing. "You may have up to 50 products or more between a sensor and reject mechanism, and this controller keeps track of every product location, eliminating the need for the machine vision application software to cover this task for high-speed or complex manufacturing operations. While the Trigger timing controller costs about as much as a low-end PLC, it offers an order of magnitude better response time, reduced latency, and much simpler installation."
Merva adds that the Trigger controller also can be used to shorten the pulse width of the HB LED down to 100 microseconds to freeze small objects such as paper fibers in a web inspection and other line-scan applications.
Finally, Bhagat suggests that high-speed system designers be sure to look at rise and fall times for strobed light applications. Gardasoft achieves rise/fall times of 200 ns, allowing them to provide consistent illumination for events as short as a few hundred microseconds.
As this story shows, high-speed applications are truly relative. Imaging a fiber that is tens of microns as it travels a centimeter per second is just as challenging as imaging a bullet flying through an apple. Successful high-speed machine vision designs will have to examine every component closely to make sure their system light, temporal, and spatial capabilities not only can just look at fast-moving objects, but also make a decision in a fraction of a second.