The Gateway, The Conduit, The Control – Perspectives on the Human-Machine Interface
POSTED 03/30/2017
 | By: Ray Chalmers, Contributing Editor
Costs, technologies, and people all play a role
Not only are expanding economies imposing an unrelenting focus on improving machine productivity and efficiency, increasingly there is a need for tracking and mining the valuable production data in those machines and putting it to use for a more efficient and profitable business. How operators, supervisors, and business principals interface with their equipment is changing as dramatically as the interface devices themselves.
"We see continued growth in HMI products through 2017 with most of our industrial indicators showing positive signs," says Bill Faber, Director, Industrial Automation Business Group Product Management and Marketing for Delta Products Corporation. "Companies are continuing to make business investments in automation to achieve higher levels of efficiencies."
As industrial machinery use grows in the US, there is a greater need to interface with machinery in a more intuitive and informative way, technology providers say. "There are many transformations our industry is taking to accomplish this," adds Remy Echavarria, Delta PLC and HMI product manager for Delta Products Corporation. "On one hand, we have the operators, on the other hand, we have the machine owners. Both are looking to operate their equipment more efficiently, but they're going about it in different ways. To satisfy both, the HMI is a gateway and a visualization tool – transferring useful data/information and presenting data on a screen in a way to build information profiles about the machine and involving the operator in key decisions."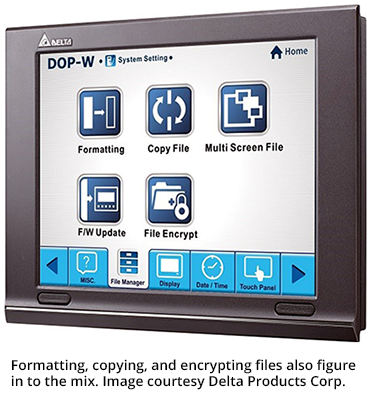 From Data to Information Profiles
These information profiles are today's version of the old recipes you'd see in the HMIs of the past, Echavarria continues. "This data is rapidly moving toward cloud storage, and is developed off processed data transmitted to it through standalone devices. The HMI serves not only as a gateway for the data, but also a way to transform the data to informative application profiles. Through application profiling, machine owners can get machine-specific operating data converted to information to, allowing them to quickly identify and act on any potential issues that may be coming down the line. This saves both the operator and the machine owner costs in avoiding unnecessary routine maintenance, and downtime. We need both computation algorithms and operator judgement to convert raw data to real actionable information. And HMIs with the right feature set will help bridge that gap."
Delta's "eServer" is a primary application, according to the company. What it does is allow you to take its HMI, and transmit all the data from the HMI to a local analytics database, similar to a data concentrator. This allows for both the data and information from the HMI to be then analyzed on a local server to help perform smart actions.
All of this is pointless, however, without the ability to communicate with end-devices. This is why HMI providers including Delta are committed to provide extensive third-party device support. This allows the HMI to act not only as a gateway and display, but also as a data concentrator.
Expanding the Discussion
There are a lot of options you can pick from when it comes to HMIs, each with its own pros and cons. "Overall the richer an experience you provide, the better the interaction," says Brandon Treece, Senior Product Manager, National Instruments in a recent interview. "First are component-level displays, which are components to a larger system that you can directly integrate into your final mechanical design. These types of displays are typically board-level, connect via serial or USB, and are designed to provide more basic functionality such as soft front-panel buttons or basic system data. These types of displays are often the lowest cost but are limited in their performance."
Treece continues, "Another option, and what most people likely think about when considering an HMI, is to use a standalone touch-panel computer (TPC) or a standalone PC and monitor that is connected via Ethernet to your controller. This type of HMI can drive more complex, graphics-intensive interfaces due to a dedicated processor and therefore provide a richer experience, but it does add cost."
An alternative that Treece describes is called a thin client. Unlike a dedicated TPC or client-installed application, a thin client executes a zero-install user interface (UI) on the client and relies heavily on the server for data retrieval, analytics, and logic execution. "This type of UI allows you to have even more flexibility on where you access your data, including from a Web browser or a mobile device. If your controller has integrated graphics, you can get the same user experience as TPCs, but without the higher cost and software burden."
It's Still Industry, People
Processing plants and shop floors are exponentially safer and quieter than in the past, but equipment is still performing heavy-duty work. Red Lion Controls calls its Graphite HMIs the industry's most rugged HMI in addition to offering plug-in modules and expansion racks for added versatility. New modules enables users to leverage industry-standard IEC 61131 programming languages to develop logic code without added expense.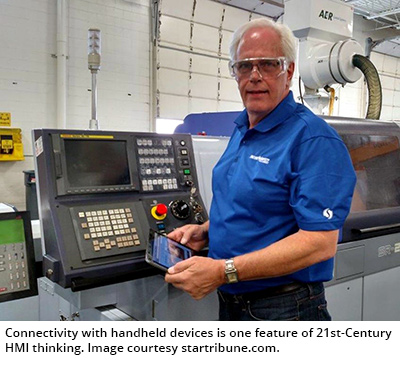 Connectivity and Communication
HMIs are a potent communication platform. Today's devices can manage multiple-vendor applications and network-enable existing equipment. Certain devices offer users the ability to select and control PLCs, drives, motion controllers, or PID controllers directly from the platform. Additional features like built-in web server allow remote personnel access to monitor as well as control equipment from virtually any networked device. HMIs can also alert personnel about existing or pending issues via email or SMS text messages to ensure problems are addressed quickly, minimizing downtime.
In its report "Avoiding HMI Headaches: Key Factors for Selecting the Right HMI Early in the Process," Bosch Rexroth offers additional points to consider. Is there a range not only of operating equipment but also environmental conditions? Ruggedized or otherwise hardened electrical panels not only offer physical protection, but also help guard against an abundance of electrical noise or vibration. An HMI operating in a wash down environment such as a food processing plant might require a high IP (ingress protection) rating. What about extreme temperatures or temperature ranges, such as an HMI placed near a blast furnace? If the HMI is to be used outside, will it require a daylight readable HMI? It's better to plan ahead and consider a heavy-duty HMI than to go back later and replace a unit because it didn't hold up.
There are a few other factors to address, such as control options, scalability of programs and finally, pricing. Control options refer to the ability of some HMIs to also function as a PLC or controller. If used properly, this capability can reduce the complexity of a system. In addition, if a vendor provides a "scalable solution," then the program created for one HMI can easily be altered for another higher-end or lower-end HMI from that company's product line. This allows a programmer to save time by reusing previous work and adding or dropping features as desired.
Notice that price comes last, the company says. There are so many other considerations that need to come first to make a proper decision. Choose functionality, then compare pricing. Selecting an underpowered HMI based on price will eventually result in much greater costs in the long run.