The End of Separation: Man and Robot as Collaborative Coworkers on the Factory Floor
POSTED 06/06/2013
 | By: Tanya M. Anandan, Contributing Editor
A new realm of industrial robotics is upon us. Human-robot collaboration is here, on the manufacturing floor, viable and successful.

The ushers are a new breed of collaborative robots being integrated with humans in real-world manufacturing settings, free of many of the safety constraints required in the past. No more separation between man and robot.

Now you have a paradigm shift in how we view "the machines," their significance in the manufacturing space, and even their payback analysis. Humans and robots are working alongside each other and with each other, as coworkers.

Humanlike and Cage-Free
Our contemporary coworkers have one thing in common. They can operate in the human-occupied workspace without safety fencing. This species of robot is cage-free.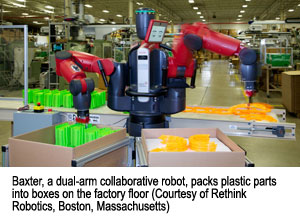 That doesn't mean their workspaces are devoid of safety peripherals, but gone are the elaborate safety guarding systems of their heavyweight cousins. The fences are coming down. Robots are being seen in a whole new light.

"For all of these years, when we would put a robot into a plant, those at the executive or management level would say, 'There's a machine and that machine does that.' When you put a dual-arm robot in to do the same thing," says Erik Nieves, Technology Director for Yaskawa Motoman Robotics in Miamisburg, Ohio, "we find management now looks at it differently. They say, 'Aha, that looks like labor.'

"Now, it's not about a particular task or process anymore. It's a function of the fact that it is anthropomorphic and we have a natural connection to it."

Similar, But Dissimilar
While these next-generation robots are free to work in a collaborative environment with humans, are all relatively lightweight and dexterous, and independently and as a group shifting the business model of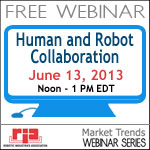 robots from machines to labor, that's where the similarities end.

Single-arm or dual-arm, 6-axis or 7-axis, $22,000 or six figures, high-speed industrial use or all-purpose shop floor tasker – even one with an animated "face" – each of these paradigm-shifting robots has its advantages and trade-offs, and is carving out its own niche in the manufacturing space.

Meet Baxter
Baxter, the dual-arm humanoid robot from Rethink Robotics, has garnered near-celebrity status in the press since his introduction in September 2012. He has two 7-axis arms connected to a torso and sports an LCD display for a "face" that reacts to human interaction. He weighs in at 75 kg and has a maximum load capacity of 2.3 kg per arm. Baxter has built-in sonar and camera sensors to detect humans when they enter his space, and integrated vision for object detection. At 0.6 m per second carrying maximum payload, Baxter is one of the slower collaborative robots, but that's not his forte.

"Baxter is best suited to tasks that are repetitive and don't require a lot of skill, but require some of the common sense of a human being," says Mitch Rosenberg, Vice President Marketing and Product Management for Rethink Robotics in Boston, Massachusetts. "For example, examining a part to determine if it's in spec and if it passes, then putting it in the good pile; otherwise, putting it in the reject pile."

This video shows two Baxter robots working on an assembly line.

Meet Dexter Bot
Yaskawa Motoman's dual-arm robot has 15 axes, including two 7-axis arms connected to a torso that rotates at the waist. This collaborative robot has been in the manufacturing space for more than two years and is available in different payloads from 5 kg up to 20 kg per arm. Dexter Bot even has his own LinkedIn page.

Unlike Baxter which starts at only $22,000, Yaskawa's dual-arm robot maintains the speed and precision of traditional robots and its six-figure price tag reflects this performance expectation. "Yaskawa is more geared toward process and assembly, where you have to fit this connector into that slot," says Nieves. "For these kinds of applications, you better have repeatability on the order of one-tenth millimeter."

This video shows Motoman's dual-arm strutting all of its 15 axes in a lab demo for a lift-assist assembly application.

Meet LBR iiwa
KUKA's lightweight robot, the LBR iiwa (for intelligent industrial work assistant) was introduced at Hannover Messe 2013 in Germany this past April. It was developed under a technology transfer agreement with the German Aerospace Center (DLR) and was originally designed for use in outer space.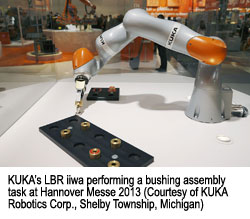 The current model is a 7-axis arm, weighing 23 kg, with a "light touch" for sophisticated assembly tasks. More than 500,000 rear-axle gear boxes have been built for Daimler AG as part of an assembly pilot program launched in 2009 at its Mercedes-Benz plant in Stuttgart, Germany.

"The LBR iiwa is particularly adept at force-guided assembly tasks, such as gear meshing, peg in hole insertion, and snap fitting," says Michael Gerstenberger, Senior Engineer for KUKA Robotics Corp. in Shelby Township, Michigan.

Meet the UR
Universal Robots introduced its 6-axis single-arm robot at IMTS 2012 in Chicago last September and just announced in May a concerted distribution push in North America. Since 2009, the Danish manufacturer has sold a reported 2,000 robots around the globe. The base model sells for $34,000. The UR series comes in two models, 5-kg and 10-kg payload arms, with the smaller payload arm, the UR5, weighing in at 18 kg. It has a speed rating of 1 m per second and runs on single-phase AC power.

"Applications that are very repetitive, mundane tasks that require an operator to stand at a machine all day or sometimes all night long, loading/unloading and initiating processes. That's the exact type of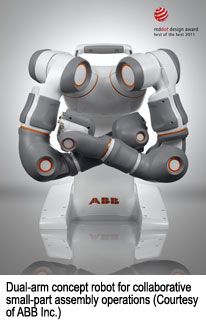 application suited for our product," says Edward Mullen, National Sales Manager for Universal Robots USA Inc. in Stony Brook, New York. "It's very easy to use and set up; and it can be picked up and moved around the facility very easily."

Dual-Arm Concept
ABB's dual-arm concept was developed in response to demand for collaborative robots in small-part assembly operations common in the consumer electronics industry and other sectors. The 14-axis prototype has flexible grippers, camera-based part location, and ABB's IRC5 controller integrated in the torso. According to the robot manufacturer, further development and refinement are underway as a result of positive reaction to its initial effort.

Manufacturing Support Robots
Toyota has been developing industrial robots since the 1970s, traditionally for use in welding and painting applications. The auto manufacturer also uses its in-house robotic technology to assist assembly line workers in lifting and transporting heavy or ergonomically challenging objects.

Toyota developed a collaborative robot for mounting spare tires, which operates alongside humans without the need for safety fencing thanks to a spring weight compensation mechanism and force-sensorless control technology. The robot's low-power motor (80 watts) saves energy and its space-saving design helps shorten automotive assembly lines.

This video courtesy of Toyota Motor Corporation shows the robot in action on the assembly line.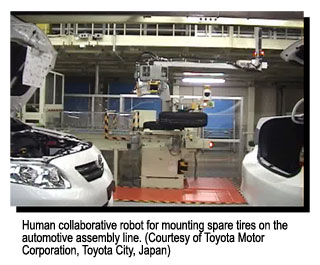 With so many apparent disparities between robots in this class, what makes them "collaborative" is a combination of vicinity, safety and ease of use. A variety of technological advancements allow them to work in close proximity with their human coworkers.

Kinematic Redundancy
One of the significant advancements in collaborative robotics was the development of a 7 degree-of-freedom manipulator, the 7-axis arm. Yaskawa's and Rethink's dual-arm robots, and KUKA's single-arm robot, all have kinematically redundant 7-axis manipulators.

"Our lightweight robot has 7 joints, or 7 degrees of freedom, so it actually has one more degree of freedom than is necessary to hold a tool in place," explains KUKA's Gerstenberger. "That extra degree of freedom leads to kinematic redundancy. With 7 joints, you can swivel the elbow around to get out of the way of other objects or people. It's like holding your grasp in one location, say on a steering wheel, and still being able to swivel your elbow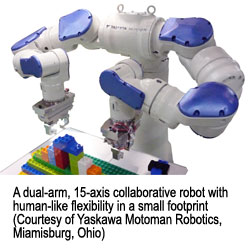 around to place it on the arm rest."

Kinematic redundancy is not necessarily a "collaborative" feature on its own, but it's useful when you have a crowded space.

"Most traditional robots are 6-axis. You pick the pose (combination of position and orientation). The controller picks the configuration (what the arm looks like behind the wrist)," explains Yaskawa's Nieves. "As soon as you add a 7th axis, which mimics the human arm from your shoulder to your wrist, now you not only get to pick the position and the orientation of the tool, but you get to choose the form or shape of the arm behind it. Now you can stick lots of robots close together (and in proximity to humans), because you can easily deal with the interferences between them."

Universal's six-axis arm is not kinematically redundant, but it is able to work in the vicinity of humans because of its compact and lightweight design, among other safety features. "Our robot can sit where a person would be on a production line, in between two people, and work safely without upsetting those processes upstream and downstream," says Mullen.

Safe Operation
Whenever you have robots and humans sharing a common workspace, safety is vital. This is especially true with this new breed of collaborative cage-free robot, many of which are designed to operate while shoulder-to-shoulder with their human coworkers.

The latest robot safety standards address human and robot collaboration: ANSI/RIA R15.06-2012, Industrial Robots and Robot Systems – Safety Requirements, and ISO 10218:2011, Robots and Robotic Devices – Safety Requirements for Industrial Robots.

"The standards were developed with collaborative robot operation in mind," says Pat Davison, Director of Standards Development for the Robotic Industries Association (RIA) in Ann Arbor, Michigan. "They allow for certain conditions or procedures to occur in a safe and productive manner where humans and robots share the same workspace."

Robots in this collaborative classification use different technologies or product features to achieve safe operation.

Torque Sensing
Universal's single-arm robot has features that address power and force limiting. "If it comes in contact with a human being or any object with a certain force value, it stops immediately," says Mullen. "It knows the required amounts of force to pick up a load and move it from point A to point B. When it recognizes an increase in torque or force required for movement, such as in a collision, the robot arm safely stops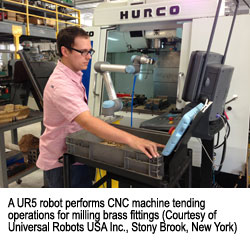 without causing harm."

KUKA's LBR iiwa also uses power and force limiting features for safe operation. "Our lightweight robot has torque sensors at each of its seven joints," explains Gerstenberger. "The torque sensors are built into the joint mechanism on the output side of the gearing. This means we're able to sense what's really going on at the joint level and end effector level."

Gerstenberger says the control system is also safety rated. "Even if the torque sensors fail or there's some kind of error, the control system is designed in such a way that it will detect any problem ahead of time, causing the system to fail in a safe way."

Collision Detection
According to Gerstenberger, you can also change the control mode of the LBR iiwa from a stiff, full-speed mode to a joint impedance mode when it detects unexpected contact with an object or human. The soft, compliant mode allows the robot to be easily pushed away. The robot can be armed to enter the compliant mode automatically when it detects contact, or it can be disarmed to run in stiff mode at full speed.

Other robot manufacturers take a different approach to collaborative robot safety. "Yaskawa's premise is that automation will work by itself most of the time, so let it go at full speed when it is alone," says Nieves. "Our dual-arm meets the current standards for collaborative work. This means in some applications, fences can be replaced by safety-rated sensors (light curtains, safety mats) that tell the robot when to stop or slow down to a safe speed."

Series Elastic Actuators
According to Rethink, Baxter is also fully compliant with the current safety standards. Rethink likes to say that Baxter is "self-evidently safe."

Rosenberg explains: "The robot is designed with fully back-drivable joints, no pinch points, and force sensing on a very detailed level. If it so much as barely contacts a human being with very little force, the robot will stop immediately and back off. It's simply not possible to hurt oneself." There is even video circulating of Rethink Founder, Chairman and CTO Rodney Brooks putting his head in the robot's path to demonstrate Baxter's safety prowess.

The flex in Baxter's joints comes from its series elastic actuators. In a traditional joint actuator, the motor drives a gearbox and all the components are rigidly conjoined. In a series elastic actuator, the motor and gearbox drive a spring. The spring flexes with the joint and allows the robot to "judge" the forces being applied by the deflection of the spring, and react accordingly.

Rethink admits to trade-offs when you make a robot so safe that it can work shoulder-to-shoulder with human beings. "You can't be moving heavy payloads," says Rosenberg. "Plastic parts are well-suited, because they have to be handled and moved around, but they aren't particularly heavy."

This video shows Baxter on the job at The Rodon Group, a high-volume plastic injection molder in Hatfield, Pennsylvania.

"Working alongside one of Rodon's operators, Baxter can be shown how to perform a task and be repurposed as needed," says Tony Hofmann, Facilities Manager at Rodon. "Here we're using Baxter to pack K'NEX construction toys, specifically tracks for the Mario Kart Wii™ racing sets."

Hofmann's statement hints to another collaborative trait, teachability. Many of the robots in this category have user-friendly features that allow them to be "taught," thus eliminating the need for sophisticated programming.

Teaching, Not Programming
Rethink doesn't even use the word "programming" to describe the way Baxter learns new tasks.

"One of the things that's novel about this robot is that most tasks can be accomplished with no programming experience or skills whatsoever," says Rosenberg. "You simply grab the robot at a certain spot on the wrist and show it what you want it to do. Likewise, you show the robot what part you want it to recognize with its vision system and use a simple set of menus to tell the robot what sequence of tasks to take." Baxter's LCD "face" doubles as its graphical user interface.

Universal's UR series are similar to Baxter in that most programming tasks don't require prior programming experience.

"There's no PC-based language for the Universal system," explains Mullen. "By pressing buttons on the pendant, you can jog each individual axis to make the robot go into position. Or you can press a button on the back of the teach pendant that back-drives all the servomotors. Then you can physically grab the robot by its wrist and move it into position, and it will learn that point."

"You don't have to be a degreed engineer to interface with this robot," adds Mullen. "Anybody can be trained to use this robot in 15 minutes."

Empowering Humans
Mullen says this is like giving the human operator a promotion. "You're allowing people to have more responsibility in their jobs. You can take any factory worker and make them responsible for this robot."

"A human operator can only do so much (physically)," explains Mullen. "So by taking that human physical part out of the equation and putting robots there, you're now taking that same individual and giving him the responsibility of training and supervising the robot. The quality goes up and the process becomes more efficient, and it's able to run 24/7."

Mullen says the transformation is remarkable when you empower workers. "When you take somebody that didn't have any interaction with automation and now you allow them to take responsibility and make something work, it gives them a sense of pride and accomplishment. They succeed and it motivates them. It's really fascinating to see."

This is the essence of human-robot collaboration, using robots to empower people to aim higher, dream bigger.

New Sales Channels
There's another phenomenon taking shape in the collaborative robot realm. Unlike conventional robots, these lightweight and portable, and in some cases low-cost, taskers are popping up in non-traditional sales channels. They're going where few robots have gone before, to the shop floors of small and mid-sized businesses.

Universal Robots is one of those shifting the paradigm by selling its robots through distributors.

"Distribution is a completely different sales channel," says Mullen. "Robot integrators typically focus on one industry. We chose the best distributors in high-tech automation for our network that can get us into all different kinds of industries. The flexibility factor built into our robots makes it valuable to small and medium-sized businesses, because it can be reallocated very quickly and easily around the facility."

"We're always looking for solutions that will be a differentiator and give our customers an advantage," says Philip Hollingsworth, Sr. Applications Engineer for Sparkem Technology LLC in San Diego, California, one of Universal's distributors. "Most robotics solutions have a lot of setup, but the UR robot is incredibly easy and intuitive."

This video shows the UR5 on the job in a CNC mandrel bending application at one of Sparkem's customers, RSS Manufacturing & Phylrich in Costa Mesa, California.

"The UR5 is currently deployed in our machine shop to handle mid-range part runs," says Shane Strange, Automation Specialist at RSS MFG & Phylrich. "We've found that with its light weight and integrated programming software, the robot arm can be removed from a finished run and redeployed elsewhere in about the same time it takes one of our employees to retool the machine."

Rethink's Baxter is also being used to target leaner businesses. "Our idea was to make a very inexpensive robot that did not require technical staff to program, so that small to medium-sized businesses would be able to economically adopt automation and thereby be able to compete successfully with low-wage manufacturing," says Rosenberg.

Humanoids for Hire
Yaskawa Motoman is on the ground floor of an even more novel idea. Steel Collar Associates, based in Holland, Michigan, is a new start-up by Yaskawa alumnus Bill Higgins. His company distributes Motoman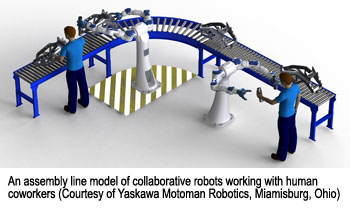 dual-arm robots as contract employees.

Higgins expects this concept to appeal to users who want to expense a part of their automation as opposed to capitalizing it. "Even the most expensive Steel Collar Associate in Motoman's line-up can be hired on a one-shift contract for the current average cost of a blue collar associate, approximately $35 per hour according to the U.S. Department of Labor. If the Steel Collar Associate is worked 24/7 as it should be, the hourly cost drops to less than $8.50 an hour."

Yaskawa's Nieves sees this as a logical transition. "If these robots look like labor and act like labor, then why not charge them out like labor? It's a temp agency for robots."

From new sales channels to new payback scenarios, even the factory floor is getting a makeover.

Human-Scale Automation
For decades, the robot industry only had one hand. Now it has two with this new breed of dual-arm robots and even single-arm robots that can be mounted in series. When you start to look at automation on a human scale, the biology of it, the typical factory floor plan begins to transform.

"Human-scale automation dictates that if you pull a person out and put a robot in, or vice versa, nothing should have to change," explains Nieves. He cites a machine tending example.

"Typically, you have a machine or two in front of you and maybe two parts behind you on a conveyor. It's laid out that way to prevent the human worker from having to walk all over the place to different machines. To automate that same layout, you need the robot to be able to swing around and work behind itself to work on multiple stations. You can set up work stations alongside each other and put a traditional robot on a gantry to move from one station to the next, but then if you try to put a human back into that layout, it doesn't work."

"In human-scale automation, the people rule. Not the robots."

Robotic Hands
Nieves says this same model applies to end effectors. "Have the robot use the same tools as the humans. Now this begs the question, what's the minimum number of 'fingers' that I need on the end of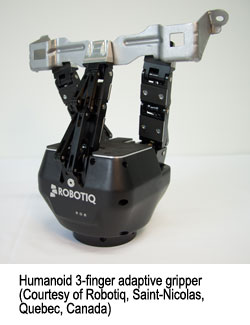 this arm to effectively use human-like tools? The answer is three."

Robotiq's "hand" is an electric, servo-driven 3-finger gripper with self-adaptive fingers designed for multiple-use. It can grasp a wide range of parts with control of the stroke, force and grip type.

"The idea behind our robot grippers is to use a single, mechanically intelligent robot gripper to handle all your parts to reduce tooling costs, eliminate changeovers and maximize ROI," says Guillaume Robert, Marketing Director for Robotiq in Saint-Nicolas, Quebec, Canada.

This video shows the Robotiq 3-finger gripper being used as a "third hand" mounted on a KUKA lightweight robot in a collaborative assembly scenario.

When you start following the biology in the manufacturing arena, you begin to see everything from a different perspective. When you consider the inherent flexibility, humanlike characteristics, and ease of use of this new class of collaborative robots – plus their innate ability to empower us as humans – the possibilities seem endless.