The Complete Safety Story and Other "How To"s
POSTED 09/20/2007
 | By: Jeff Fryman, Director, Standards Development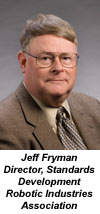 The National Robot Safety Conference, our nineteenth annual gathering taking place in Indianapolis, Indiana, is only a week away. I am looking forward to getting it started on Monday morning, October 1st. This will be a great way to start a week and a new month! Searching for analogies, I am not sure if it should be ''Kickoff'' to celebrate the Super Bowl champion Indianapolis Colts; or ''Gentlemen, start your engines'' for the Indianapolis 500 (not to mention the Brickyard 400). You can put the emoticon :-) here, which I see in the news just turned 25!

When I last spoke in my robotics Online article earlier this month (News About Changes in Robot Standards), I talked about the official release of the American National Adoption of the International Standard for the construction of new robots – the ANSI/RIA/ISO 10218-1-2007 – on the first of October. Compliance with the new International Standard by all robot manufactures world-wide will finally ensure that any robots purchased in the future will comply with the minimum requirements of the ANSI/RIA R15.06-1999. That official release is sure to be the highlight of the conference, but it certainly is not the only activity to look forward to at this safety event. The annual conference agenda is again filled with both great sessions and speakers.
The conclusion made from these continuing reviews is that a plentiful mix of good information is offered in our annual robot safety conferences. Sometimes, however, we don't provide participants an adequate opportunity to allow for the information to be digested and fully understood. To address this, the Thursday, 10/4, workshop sessions are dedicated to offering you ''how to'' courses.
New this year is ''The Complete Safety Story'', and one that I hope will be well received. This workshop is intended to be just that – the complete story. I think it is the Home Depot that is running a series of commercials on television that use the slogan ''You can do it; and we can help.'' Well, that is exactly what we have in mind for this workshop. You CAN do it; and we are here to HELP!
We plan to take you through the complete process of designing and installing a robot system from project inception to system activation, providing helpful hints along the way. Projects begin with identification of need and that is where we will start with a review of assessing automation needs. This transitions into selection of robots and components, project partners (integrators/installers) and robot system cell design following the compliance requirements of applicable standards (and national regulations). Next comes conducting a risk assessment and applying the risk assessment results; identifying and selecting the proper safeguarding; and then the proper installation of the selected safeguards. Lastly, we look at the acceptance test and final buyoff or approval of the completed system.
An esteemed international group of robot engineers and safety experts have been assembled to guide you on this (hopefully exciting) journey of learning and doing. We will fully explain the appropriate requirements contained in the ANSI/RIA R15.06 standard as well as the Canadian (CSA/Z434) and International standards covering robot safety (ISO10218), machinery safety (ANSI/ISO 12100), and integrated manufacturing systems (ANSI B11-20 and ISO 11161).
For those not desiring the ''complete'' story; ala carte offerings on Circuit Design and Risk Assessment are available. The ''Advanced Safety Circuit Design'' course is targeted for the controls engineers responsible for designing and installing robot safety circuits. Gil Dominguez and his team of experts give you the detailed look into proper safety circuit designs and needs to complete your successful robot installations. In the other Thursday workshop – ''Risk Assessment Using R15.06'' – I will guide you through a practical risk assessment application using the risk assessment methodology contained in the ANSI/RIA R15.06 standard.
I hope to see all of you in Indianapolis for a week of learning together and resulting in real solutions that you can take back to your workplace for immediate implementation!
For details on RIA In-house Training Seminars, click here .
For more information, you may contact any of the experts listed in this article or visit Robotics Online, Tech Papers.
To select only a few of these great activities is not meant to shortchange all the others, but I am particularly intrigued by RIA continually strives to update our conferencing programs and provide new and increased value for the participants. We review comments and reactions from previous programs to evaluate what robot safety needs should be addressed.