Taking the Heat: Robotics in Foundries
POSTED 04/30/2004
 | By: Bennett Brumson, Contributing Editor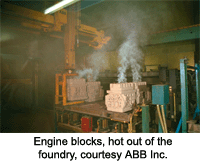 Foundry operations encompass the three dreaded D's in industrial labor: Dull, Dirty and Dangerous. Work at such companies is less than desirable for people, but perfect for robotics, which are ideally suited to take on the worst aspects of the process.
''Foundry robotics is a growing industry because it is hot and dirty. Not many people choose working in a foundry as a career,'' said Ron Osowski. ''It is a physically challenging job in a harsh environment, with very high turnover.'' Osowski is a Sales Manager at Meritage Manufacturing Solutions (MMS) in Warrenville, Illinois, a systems integrator of FANUC (FANUC Robotics America, Inc.) machines.
Hot and Heavy
What are the tasks that a robotic foundry work cell undertakes?
At a Tier-One automotive supplier's plant, Motoman robots unload red-hot, 2250° Fahrenheit heavy steel billets from the exit conveyor of an induction heater directly into a forging press to form automotive crankshafts, says Rob Vieth, Chief Associate Application Engineer for Motoman Inc., in West Carrollton, Ohio. ''In foundry applications like this, we use specially designed grippers to help protect the robots from the extreme heat. Stainless steel gripper fingers help reduce heat transfer from the part to the gripper body and the robot arm. Additionally, thin ceramic pads between the gripper fingers and the gripper body provide heat isolation. Special shrouding protects the gripper body from radiant heat, and special seals allow it to operate in higher temperatures,'' Vieth explains.
''We, at Güdel Lineartec, Inc., do material handling of sand molds,'' says Dale Cozart. ''The sand mold package is filled with molten aluminum and typically has a mass of 400 to 700 kg.'' Cozart is Güdel's Product Manager, which has been providing engineering services and manufacturing robots since 1995 in Ann Arbor, Michigan.
Cozart continued by saying that their robotic foundry systems operate in larger Tier-One suppliers of engine blocks and cylinder heads for the Big Three automobile makers. Güdel's parent company is considering putting a new robotic foundry plant in the Czech Republic to make engine blocks for European car manufacturers. Cozart added that the companies involved include Volkswagen, Volvo, Mercedes, and Fiat.
Pour It On
''Robots provide flexibility in foundry applications, including ladling and secondary operations such as degating and material removal. We have Motoman robots performing ladling operations for cast aluminum automotive components. Using automatic tool changing, the robots place sand-cores into bench stations, pour molten aluminum into molds, extract and degate the castings, and clean the crucible,'' Vieth says.
Investment casting fabrication is another area of foundry operations that benefit from robotics.
''In investment casting, the process involves dipping a wax pattern into a liquid ceramic slurry and then sand, which hardens like rock,'' described David LaRussa. ''Repeat this a few times and you have a heavy shell surrounding the wax pattern.'' LaRussa is Sales Engineer for the Action Machinery Division of Vulcan Engineering, a systems integrator of ABB Inc., based Helena, Alabama.
The shell is heated so the wax melts away, leaving a cavity having the exact dimensions of the product being manufactured. The next step is to pour molten metal inside the cavity and let to solidify. The ceramic is broken away from around the solidified metal and there is the product in its final form. There might be a need for sprue removal, a simple task for a material removal robot.
''The ceramic shell is fragile but is heat resistant. Robots are used for investment casting because it is a repetitive process and castings can be heavy,'' remarked LaRussa. ''Some molds can be over 900 kg. Another key advantage is having robots dip a cluster of parts at the same time,'' LaRussa added.
''Six-axis articulated robots for investment casting need a high-payload capacity and long reach. In investment casting you might have to dip very large parts into different slurry mixtures and different types of sand,'' LaRussa said. ''You have equipment mounted around the robot, so long reaches are needed. Action Machinery makes our own hydraulic robots that can hold 4,500 kg at up to six meters,'' LaRussa claimed. Aerospace companies investment cast turbine engine components that can be fairly large.
LaRussa added that cost is a primary justification to use robotics for investment castings as robotics minimize the possibility of dropped or damaged parts.
''Some of these parts cost upward of $50,000 for a single casting. The process may take weeks to finish. If you drop it, you just ruined your investment,'' LaRussa said.
Piping Hot
Forging drill pipe for the oil and gas industry is very dangerous, which is why robotics are often used in their manufacturing process.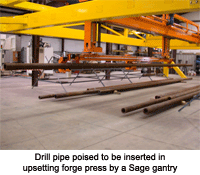 ''At Sage we can grab a pipe and insert it into a large upsetter press which forges the end of it, shaping it for threading,'' said Jack Evans. ''Generally, there is a portion of the pipe that is heated up to a couple thousand degrees.'' Evans is Vice President, of Sage Automation, Inc., a robotic manufacturer and systems integrator of FANUC (FANUC Robotics America, Inc.) robots headquartered in Beaumont, Texas.
Motoman Inc. has a line of high-payload, foundry-hardened industrial robots with IP67 wrist ratings that are specifically designed for foundry operations – without the need for protective jackets. The robot controller is equipped with an air conditioner. At one Tier-Two supplier, there are more than 20 of these robots. Two load hot bar stock weighing approximately 60 lbs. each directly into the upsetter dies to form the spline or hub ends. Other robots unload the hot upset axles from outfeed conveyors and place them into custom racks, says Vieth.
Upsetting involves inserting a length of drill pipe around ten meters long and 300 kg into a foundry press. Between the heat, high mass and long length, it would take several people to safely maneuver such a large object. One of Sage Automation's end users, Grant Prideco, Houston, Texas, opted for a robotic solution to the problem of drill pipe manipulation. Richard Snyder, Grant Prideco's Director of Manufacturing Engineering, described the upsetting procedure.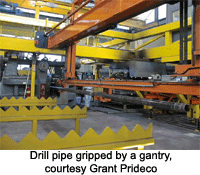 ''Pipe comes into a building where one end is heated to forging temperature in an automated induction heating system. This has to be done quickly,'' Snyder said. ''The pipe then goes into a forging press, where a series of dies and punches upsets the pipe's end, thickening its walls.''
As a rule, pipes require multiple punches from the dies. Each time impact on the pipe is made, it has to be repositioned over each of the dies.
''The robot does that exact positioning. The robot is moving the pipe from the induction heater to the forging machine and precisely positioning the pipe in the die,'' says Snyder. ''Then, the robot removes the pipe from the upsetting machine and places it on the next machine in the automated process.''
The gantry robot that performs these tasks is a vast improvement over any manual operation for Grant Prideco.
''Manually, the process takes twice the people than the automated process and requires a heightened awareness for safety. It takes fifteen seconds longer per pipe cycle, but this is not the real savings,'' Snyder asserts.
''Because the workers are doing a hot operation, they take a lot of cool-down breaks to rehydrate themselves,'' says Snyder. ''We ended up with a repetitive, non-stop operation with fewer people per shift. The robot works virtually 100 percent of the entire day, whereas people work about 70 percent of the day.''
Another main justification for Grant Prideco investing in robotics relates to repeatability and quality. Snyder addresses this issue:
''Because of precise positioning by the robot, we don't end up with any rejects. When done manually, workers had to eyeball where to put the pipe in the die,'' says Snyder. ''There were more rejects and the process took more time positioning the pipe. Now, the quality is much better because we can position pipe much closer using our robot.''
Heat and Dust
Because foundries are one of the most unforgiving production environments, robots and their peripheral equipment need to be robust enough to function day-in and day-out despite the withering heat and ever-present metallic dust.
Joe Beavers, Director of Corporate Accounts at Sage Automation, said the company is careful to protect the robot's mechanisms to ensure maximum working capacity.
''The robot is dust protected, especially the bearings. There are covers and wipers for dealing with dust.'' Micro-sand and metallic dust particles accumulate over time in the robot's crevices.
Likewise, Action Machinery's David LaRussa outlined how foundry robots are protected.
''Dust gets inside seals and into bearings. Through time, dust wears out components,'' said LaRussa. ''Robots will continue to work in that environment, but will loose accuracy and repeatability. Bearings wear out, causing misalignment.''
To counter this, both Beavers and LaRussa look to heat resistant seals and gaskets over bearings, epoxy paint for the robot, and watertight electrical connections.
Foundry robots have an industrial protection rating. A rating level of at least IP-55 is required for most foundry installations; however, a rating of IP-67 is required on portions of the robot arm that are to be immersed under water.
Strategies to deal with the heat of a foundry varies from ducting in cool air to a robot within a protective shroud, to locating the controller far away from the heat as is practical. Also, stainless steel heat shields are often mounted near end-of-arm tooling to reflect heat away from critical components.
Thirty Years and Counting
When the Robotics Industries Association (RIA) was founded in 1974, robots were still in their infancy in terms of what they were capable of, especially in foundries. Things have come a long way in the past three decades.
''Payloads have increased significantly, doubling in the past three years. Just a few years ago the largest capacity electrical robot was 135 kg, but now it's up 320 kg or more,'' said LaRussa. ''The monitoring of the path of robots has improved significantly, where you can get down to just a few thousandths of an inch. The repeatable tolerance for robots is typically a couple of thousandths. Thirty years ago, you couldn't even get close to that.''
Taking a different perspective, Joe Beavers addressed the increased dependability of robotics systems over the past 30 years.
''Robots are much easier to use now and the servo systems are more robust. Robotic systems are more reliable, have more up-time, and there are less problems,'' Beavers said. ''This was not true 15 years ago, when maintenance and keeping robots going was the main focus. Now, robots are much better so the main issues are the applications themselves.''
Beavers' associate at Sage, Jack Evans, said that robotics has not penetrated very deeply in foundries, yet.
''We put a large gantry in for Grant Prideco to load pipe into an upsetter, which handles hundreds of pipes a day. When we automated that foundry with a gantry, one of the vice presidents came in during lunchtime and said 'Where are all the people?'''
Evans went on to recall that the upsetter was producing record amounts of pipe and there was only one person in the facility, as everyone else was at lunch or on break.
''That was a valuable in-sight for the vice president, who didn't know that robotics could produce those type of results.'' This sort of outcome would have been fantasy in 1974.
Going Down the Road
What does the future hold for robotics in foundries?
''Robotic automation hasn't happened to the extent it is has in automotive, machine tool, palletizing, packaging, or even in assembly,'' mused Evans. ''Robotics will be the norm in foundries, but that will be in more than ten years from now,'' he predicted.
''Foundries are a market that is starting to mature and we, at Meritage, see a lot of opportunity,'' said MMS's Ron Osowski.