Stack 'em and Stamp 'em: Press Transfer and Destacking Robotics
POSTED 04/03/2003
 | By: Bennett Brumson, Contributing Editor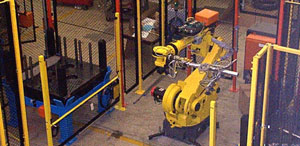 Press transfer and destacking robots, a type of material handling application, fulfill important functions in many manufacturing facilities including such diverse industries as electronics, automotive, and medical devices. Although the process that these workcells undertake is relatively simple, they present some challenges.
'In operation, press transfer and destacking robotics are one of the easiest installations there are. The robot removes the top part or blank from a stack into and out of a press,' stated John Burg. Burg is president of Meritage Manufacturing Solutions (MMS), a systems integrator based in Warrenville, IL. One of the difficulties lies in the fact that blanks often get stuck together. This could severely damage a press should multiple blanks get inserted into one. This posses a challenge for grippers to do their job properly.
'A basic robotic destacking system would have two stacks of blanks on either side of the robot,' said Peter Stephan. 'As the robot destacks from one side, an operator could set up the other side with another stack of blanks.' Stephan is program manager for stamping at FANUC Robotics America, Inc., of Rochester Hills, MI.
Stephan went on to say that many destackers have methods to transport the blanks to a position within a robot's work envelope. For this, a fork truck operator would load the stack onto a conveyor.
Necessary Vision
An essential element of a press transfer and destacking workcell is machine vision.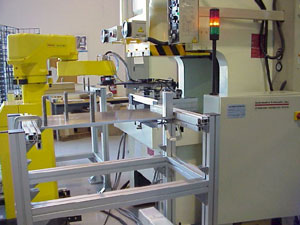 Brian Turner, of Automated Concepts, Inc. (ACI), Council Bluffs, IA, maintains that vision is the first piece of a workcell that interacts with blanks to be taken from a stack and transferred into a press.
'For destacking applications, the robot has to go through a search process using vision or sensors to find the part. When the robot determines where the part is and its orientation, the robot grips the part. If the orientation is correct, the part goes into the press,' Turner said. Turner is a vice president and general manager at ACI, a robotic integrator and a maker of material handling workcells.
A Tale of Two Grippers
It is common that press transfer and destacking systems require a re-gripping procedure.
'The robot brings the part out where there might need to be a re-grip operation,' commented Turner. 'If so, the part is reoriented towards the press. This could be done with a re-grip stand or a sensor-driven positioning table,' he added.
To speed things along, press transfer and destacking workcells might have two grippers to multi-task some operations. Burg spoke of this.
'Often, the robot is equipped with a dual gripper so that it could move into the press to unload the part that has been processed while quickly reloading another blank for processing. The robot's arm clears the press and deposits a blank either on an out-bound conveyor or restacks it on a pallet.'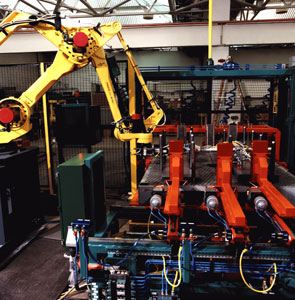 Justifying the Investment
Justification for the employment of robots abounds. Speed, reduced workers' compensation and health concerns, redeployment of labor and job enrichment, consistency, reduced cost of manufacturing, and system flexibility are just some of the reasons.

Because presses operate at relatively high speeds, there is a need for fast robots to keep up with them. In many instances, the rate human press loaders can fulfill their jobs is much slower than that of a robot and often has injury claims associated with it.
'Presses are very high speed machines. A robot needs to be run at a pretty good rate to fully utilize the press,' said John Burg. This high pace of operation enables increased production rates, not only with the accuracy and speed of a robot, but also through the elimination of load-out inaccuracies and downtime required for changeover between products. Plant managers are always on the lookout for ways to reduce workers' compensations costs associated with repetitive tasks and back injuries. Press loading and unloading as well as destacking assignments in manufacturing plants are notorious for causing physical ailments among workers who perform these chores.
Ergonomics and workers' compensation were also on the mind of Brian Turner. 'We have customers look at the labor costs of making a part and surrounding the part's process. They have a lot of concern about people picking up the wrong thing the wrong way.' Turner continued, saying 'Our customers look at things such as redeploying labor elsewhere and ergonomic concerns as a justification for an investment in robotics.'
Related to the ergonomic rationalization for investing in press transfer and destacking robotics, is the effect that fatigue has on human operators who work them.
'A press is in a very hostile environment that is unfriendly to a person. Presses can be dangerous, dirty, loud, and there is a lot of monotony. Robots do not speed up and slow down but have a very consistent throughput,' said John Burg. 'The primary justification for press transfer and destacking workcells is eliminating a person having to stand there and do the operation, and the associated costs of it.'
Turner agrees with Burg. 'Our customers look at redeploying labor elsewhere, away from running a press,' he said.
Most presses run better when operated at a consistent speed, which is difficult for a human operator to do. Press transfer robots excel at performing at consistent rates, rarely varying more than three percent.
'Companies automate press operations for several reasons, but all typically fall under one of these categories: rates, yield and costs. This means that robotic press loading will provide consistent production rates, reduction of damage to the parts and typically a reduced cost of manufacturing,' stated Jack Justice, Market Segment Manager for Motoman Inc., West Carrollton, OH.
'When automating press lines we frequently use special shelf-mounted robots. These robots are specially configured to mount on structures either beside or on the presses. The advantage of shelf-mounted robots when compared to standard floor-mounted robots is the clear floor space available to change or maintain dies and tooling' said Jack Justice 'This eliminates the need for roll-away carts and tracks mounted on the floor.'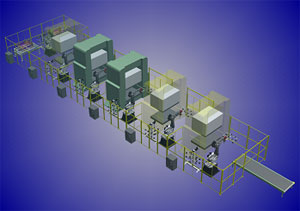 'Another critical item in cell design is the ability to simulate the entire cell operation in a computer-generated package. This will confirm the layout of all automation components, the robot reaches, cycle time, and will also provide accurate cycle time estimates. If you have detailed die and tooling layouts, simulation can provide early awareness of access problems between the robot, grippers and press tooling,' said Justice.
The inherent flexibility of press transfer and destacking robotics is another major justification sited by manufactures when deciding to invest in them.
'Robotic destacking systems can accommodate a wide variety of blanks of different shapes and sizes. A robot can be outfitted with a tool appropriate for the part. Most fixed systems can accommodate a limited variety of parts due to the restriction in flexibility to move the elements that capture the part,' said FANUC's Peter Stephan. 'Rather than have a custom-built system to transfer a blank from the stack to the die or gauging system, manufacturers should consider the flexibility of a six-axis robot.'
MMS's John Burg also addressed the issue of flexibility.
'If a manufacturer gets into a situation where they have a variety (of) shapes of parts to make, with volume in the hundreds or thousands per day, they get into an area where robots would be more beneficial,' he said. 'Robots can be programmed for different part shapes virtually instantaneously.'
Other justifications for investing in press transfer/destacking workcells include a reduction in mold damage and reduced floor space requirements.
Challenges and Solutions
There are some considerations when implementing a robotic solution to press transfer and destacking operations.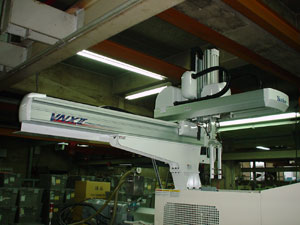 'Plastics parts act differently when hot, because they are still shrinking. Their dimensions are changing, unlike parts made from other materials,' asserts John Mallon. Mallon is president of Yushin America, Inc., Cranston, RI. Plastic parts are still pliable when hot and are not as accurate as those made from metal. 'Plastic parts are more flexible, easier to scratch and to damage. They require more careful handling,' said Mallon.
Another potential hurdle with destacking and press transfer workcells is the loading and unloading of presses that handle thin sheets of material.
'Steel sheets tend to be smooth enough that they form a surface tension between two pieces,' said Burg. 'When picking up the top blank with vacuum cups, often multiple parts are stuck together.' This is particularly true when a thin layer of oil exists between the sheets, added after the steel fabrication process to prevent oxidation.
To deal with surface tension, integrators often will use a magnetic sheet separator. This device is positioned to sit along the edge of the stack of sheet metal that is to be stamped. Magnets lift one corner or one edge of the material to create gaps between the sheets, causing all to drop except the top one.
With non-ferris metals and plastics, sensors mounted on the end-of-arm tooling determine how many sheets are lifted. When there is more than one piece, the sensor will send a signal back to the robot indicating that a problem exists, and the operator can respond accordingly.
There are other instruments that separate thin sheets of lightweight material.
'For blanks that are aluminum, destacking systems use an air knife. Air projected from this device drives air between the sheets to help separate them,' explained Peter Stephan. 'Often other means are necessary, such as a non-metallic 'comb' on the side of the stack. Here, an element on the tooling bows the part slightly as it is lifted.'
When destacking relatively fragile sheets, such as glass, there are techniques to do so without damaging them.
'When a flat glass sheet is picked up for further processing or assembly, often talc is put between the sheets to try to keep them from sticking together. In some cases there are sheets of paper between the pieces of glass,' said John Burg.
Transferring into the Future
'In the last few years trends we have seen that molders have to add a lot more value to their product in order to compete with off-shore sources. It is not just a robot taking the part out of the mold and placing it in front of an operator,' claims Yushin's John Mallon. He predicts this trend will accelerate. 'I also see easier more powerful programming, expandable controllers that can add I/O and run other machines, more powerful operator interfaces able to deal with more complex workcells. Also, there will be more coordination between loading/unloading, quality control, and assembly operations in presses.'
Additionally, there has been a trend where applications are getting larger as is the size of product. This tendency will continue, requiring larger capacity robots and the need for machine vision. Currently, nearly three-quarters of press transfer and destacking workcells require vision. As the shape and size of parts get bigger and more complex, this need will encompass all destacking and press transfer workcells.