Smart Components For Smarter Production
POSTED 01/23/2018
 | By: Ray Chalmers, Contributing Editor
Features, connectivity, applications all adding to production efficiencies and process improvements
Manufacturing companies looking to burnish their competitive edge are challenging industrial automation suppliers like never before. Getting overall and targeted results from projects such as robot programming and controls integration involves closely examining the component level: sensor properties, motor sizing, controller functions and connectivity, and many other aspects. All this must take place within a deep understanding of the customer's manufacturing environment to understand and determine what the latest technologies can accomplish.
A 2017 report by Boston Consulting Group frames the thinking thus:
While the Industrial Internet of Things (IIoT) is seemingly omniscient, there is no singular IIoT. Today's market is heavily driven by specific-use case scenarios.
In the aggregate, companies will spend $300 billion in 2020 on IIoT technology over and above normal technology spending.
All layers of the IIoT technology stack are expected to achieve a CAGR (compound annual growth rate) of at least 20 percent over the next two years. Certain layers are expected to grow much more.
For example, the top two layers of the IIoT technology stack are made up of services and applications (see Exhibit 1 below). Each are predicted to expand in market size six-fold from $12 billion currently to $72 billion in 2020, largely due to user customization. Ironically, though still predicting significant growth and market expansion, lower levels of the technology stack, including connected components and communications, are expected to face commoditization pressures and price erosion. Still, each of these categories is predicted to more than double in market size over the next two years.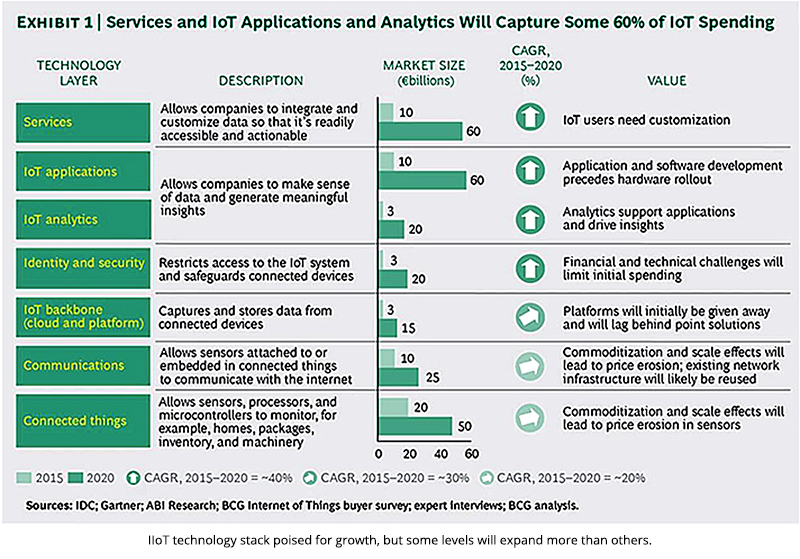 BCG researchers go further and identify the five largest use-case scenarios, each requiring significant customization from a smart components perspective to yield the best results and process improvement. In order, they are:
Predictive maintenance. Naturally, manufacturing is a main target, as IIoT technologies can predict or detect when a machine requires maintenance, reducing or eliminating unplanned downtime, extending maintenance cycles, and reducing costs. A host of industries—including discrete manufacturing, transportation and logistics, energy, and health care—benefit from predictive maintenance.
Self-Optimizing Production. Connected factories and plants will use the IIoT to monitor and optimize production processes in real-time, making automated adjustments to improve quality, enhance efficiency, and reduce waste.
Automated Inventory Management. The IIoT can provide much greater insight into the status of inventory and the supply chain, allowing companies to track inventory location and condition (including, for example, temperature, humidity, and damage). The ability to monitor products across the supply chain allows companies to improve just-in-time production processes.
Remote Patient Monitoring. Health care parallels manufacturing in smart components growth. Physicians can track patient health remotely, in real time, to improve health outcomes and reduce health care costs. By tracking patient data and monitoring compliance, health care providers can help patients stay healthier and recover more quickly.
Smart Meters. Sensors can be used to monitor utilities—including electricity, gas, and water consumption—in real time. Smart meters can help consumers monitor their usage, greatly reduce technicians necessary to read meters, and provide real-time billing data.
Smart Devices on the Edge
Edge computing is a method of optimizing cloud-based computing systems by performing data processing at the edge of the network, near the source of the data. Intelligent edge devices are an emerging example of how individual devices can be customized to function within a user's particular environment. "A smart edge device is something that's able to communicate one or many plant-floor protocols in a way that isolates that network and traffic from the Internet," Greg Giles, Executive Director, MES/Argonaut at RedViking (Plymouth, Michigan). "Sometimes data can be processed on the edge device; sometimes the edge device can simply be a pass-through. In both cases, it's responsible for passing information to an enterprise or cloud-level server."
Smart edge devices perform information computing, such as data gathering, data storage, and analytics, at the device level, adds Mike Pantaleano, Global Business Manager - Analytics and Cloud at Rockwell Automation (Milwaukee, Wisconsin). "These devices may have cloud gateway functionality, but what truly makes them smart is their ability to manage data and help drive decisions locally," he says.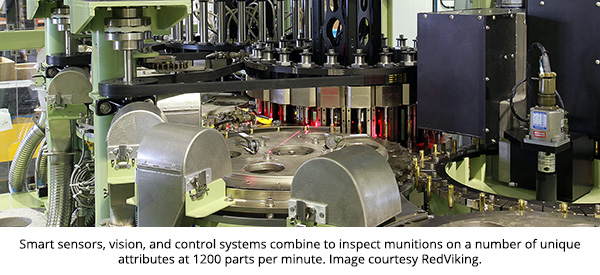 In a paper titled "Edge Computing for the Internet of Things," National Instruments describes a new line of controllers "purpose built" for edge computing applications. Such setups require analytics and data processing near sensors to extract only the insightful information to reduce unnecessary bandwidth consumption and storage resources.
Such edge devices, the company says, possess the following qualities:
Centralized processing. Fifth-generation processors and field-programmable gate arrays (FPGAs) provide high-performance processing and FPGA co-processing for edge computing and industrial control. The onboard FPGA works in unison with the CPU to enable high-speed, hardware-timed parallel processing of digital data so information can be processed in real-time. This makes the controllers ideal for applications that require data processing and analytics near the edge of the IIoT to cut down the amount of data stored or sent over the network.
Ease of integration. Such a system can send commands and data to other devices such as programmable logic controllers and operator interfaces using industrial protocols such as Ethernet/IP, RS232/RS485, Modbus serial, and Modbus/TCP. Add enterprise connectivity, and designers can monitor inspection results, view images, or store data in databases for statistical process control.
Rugged construction. Industrial-grade solid-state drives provide reliable internal data storage, crucial in edge computing and industrial control applications. Operating ambient-air temperature specification of 0 to 55 degrees C. (32 to 131 degrees F) has been verified in a temperature chamber to simulate a circumstance with full resource utilization. This testing is performed with all of the ports running at full bandwidth and power, the CPU fully utilized, the FPGA clocked at 200 MHz, and full memory utilization.
Simplified systems. Edge-computing industrial controllers offer an all-in-one approach to system design that significantly reduces system size, has fewer points of failure, and decreases overall system cost. With their powerful processing and ample connectivity, industrial controllers can combine control for multiple subsystems such as human machine interfaces, motion control, image processing, as well as measurements and I/O into one system. Designers have the flexibility to develop the tools that best suit their tasks and capabilities.
Bringing IT All Together
Emerging open-architecture IT networking is combining control of smart components in a manner adaptable to a growing number of industrial customers. FANUC, together with Cisco, Rockwell Automation, and Preferred Networks, has developed FIELD (the FANUC Intelligent Edge Link and Drive system). It consists of hardware and software allowing multiple external computing devices to be added to a plant network in a highly secure manner. The software suite is composed of both open-source and proprietary licensable products (from Cisco and Preferred Network). Once the FIELD software is loaded and configured, machine data from all the automation equipment including CNC machines, robots, and smart edge devices can then be accessible to application developers through an open Application Programming Interface (API). Ease of access to machine data significantly reduces the effort for a third party to develop applications to run on the FIELD system, providing a variety of monitoring, analytic, and real-time functions.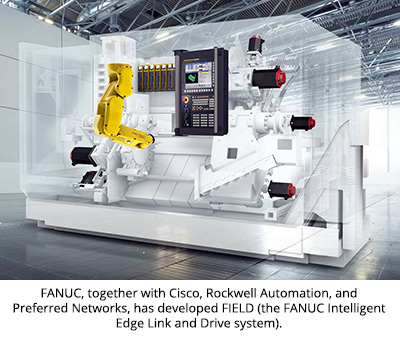 "FIELD is the next generation of intelligence for FANUC," said Joe Gazzarato, Director Of Product Development, FANUC America Corporation (Rochester Hills, Michigan). "We're showing customers that the FIELD system will enable new applications that can drive significant improvements in machine reliability, quality, flexibility, and speed to elevate manufacturing efficiency and profitability."
Applications such as Zero Down Time (ZDT) or capabilities such as deep learning or machine learning can be applied in the edge level of a factory site, FANUC adds. Data on the FIELD system from various machines can also be used for collaboration among equipment, performance optimization, improved traceability, and quality control. ZDT currently collects data from more than 6000 robots in 26 factories, FANUC says. It monitors these robots to see if the selected application is causing abnormal wear that could lead to a failure. If so, FANUC sends parts with support to address the issue before any downtime occurs. With ZDT, FANUC also keeps track of robot usage and sends reminders at appropriate intervals to ensure important maintenance activities are completed on time. As the FIELD system and ZDT grow in the marketplace, FANUC says it will be able to help more customers with intelligent condition-based maintenance notifications and further optimize robot life and performance.
Sensors Stretching Applications
Health and personal care was identified earlier as having emerging smart devices being incorporated into such applications as remote patient monitoring that may inspire emerging industrial product applications. In December 2017, Parker Hannifin announced its BioCare Business Unit is introducing new applications with its FlexSense technology into the health care marketplace.
Parker's FlexSense are wireless sensors that measure displacement and strain. Soft, thin, and conformable, the sensors are well-suited for applications including edema and wound monitoring, liquid level sensing, orthopedics and physical therapy, says Tim Mannchen, EAP (electroactive polymer) Market Development at Parker Hannifin (Golden Valley, Minnesota). The physical form and function of the sensors are perfect for use in wearables including compression socks, footwear, insoles and garments.
"The Flexible Displacement Sensor uses EAP technology to take its capacity for strain and displacement measurements further than we ever thought possible," Mannchen says. "They consistently take accurate, precise measurements while being strained up to 100% for millions of cycles, making them incredibly reliable."
From joints on large pipes in oil fields or power plants to wearables in workplace safety and ergonomics, EAP sensor technology can provide unique movement and stretch monitoring opportunities.
Parker develops dielectric EAP, using primarily silicone dielectric film, carbon ink electrodes, and epoxy frame material. EAP can be used to create a variety of devices including sensors, actuators, and energy harvesting devices. EAP sensors measure mechanically or thermally induced strain. Sensors can be configured to measure compressive strain, bending strain, torsional strain, and temperature.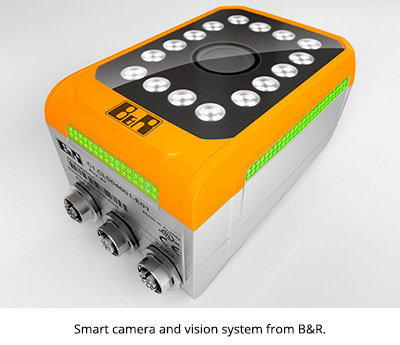 I Can See Clearly Now
Smart components also extend into machine vision. Late last year, B&R Automation introduced what it calls the world's first image-processing solution to be seamlessly incorporated in the automation system. The solution comprises cameras, software and lighting accessories.
Flexibility is key, as exemplified by a broad selection of intelligent camera technology. Options at the lower end will replace simple machine vision sensors, B&R says, while the top of the range will harness the full potential of high-end smart cameras. Ready-made software components are available for creating applications with minimal new programming.
Lighting elements are available integrated in the camera, as an external device, or even as a combination of the two. Extremely precise synchronization for high-speed image capture and object-specific functions such as bright-field or dark-field illumination work alongside image triggers and lighting control that can be synchronized with the rest of the automation system in hard real time and with sub-microsecond precision.

B&R's machine vision system is integrated on every level: the engineering tool, the real-time operating system and the application software. With a single development environment for every aspect of automation, controls engineers will now be able to implement many machine vision tasks on their own.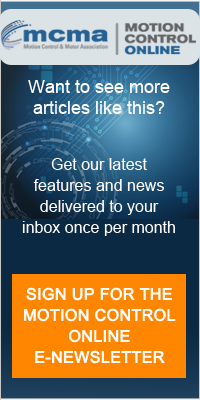 ROI and Beyond
The impact of smart component applications goes beyond improving production efficiency and return on investment (ROI). Manufacturers will have access to real-time data about their equipment and processes. Employing sophisticated analysis programs will identify patterns and trends, delivering new insights into the causes of inefficiency and waste.
Equipment availability will improve as maintenance efforts are increasingly driven by data and prediction rather than breakdowns and reaction to crises. Faster decision-making will improve responsiveness to shifts in demand. Avoiding production of slow-selling lines will boost inventory turns while collaborative robots are quickly deployed and redeployed, as needed.
Concurrent emerging issues will include increasing big-data computing power and network security. That said, the present and future of discrete and process manufacturing will involve smart components that not only improve processes, they improve the thinking of management and labor alike.
References:
Boston Consulting Group: https://www.bcg.com/en-us/publications/2017/hardware-software-energy-environment-winning-in-iot-all-about-winning-processes.aspx
Edge computing for the Internet of Things, National Instruments: http://www.ni.com/white-paper/52926/en/
To learn more about this trend, watch our recent webinar, "Making Smart Components Smarter"