Smart Cameras Deliver PC-Host Power
To many new machine vision customers, smart cameras represented the ultimate machine vision system – at least in theory. They're small, making retrofits easier because of the inevitable lack of real estate on production floors. They are cheaper than PC-host or embedded systems and considerably cheaper than turnkey systems. Smart cameras also simplify programming by using object oriented programming interfaces rather than traditional coding.

Unfortunately, when smart cameras were first introduced in the 1990s, they weren't very smart.

They had slow microprocessors and limited memory, which limited the sensor size and software the camera could handle. Smart cameras are easier for a machine vision professional to set up and install for simple applications, but because these products were often marketed to users with little or no machine vision expertise, in reality, customers often had difficulty setting up smart-camera-based machine vision solutions.

The result of these conditions was that smart cameras couldn't process high-resolution images with sufficient speed for most industrial processes, run a standard PC operating system (OS) with full network and peripheral functionality, or offer a full set of image processing functions, limiting its ability to tackle complex machine vision applications.

Today, new ultra-low-power, high-speed and heterogeneous processors architectures – such as Intel's Atom and AMD's Fusion processors – have led to a new category of compact vision systems that resonates with Intel's famous slogan: PC Inside.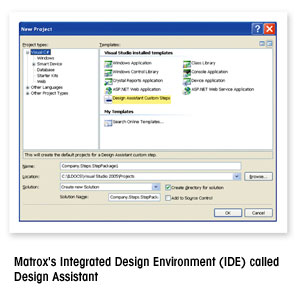 "More and more people are looking at smart camera solutions because they are becoming more powerful," explains Fabio Perelli, Product Manager for Matrox Imaging (Montreal, Canada). "There's more market acceptance of smart cameras today than there was 5 to 10 years ago."
Goodbye "Vision Sensor"
By 2006, microprocessor technology and compact flash memory had advanced to the point that smart cameras such as Sony's XCI-SX1 with Geode processors could generate 1000 megaflops (Mflops) – sufficient to run a full Window's operating system and full image processing library. But megahertz-speed microprocessors meant the smart camera could still only process VGA-resolution images using the latest, most efficient algorithms. Thus either the smart camera had to have a very small field of view, or defects needed to be relatively large to be visible in the VGA images. This level of smart camera, renamed the vision sensor, continues to be used today for presence/absence and similar low-complexity applications.
Why not use a more powerful processor? The reasons were – and still remain -- heat, size, and ruggedness. Desktop and industrial PC's use fans to actively cool the microprocessor, which allows the PC's brain to work faster and process more data. A smart camera with a fan loses several advantages: namely, its size and ruggedness. Production systems that don't use moving parts don't fail as often. Also, adding a fan, vents, and drive electronics would make the smart camera considerably larger -- a bad thing for space-constrained retrofit customers and OEMs; vents also make the system vulnerable to contaminants, increasing the chance of system failure.
Microprocessors took a big step forward in 2008 when Intel announced the new Atom microprocessor designed for net books and Internet devices based on 45-nm lithography technology. By shrinking the size of the circuits on the microprocessor, Intel's Atom could deliver about half the performance (2-3 Gflops) of a Pentium M class PC or an order of magnitude more than the Geode predecessors used in the first PC Camera models.
But just as important as performance is power consumption and associated heat generation. The Atom microprocessor consumes 20% less power than a Pentium M class at full speed, and considerably less during idle times, allowing the unit to cool faster and better than previous models.
PC Inside
Today's smart camera buyer has considerably more freedom than just a few years ago. Where smart cameras were previously limited in their industrial applicability by low resolution camera sensors and limited image processing libraries, the latest smart cameras effectively have a full PC inside.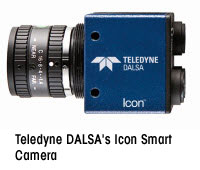 Teledyne DALSA's (Waterloo, Ontario Canada) new Icon smart camera utilizes a FPGA-enhanced 1GHz ARM Cortex-A8 and C64x+ inside their new Icon series of smart cameras to run an embedded set of Sapera image processing algorithms programmed through familiar Microsoft Visual Studio running on a connected PC. The smart camera can also work with third party image processing libraries. This additional processing power allows the Icon to operate at frame rates of up to 60 fps at 640x480 resolutions, or 15 fps with 2 megapixel (MP) sensors.
As the first industrial smart camera to be built around the new Intel Atom processor, the Iris GT from Matrox further shrinks the gap between smart cameras and PC-host (or embedded) vision systems by empowering smart cameras with sensor resolutions up to 5 MP. Matrox, with roots in the frame grabber world, uses high-quality CCD sensors, an integrated frame grabber for A/D conversion, and a special integrated development environment (IDE) called Design Assistant resident on a PC to make practically all of the Matrox Imaging Library (MIL) available to the smart camera user.
"The Design Assistant IDE allows customers to use our powerful MIL tools – preserving all the code written for the x86 processors – and work in the familiar Windows environment,"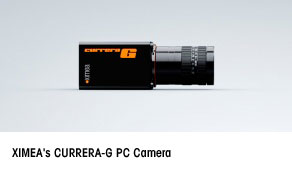 explains Matrox Product Line Manager Pierantonio Boriero. "The IDE provides access to most high-level MIL modules. Other modules, such as 3D, weren't appropriate for a smart camera design, although the smart market is evolving very rapidly."
Smart camera newcomer, XIMEA GmbH (Münster, Germany) has taken the smart camera to the next step with their CURRERA line of PC Cameras. The CURRERA-G includes an AMD Fusion accelerated processing unit (APU), which, like the new Atom E6xx class microprocessor, places a GPU core on the same die as the CPU. Using Fusion's 40-nm lithography technology, the CURRERA-G reportedly delivers up to 90 Gflops of processing power, more than enough to challenge any single-core PC-host vision system.
Of course, microprocessor development never stops. PC Camera users won't have to wait long for a significantly more performance. Very soon, aggressive smart camera manufacturers could adopt the AMD's new A-Series APU announced in August 2011, which is capable of delivering up to 480 Gflops. Combined with new or enhanced network protocols, such as Intel's Thunderbolt technology, GigE and 10GigE, CamExpress, and zero copy transfers among other data handling improvements, PC Camera users will be able to 'slave' multiple 'dumb' cameras to a single PC Camera, potentially taking the percentage of machine vision applications that can be served by PC Camera technology from roughly 80% to well over 90% of all machine vision applications.
While smart cameras are probably not ready for high-speed bottle inspection or finding P2 defects on large, thin-film solar panels, with sensors of 5 MP and more, smart cameras are clearly capable of handling large swaths of the machine vision application universe.
"When we're talking with customers about using a smart camera versus an embedded system, and the customer says they need 16 megapixel images, the smart camera can't handle that," explains Matrox' Perelli. "Even if we put a 16 megapixel sensor on a camera, the Atom would take too long to process, so we push them towards the 4Sight embedded vision system. But for first time users that want a highly integrated solution where they can make one phone call if they have a question and get an answer, smart cameras are the answer."
Embedded Vision
This content is part of the Embedded Vision curated collection. To learn more about Embedded Vision,
click here
.