Smart Cameras Continue to Optimize Form, Functionality, and Flexibility
POSTED 11/19/2019
 | By: Dan McCarthy, Contributing Editor
Smart cameras continue to be a major growth engine for the machine vision industry, contributing a compound annual growth rate of 10.5% since 2010 — nearly twice that of the overall market — according to AIA market research.
Compact, highly integrated, and easily programmed, smart cameras offer an attractive alternative to more complex PC-based vision systems. While these qualities help to define and differentiate smart cameras, their growing adoption of late is due more to steady advances in the size, resolution, and sensitivity of imaging sensors.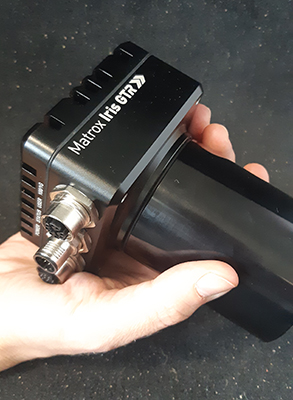 Defining "Smart"
Within the realm of industrial machine vision, embedded vision systems are often conflated with smart cameras, as both essential package sensor, sensor interface, and some level of processing in a self-contained unit. Smart cameras have traditionally offered more robust processing, but embedded systems are blurring the line with the emergence of highly functional embedded cameras with MIPI interfaces, image pre-processing, and even IP cores for decoding video streams in an onboard FPGA. Smart cameras still pack more processing power as a rule and are further distinguished by incorporating system storage, digital I/O, and common industrial communication interfaces within an often ruggedized stand-alone housing.
As self-contained vision solutions, smart cameras offer speedier integration and simpler programming than PC-based systems. They also tend to offer a lower price point, though there are occasions when the latter might provide a more cost-effective solution.
"Smart cameras are a good choice for applications that require point inspection, as they are easy to set up and easy to maintain," said Steve Geraghty, general manager at Teledyne DALSA Industrial Products. "Multiple smart cameras can coexist on the same production line, inspecting different features."
However, Geraghty adds, conventional vision systems tend to be favored for applications that require faster processing speeds, broader flexibility over sensor choice, or multiple camera inputs. "While the performance gap between smart cameras and vision systems is closing fast, there may still be a cost and integration benefit for using vision systems in multi-camera applications," he explains.
The rugged enclosures that house all-in-one smart camera systems also make them better suited for harsh industrial environments, said Fabio Perelli, product manager of smart cameras and vision controllers at Matrox Imaging. "Any industry with messy factory floors, regularly sanitized workspaces, or typified by a dirty, dusty environment is a natural fit for a smart camera," he adds. "Pharmaceutical manufacturing and food and beverage production were early industry adopters of smart camera technologies. As the range of available IP67-rated smart cameras continues to grow, we are seeing much more adoption within these same industries."
Sensor Sizes Expand
For the past couple of years, the benchmark resolution for smart camera sensors centered around 2 MP. Now, 5-MP sensors are quickly becoming the new normal. Not only are such resolutions available today from Cognex, Datalogic, JADAK, Matrox Imaging, Omron Microscan, Teledyne DALSA, and Vision Components, to name a few. Many of these suppliers and others, such as Germany's Eye Vision Technology and Italy's Tattile, further offer smart cameras incorporating 12-, 16-, and even 20-MP sensors.
Two converging forces are driving this trend. One is the constant competition among sensor manufacturers to deliver ever higher resolution and frame rates to their customers. "This translates to lower-cost cameras and larger fields of view that can reduce the number of cameras required in an application," explains Geraghty. "Sensor manufacturers are also integrating smart features, such as specialized filters for hyperspectral imaging, or image processing able to automatically locate features of interest."
The other factor driving sensor resolutions higher is the growing number of users and end markets seeking to leverage the benefits of smart cameras — while minimizing compromises in performance. "We see this as a symbiotic relationship," says Perelli. "Technological capabilities are growing each day, and consumers and manufacturers are very aware of what technology can do. In turn, their expectations are driving up market demand, which is then fueling even more technological innovations."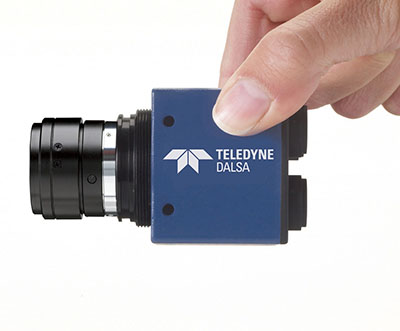 The impetus from these complementary forces is unlikely to fade, Perelli adds. From smartphones to watches to pharmaceutical pills, many of the products that smart cameras are called on to inspect are increasingly small and detailed. It is only natural for suppliers to continue sharpening sensor resolutions to capture details with the expected level of precision.
Flexibility vs. Ease of Use
Richer image data requires greater processing performance. Smart cameras have evolved accordingly — limited more by power consumption, heat dissipation, and maximum package size than by the necessary computing power.
The two most common processor architectures — x86 and ARM — undergo frequent upgrades to increase performance while lowering power consumption. x86 processors require fewer commands to perform more complicated tasks, while ARM processors typically execute simpler commands within a much faster clock cycle.
Manufacturers of smart cameras adopt either technology depending on their target customer and performance criteria, though processor architecture can also influence the predominant software on which a supplier relies. This is an important consideration, as many suppliers bundle proprietary software with their smart cameras to help users with minimal programming expertise control imaging parameters. Software, in short, is an important value-add for some users.
"A smart camera is essentially a software application, and the feature set of this application will change or adapt with new deployment opportunities," says Geraghty. "Many smart cameras on the market now include some level of image processing and custom programmability that make them more adaptable to applications that were traditionally aligned with PC solutions."
"Speaking from our end, Matrox Imaging made a point of developing its Matrox Iris GTR smart cameras using an open architecture, which allows our customers to customize the camera functionality to match their exact, unique needs," Perelli says. "We also apply this flexibility to the Matrox Design Assistant software we pair with our smart cameras. This flowchart-based IDE is hardware-independent and can be used on our smart cameras, industrial vision controllers, or any computer with GigE Vision or USB3 Vision cameras. We believe that flexibility is a tremendous value-add, and that type of customization is certainly well received by our markets."
Despite their simplicity and self-contained packaging, smart cameras have demonstrated a tremendous ability to incorporate more functionality and performance, and to penetrate further into new and current markets, with no end in sight. As sensor and processing capabilities continue to march ahead, deep learning, greater connectivity, and other key industry advances in machine vision promise to make smart cameras even more intelligent.