Smart Cameras, 3D Vision Drive Automotive Market
POSTED 08/08/2011
 | By: Winn Hardin, Contributing Editor
At the 2011 AIA Business Conference, attendees heard from economic forecasters ECRI that the machine vision market could see a slow down – or worse – in the second half of 2011. If the automotive industry's demand for machine vision technology is any indication, however, the economy could be better than we think, thanks in large part to standardization around smart cameras, the need to ensure quality across global supply chains, and new interest in 3D inspection and assembly.



"There's been a continuing resurgence in automotive machine vision applications this year," according to Barry Dashner, Vice President of Marketing at LMI Technologies Inc. (Delta, British Columbia, Canada). "New systems continue to drive the market, most likely indicative of projects that were put on hold during the recession or expanded after the recession ended."

Automotive Applications

Automotive machine vision applications run the gamut from tracking, inspection and gauging, to vision-guided robotic assembly. Following the negative press of Toyota and other automotive OEM recalls, the industry continues to aggressively pursue a 100% product tracking policy.

"Two years ago, there was a huge initiative by automotive companies to implement barcode tracking throughout the manufacturing process, and those processes were adopted by many of the Tier 1 and Tier 2 companies as well," explains Steve Prehn, Senior Product Manager – Vision at FANUC Robotics America Corporation (Rochester Hills, Michigan). While the government hasn't placed any additional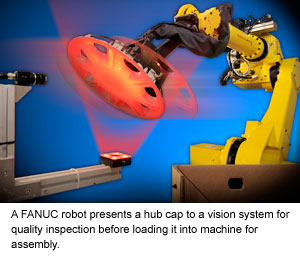 regulatory requirements on the automotive market to track product through the manufacturing process, Prehn adds, "government opinions suggesting these types of process improvements are easier for the automotive industry to hear since the government has invested money in U.S. automakers.
In addition to liability and public safety concerns, tracking also helps companies to better manage their suppliers. "[A U.S. automobile manufacturer] has told us they want to track every barcode and store every image so they can build a visual history of failed components to improve their ability to identify and negotiate with problem suppliers," says Bruce Kelsey, Global Business Director, Automotive, Keyence Corporation North America (Elmwood Park, New Jersey). "The other thing we are hearing from the Big Three is they want automation suppliers to support their green initiatives. Where the desire is for the inspection device to have a smaller impact, by having a smaller footprint, a smaller price tag and require less energy consumption. This is the challenge to the machine vision provider who has to be mindful about how functionality, flexibility, reliability and ultimately throughput are all put together as a package."
"More recently, we've noticed a trend to apply robotic solutions in non-U.S. manufacturing facilities – in regions that traditionally have been seen as cheap labor markets," says Prehn. "Off shore manufacturers have experienced increasing issues with quality driving the demand for robotic automation [in these markets]…Many of these applications involve 3D data extraction. I foresee a lot of potential growth in this area because machine vision companies are able to use extensive processing capabilities to generate 3D data much faster than they ever could before."
3D and Smart Cameras
While 3D stereovision solutions continue to be widely used in the automotive industry –particularly when the region of interest is large and the part has sufficient texture – 2011 may be seen as the year that single-camera 3D vision began the fast climb up the technology adoption maturity curve. Single-camera 3D vision solutions reduce the cost of the automation solution and add flexibility to manufacturing that helps to justify the overall robotic/machine vision workcell cost. "A robot is a valuable piece of equipment,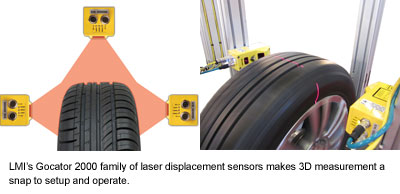 and customers want to use it 24/7 if possible," explains FANUC's Prehn. "The adaptive nature of vision lends itself very well to a robot being repurposed quickly without incurring extensive fixturing costs."
With the need for smart, compact, single-camera 3D vision in mind, last year LMI released the Gocator 3D sensor. "The Gocator is a transition for LMI from specialized 3D sensors to general-purpose sensors," explains Dashner. "What we found at VISION in Stuttgart was that many customers want 3D but don't know as much about it. Ease of use is a barrier. With this in mind, you can program a Gocator sensor using a Web browser, from calibration to global coordinates to image-processing tool selection and several choices of outputs. We designed the Gocator so it can be connected to a control system for closed-loop operation, or a maintenance technician can use it to figure out what's wrong with a particular machine or operation by tracking 3D fit, features, gaps – whatever and wherever the defect is occurring."
While the Gocator uses structured light to generate 3D data from a single camera, geometric structure extraction has gained momentum this year. Geometric structure extraction is based on the known geometric attributes of an object, and then determining 3D pose and orientation of the object based on geometric relationships between those known features in an image. Cognex, MVTec, and others have all recently added these tools to their image processing libraries.
Finally, as their array sizes increase, time of flight (ToF) cameras are gaining interest as a competing method to machine vision for generating 3D data. ToF cameras can operate at higher frame rates – a critical need for visual servoing and giving robotics even greater ability to react to their environments – they still suffer from poor spatial resolution.
"All these 3D solutions – stereo, structured light, time of flight – are all very intriguing to robotics because they promise to give us more credible data to move around the part," concludes Prehn. "In the automotive, aerospace and green technology markets, like solar, we see a lot of extremely tight tolerances. Vision enables the robot to have higher accuracy then it could on its own. Improvements in quality force higher accuracy requirements. Machine vision is the tool that allows us to get there, and robotic applications are taking advantage of its benefits."