Smart Cam vs. PC vs. Turnkey: What's Right for You?
POSTED 09/12/2011
 | By: Winn Hardin, Contributing Editor
Every machine vision application needs a camera, image-processing software and hardware, lighting, and communication interfaces to succeed. Smart camera, PC-based, and turnkey machine vision solutions have all of these elements, but which one is right for your application? The final decision is typically determined by application complexity, acquisition and operation costs, support, upgradeability, and reuse.


Smart Cameras Get Smarter

If you look at the three machine vision platforms solely from an acquisition cost point of view, smart cameras are the most affordable, followed by PC and then turnkey vision systems. However, acquisition cost is just one consideration and, depending on the application, can represent a much smaller figure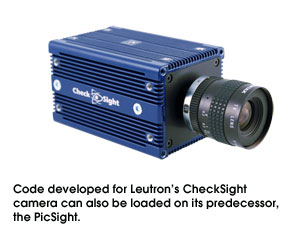 than ongoing operational and support costs, or the cost of a failed machine vision system that cannot provide the quality, inspection, or guidance the customer needs.
"Traditionally, there are different smart camera variations," explains Dave Whitney, North American Sales Manager at Leutron Vision, Inc. (Halifax, Massachusetts). "Not too many years ago, a smart camera – what we call a vision sensor today – could make simple pass/fail decisions, measurements, etc. It has a limited number of image processing features, usually a subset of the vendors full image processing software package. You don't need an engineer to set it up. The functionality was limited, and you may have to get another sensor if your application or resolution needs change. Then there is the new generation of smart cameras, like Leutron's CheckSight smart camera, which is based on the Intel Atom processor, is GenICam compliant, and allows the user to select and load the image-processing library of their choice. Like a PC-based system, the new generation requires more engineering knowledge but gives you much more power and capability than a vision sensor. When you combine it with GigE capability, you can string hundreds of smart cameras together for traffic monitoring or surveillance, for example, and only send the pertinent information along the network back to the operator."
The advent of Intel's low-power Atom processor gives the smart camera designer an order of magnitude more processing power than DSP-only smart cameras without generating too much heat for a fanless smart camera system. Today, smart camera vendors like XIMEA GmbH (Munster, Germany) are raising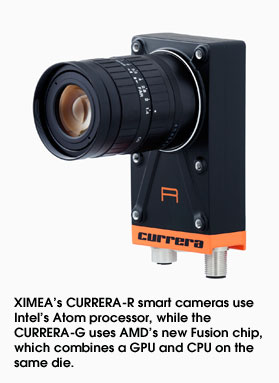 the bar again, adding multicore processors to the smart camera, such as the AMD Fusion chip, which combines a GPU and CPU on the same die for another order of magnitude increase in data-processing performance.
"Based on our research of our customer base, the vast majority of machine vision applications are running at speeds equal to or below 10 parts per second," notes XIMEA CEO Max Larin. "Only about 15% of vision systems run at higher speeds. So a generic camera with GigE interface with a dual-core PC can easily satisfy those requirements. The same is valid for PC-based smart cameras, except the smart camera can be designed with extremely low latency for hard, real-time operating environments. Our CURRERA-G smart camera achieves this through a real-time extension to embedded Windows or Linux, giving the user a familiar look and feel to a PC and simplifying network-supported remote support while including a PLC capable of sequencing with a few nanoseconds of precision. This solves issues related to real-time activation of downstream ejectors, but does not solve issues related to predictable execution time of a specific image analysis code function. Real-time extenders to Windows should resolve both issues, but at the moment, there aren't any generic image processing libraries that can be executed using these real-time threads."
PC-based Solutions
PC-based solutions offer several advantages to the machine vision designer. Because they're developed for the consumer market, PCs can take advantage of the latest microprocessors, while embedded and smart camera solutions often lag behind because they are based on industrial single computer or proprietary motherboards. However, this can cause difficulties for end users, as PC vendors change components or consumer-based operating systems make a code change that requires updated drivers for cameras and other equipment. PC systems can host feature-rich image-processing libraries, giving the designer more tools and flexibility but also requiring more expertise to design and maintain.
Robert Eastlund, Director and Vice President of Sales for vision system integrator Graftek Imaging Inc. (Austin, Texas), says he's looking forward to working with the newer generation of smart cameras that offer more processing power, but he cautions that customers need to be careful when choosing a smart camera solution.
"We tend to get the 'ugly applications' with any number of challenges, including language barriers and complex vision needs for multiple cameras and a central control point, such as those used in automotive applications,' says Eastlund. "Therefore, we typically provide PC-based or turnkey solutions using off-the-shelf components. When we do use a smart camera, it works well for straightforward applications, but we often see form-factor problems where the camera won't fit inside the customer's space constraints – even when it comes to lens mounts – or run into limitations of the type of camera sensors available. It's interesting that we often see customers with smart cameras have more problems getting their systems up and running. Perhaps it's because our customers have more complex problems to solve, or that using a GUI-based programming language with limited functionality is like trying to fit a square peg in a round hole. When you're selling a smart camera, you need to start from the very beginning of the customer's story to make sure that everything that the customer needs to accomplish will work within the constraints of the smart camera. With a PC, I can run a smart camera or a regular camera. We have more flexibility as we develop the system."
Turnkey: The Total Solution
A turnkey system is one where the integrator or machine builder takes care of the total system design, including all engineering, documentation, training, and support. In general, the upside is that the customer can be assured that the system will work as specified – assuming the customer did their work developing a good system specification. And, should something go wrong, the customer has one person to call for answers rather than having to negotiate a version of the "blame game" among camera, software, and PC vendors. However, this level of convenience and functionality doesn't come without a cost.
When specifying a PC versus turnkey system approach, Michael Steinicke, Product Manager at Baumer Optronic GmbH (Radeberg, Germany), likes to look at the knowledge and capacity of the customer, their acceptable level of investment, and whether the solution is a single solution for one manufacturing line or a vision system for mass-production manufacturing. Turnkey solutions, Steinicke says, typically offer higher processing power than a general solution, are more complex, and have lower operation and support costs because most of this is handled by the integrator. However, they suffer when compared to a PC's field upgradeability because the solution is designed holistically to solve a specific task.
"The cost can be higher for a turnkey solution, but not if you consider that you don't need to have a vision system engineer on staff to oversee a handful of projects," adds Lance Oliver, Project Engineer at Vision Machine Technic, VMT GmbH. "Turnkey systems are great for high-regulated industries such as pharmaceutical because the programming, tools, and setup are the same wherever the system is installed."
Robotic guidance is another industry that has moved more toward turnkey solutions. "Robot integrators used to ask for PC solutions, but these days they want a turnkey solution so they won't have to have vision experts on staff, especially when the system includes other sensors such as time of flight or laser triangulation," Oliver says. "They want us to stay on top of the latest frame grabbers, versus GigE, TOF, lasers, etc. There are also fewer support issues with a turnkey system."
Machine vision systems were once designed solely on proprietary processing hardware and software. But as the industry has matured and taken advantage of advances in electronic technology, machine vision hardware and software suppliers have expanded the variety of offerings, with greater attention to industry standards and compatibility. These developments continue, but today machine vision customers have more options than ever before, giving them the power to pay just for what they need – a solution that fits their application, their company, and their pocketbook.
Embedded Vision
This content is part of the Embedded Vision curated collection. To learn more about Embedded Vision,
click here
.