Shopfloor, Meet Top Floor
POSTED 06/15/2011
 | By: Kristin Lewotsky, Contributing Editor
By transferring data between enterprise resource planning networks and the plant floor, savvy manufacturers equip themselves to benefit from lean manufacturing principles.
There was a time manufacturers ran a single product on their line for days, or even weeks, storing the inventory in warehouses and waiting until the numbers dwindled before running the product again. The larger the selection of part numbers, the larger the warehouses and the greater elapsed time between manufacturing runs for any one product. Companies found themselves with large amounts of capital tied up in inventory, even as frustrated customers faced backorders because the line was unable to easily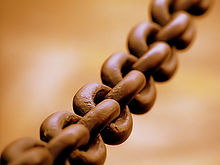 switch among products. These issues led to the emergence of lean manufacturing, with its emphasis on small batches and responsivity. By linking their shopfloor systems with their top floor networks, today's manufacturers are streamlining their production processes, enhancing efficiency and minimizing mistakes.

Factory floor networking has become essential in the production environment. Machine builders and system integrators leverage Ethernet-based links to speed inter-and intra-machine communications. The approach enhances safety and allows access to the entire machine, or even production line, from a single access port. So-called "shopfloor to top floor" communications allows smart components to deliver detailed performance information and fault messages to plant management and engineering departments, streamlining maintenance and decreasing downtime.

More recently, shopfloor to top floor integration has begun taking on a new meaning, as companies following lean manufacturing practices increasingly seek to exchange information between their machine networks and business packages such as enterprise-resource-planning (ERP) software. The idea is that the ERP system provides order-entry information to the plant-floor network, informing operators and the machine network of the need to produce certain parts. The machine network provides the ERP system with real-time updates on everything from parts production to machine downtime.

Such an information exchange is particularly valuable in highly regulated industries such as food, nutritional, life science and pharmaceutical manufacturing. "We're receiving released orders from the ERP system, then we're transmitting values for machine setups and acceptable quality limits," says Steve Malyszko, President of Malisko Engineering Inc. "We're reporting back up to the ERP system all the usages, all the downtimes and the results of the quality tests. We're doing that at several different pharmaceutical companies."

The data can be quite granular, rendering the production process highly transparent. Consider an example in which the ERP system sends an order for 80,000 units. After processing, the floor network returns a file that reports the actual results. Maybe the production line fulfilled the order for 80,000 units, but 500 unshipped rejects occurred during the production run. The number of rejects would be broken down by work cell: 100 at the filler/capper, for instance, 150 at the checkweigher, 100 at the cartoner, 150 at the barcode-inspection station. This type of data not only provides inventory information, but also data that companies can mine for process control and productivity analysis.

Making the Link
When a small-batch tile company in Vermont wanted to improve the flow of information between production machines and their ERP system, they turned to the Vermont Manufacturing Extension Center (VMEC), a member of the US National Institute of Standards and Technology's Hollings Manufacturing Extension Partnership (MEP).

The tiles consist of cast resin, manufactured in a fixture known as a frame. The number of pieces held by each frame varies depending on tile geometry and size. The manufacturer had automated much of the process, but the collection of machines essentially operated in isolation. They track the process manually, using log sheets whose numbers were later entered into a computer. That approach worked just fine when the company was using the traditional approach of long production runs. When they decided to pursue a small-batch, lean-manufacturing approach, logging data manually simply presented too much possibility for error. "They realized that one of the things they needed in order to produce small batches more often was real-time or near real-time tracking of how many good pieces they had made," says VMEC IT Specialist Bill Kuhns.

After studying the machine's programmable logic controller (PLC), the implementation team realized they could command it to generate a text file that would log the part number being produced and the number of frames. They wrote a periodic script on a PC that processed the text file to create transactions in the ERP system, so that within a few minutes of a part being made, the work-in-progress quantities would update.

It sounds straightforward, but wasn't. "While the machine controller is very sophisticated as machine controllers go, it's not a general purpose computer," says Kuhns. "We were limited in the information we could capture and write out to that text file, so we had to do a fair amount of work trying to figure out how to relate the information that this machine would report to a database that could then be translated into a part number and translated to a quantity per frame."

That raises one of the often overlooked challenges of these types of integrations. Interfacing two different systems run by different stakeholders can be difficult, but in some ways working out how to manipulate the answers delivered by the shopfloor system isn't as difficult as determining what questions to ask. "Part of the challenge is figuring out what information people use to make those decisions," says Kuhns. "How do you collect it and how do you present it in a useful way?"

VMEC is also helping develop a shopfloor/top floor system for an injection molding firm. After the initial molding, the parts go through a complex, multistep coating process that varies depending on the part number. Going from finishing part A to finishing part B, then back to part A means changeovers that waste time and materials. The company wants a way to run an optimum combination of parts on each molding machine so that they can use the coating line most efficiently. "One of the underlying business drivers is the whole theme that making small batches more often gives you flexibility," says Kuhns. "They're trying to get a truly automated system so that as customers order and product leaves, the floor network can send a signal back upstream and say, 'We need more of this particular part number.'"

Shaking hands
When it comes to integration, interfaces can present a significant issue. "Far and away the biggest challenge is getting control equipment that is compatible with the business systems from a communication and data format standpoint," says Malyszko. Not only is the market crowded with Ethernet protocols, but as vendors implement "standards" in their products, proprietary code - often closed to users - all too often creeps in. As Malyszko notes, it's difficult to work with an interface when you don't know the details of the program or the data structure. "It's like me saying, 'I have a car. It's got four wheels, an engine and headlights. It conforms to the 'standard' for an automobile. What more do you need to know?'" he says. "That is truly the gist of where the difficulty lies."

Kuhns sees great benefit to the industry developing a consistent interface. "We spent a fair amount of time and money [on the tile project] doing it with bubblegum and Band-Aids," he says. "The problem is that every interface is set up a little different. If there was a real open source standard, we could have done it in a couple of hours. I'm hoping as customers start understanding that, they're going to start demanding it. You can do all the proprietary stuff you want to do inside the box but give me a standard interface, let me connect to a standard network with standard protocols."

In addition to the software challenge, there's the challenge of peopleware. An IT shop tasked with maintaining the corporate ERP system is often wary of opening it up to any other programmers. Meanwhile, the engineers responsible for the plant floor network want to ensure that their machines are secure and not slowed or stopped by outside tasks. "A big part of our job is to play referee between the IT group and production and engineering," says Alan Stanfill, manufacturing information consultant at EIS Group Inc. "There's a lot of time spent just getting all of the internal customer groups comfortable with one another and willing to actually open things up. It's fairly common for groups to say, 'You know what, I can import and export a text file into my ERP system and I know you can do that into your database, as well, so let's make that a spot where we meet in the middle and we don't hurt each other's systems.' It's fairly common – although not very efficient – to communicate between networks via a database or a text file. We prefer not to do it that way, versus directly integrating the two systems, but sometimes you have to."

Making It Work
The flow of information between top floor and shopfloor can be enormously valuable, but the process has to be carefully thought out and executed properly in order to provide the anticipated benefit. "Companies have to be willing to spend the time and money up front quantifying what they want to achieve," Malyszko says. "They cannot do it shotgun style. To gain the full benefit of top floor-shopfloor data exchange, they need to think about what they want to accomplish, then sit down with people who know the shopfloor side and talk about how to get it done. They also need to have the discipline to validate that the data they're giving the ERP system is really what is going on on the shopfloor; in other words, avoid 'garbage in, garbage out.' With a good implementation team, we've seen companies that have realized ROI in a month or two."

Companies need to be realistic about ROI expectations, of course. A food and beverage manufacturer going from 97% efficiency to 98% will obviously take longer than a bottle manufacturer who was generating 30% scrap.

The benefits go beyond improved productivity to less tangible factors. In the case of the tile manufacturer, cycling through their list of several hundred part numbers with their old manufacturing process required almost a month. If a customer called with a special order, the company had a choice of disrupting their production cycle or making the customer wait weeks. "If they cycle through every part every week, then the customer only has to wait a couple of days," says Kuhns. "The company has the ability to be responsive. That has got to be valuable in terms of customer satisfaction."

Acknowledgments
For helpful discussions, thanks go to John Phillips of Advanced Process Technology Inc.; Karl Chambers of Control Technology Corp.; and Paul Eggers and Gary Fine of French Gerleman.