Service Robots on the World Stage
POSTED 03/23/2018
 | By: Tanya M. Anandan, Contributing Editor
The 2018 Winter Olympics brought service robots to the world stage like never before. Some 85 robots punctuated the games in Pyeongchang. Robot guides designed to resemble the Olympic mascot, Soohorang the White Tiger, were on hand to answer visitors' questions, translate over 20 languages, and pose for commemorative selfies. Floor cleaning robots could be seen navigating around travelers at South Korea's Incheon International Airport. Beverage-serving robots roamed venues offering cold bottles of water to passersby. Robot fish and skiing robots entertained crowds. Watch a giant rideable robot carry the Olympic torch.
The Olympics was a fantastic testbed for newer robotic technologies. While some robots are already of service in our homes, at work and in public spaces, the service robots domain is still emerging and mostly populated by startups.
iRobot, best known for their robot vacuums, is one of the few exceptions. They got an early start in the 1990s creating robots for military and disaster response missions. RIA profiled the robot manufacturer in Our Autonomous Future with Service Robots. Back then, they were plugging their videoconferencing mobile robot. Coincidently, an iRobot spin-off recently re-introduced the Ava telepresence platform with enhanced capabilities. Service robots in the healthcare sector have also been around longer than many others, as have some robots in the logistics space. Now a slew of startups have joined the conversation, making logistics one of the fastest growing applications for service robots. The safety standards writers are racing to keep up.
We'll take a closer look at two startups that make consumer-facing robots for retail, hospitality and other public relations applications. One of the foremost authorities on service robotics shares his perspective, and we run down some market statistics and projections. Service robots are no longer a mere novelty.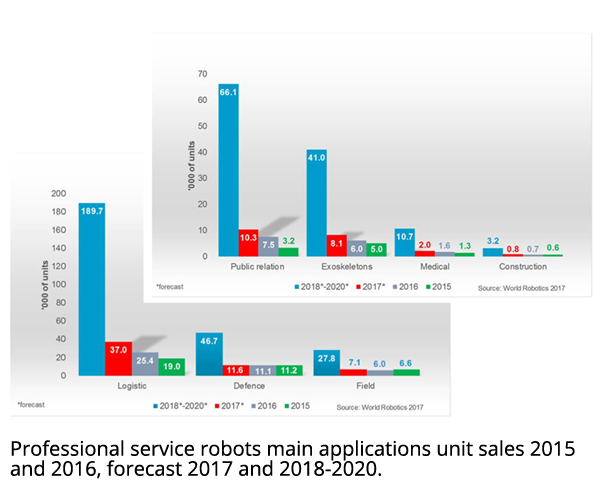 Professional Service Robots
For professional service robots, which are used outside of the home and conventional manufacturing scenarios, the latest projections from the International Federation of Robotics (IFR) show an average growth rate of 20 to 25 percent between 2018 and 2020. In terms of value, for the same period, that indicates a cumulative volume of approximately $27 billion. The first set of charts show the main application areas that will contribute to this significant increase in the professional service segment.
In order of the highest to lowest projected increase:
Logistics (mobile robots used in factories, warehouses and fulfillment centers)
Public Relations (consumer-facing guidance and delivery robots in retail stores, hotels, museums and other public spaces)
Exoskeletons (robotic devices used in rehabilitation, or in manufacturing and construction to improve ergonomics and reduce workload fatigue)
Defense (unmanned aerial, ground and underwater robots in military applications, e.g., drones, bomb surveillance and removal robots)
Field (agricultural, cow milking, mining and space robots)
Medical (diagnostic, surgical and therapeutic robotic devices)
Construction (robots for building and heavy/civil construction, nuclear demolition and dismantling)
For more information, download the World Robotics Service Robots Executive Summary here.
The IFR stresses that these are conservative figures both for actual and projected sales, as they acknowledge that their survey does not cover the full applications domain or service robot types. IFR gathers its data directly from service robot suppliers. However, the surge of global startups and acquisitions in this area makes it complicated to keep tabs on the market. It's also important to note that some service robot suppliers have adopted a RaaS (robotics as a service) business model, where robots are leased to users. This trend is increasing.
Personal Service Robots
The personal service segment is, at least for now, a much smaller domain for robots. As you can see in the second chart, the overall market is a fraction of the professional service sector, but is expected to grow rapidly in the long-term, possibly eclipsing the industrial and professional sectors. IFR's projected sales for household robots, including the primary applications to date – vacuum cleaning, lawn mowing and window cleaning – are estimated at approximately $11 billion (2018-2020). Also included in this category are robot companions, toy and hobby robots, multimedia/remote presence robots for education and entertainment, assistance robots for the elderly and disabled, and robotized wheelchairs.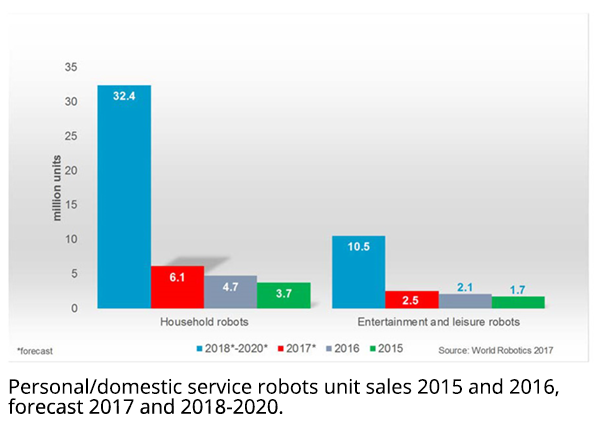 "Professional service robots are continuously progressing as robot types in this category conquer niches in increasing numbers outside the manufacturing scenario," says Martin Haegele, who chairs the IFR Service Robot Group and authors the annual World Robotics Service Robots report, which has become the standard source for information on the service robotics industries.
"The variety of the niches actually makes the service robotics market," continues Haegele. "In many application areas you already have highly developed machinery in place, like cleaning machines. The manual cleaning machines gradually become autonomous once there is a tangible need and suitable technology."
Haegele, an Engelberger Robotics Award winner, is Division Manager of Intelligent Automation and Clean Room Technology at Fraunhofer IPA in Stuttgart, Germany, and in charge of the institute's prominent robotics activities. The institute has 70-plus full-time researchers in the robotics area alone and develops robotic applications and robot-related technologies for industry.
He partly attributes the growing interest in service robotics to the vibrant startup scene in this area. Fraunhofer's research was the catalyst for one of those startups.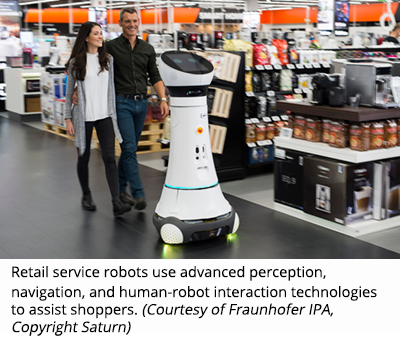 In Retail
The Care-O-bot service robot was born in the Fraunhofer lab in 1998 and underwent several iterations before the fourth generation Care-O-bot 4 was introduced in 2015. For three years, Fraunhofer researchers worked closely with component suppliers, product designers and software developers. Part of the team were developers from Schunk GmbH & Co. KG and Phoenix Design. Right out of the gate, the robot won the Red Dot Best of the Best Award, the top prize for groundbreaking product design. Now Fraunhofer IPA is working with its spin-off, Mojin Robotics GmbH, to expand the technology for commercial applications.
Care-O-bot 4 is already on a roll at Saturn, a chain of electronics superstores in Germany run by MediaMarktSaturn Retail Group. "Paul" the robot greets customers, asks how it can be of service, and shows them to the appropriate department or product display depending on their interests. During the trek through the store, Paul is able to point the customer to special offers or entertain with jokes. Using its VoIP capability, the robot can also call a human member of the store's staff if more assistance is needed. After escorting the customer, Paul asks for feedback before returning to the store entrance.
An armless version of the robot has been on the job at Saturn stores since October 2016. Paul was one of the prize-winners of the 2017 retail technology awards Europe (reta) for Best Customer Experience. After the successful trial at the Saturn store in Ingolstadt, the robot was rolled out at stores in Berlin and Hamburg.
Perception and Human-Robot Interaction
Paul's perception and interaction is a big part of the robot's advanced capabilities, some of which were custom-developed for this retail application. Vision sensors, microphones and speakers enable multimodal interaction. Paul can detect people's emotions, gender and age for making effective use of its semantic dialog system that enables context-aware speech interaction.
In Haegele's opinion the most important enabling technologies across the service robotics domain are perception and human-robot interaction. The ability for robots to detect and perceive their surroundings, people and objects, and engage with them is critical to these often unstructured and dynamic environments.
"The more a robot can react to uncertainties, the more robust and the more functional it is," he says. As far as Paul's ability to detect a person's mood, Haegele says this is enabled by a certain degree on new ways of machine learning.
User input can come from gestures, language, the built-in touch screen in the head, and with a tablet PC, all options in the Care-O-bot 4 family of robots. The robot can provide feedback in a number of ways, with its expressive eyes on the touchscreen "face" or with simple gestures like nodding or shaking its body or head, or angling its head to the side if it doesn't understand something.
"If a robot moves and engages in body-like motions, that's always a strong way to communicate with people," says Haegele, also noting that the appearance of the robot is very important. The overall appearance should be pleasing, fascinating, and of course, not create any fear.
A unique feature of Care-O-bot 4 is its spherical joints. Located in the neck, hip (torso) and arms as an option, these spherical joints allow for maximum reach and interaction with the robot's environment. The robot can interact with people of different heights, like stooping over to chat with a child, or it can bend over to reach the floor without losing its balance.
Watch this fascinating video on the making of Care-O-bot 4.
Modular and Configurable
Even more interesting, Care-O-bot 4 has a modular design. The head, torso, base, sensor ring and arms are all modular depending on the user's desired functionality and budget. So those spherical joints in the neck or torso can be swapped out for fixed or panning joints. The vision sensors in the neck can be customized. The mobile base, which contains the sensors for navigation, can be restricted to forward and backward movements, or it can be omnidirectional and able to turn on a dime. The base can also be used by itself as a transport device. Dual-arm, single-arm or no arms, your choice.
To make robots more versatile so they can manipulate objects in these varied environments, Haegele says we need robot arms that are lightweight, safe, robust and inexpensive. That also includes the gripper, or hand. Care-O-bot can be configured with a novel, one-finger hand that grasps by pressing its finger to the palm.
Care-O-bot also has potential applications as a mobile information kiosk in airports, shopping malls and museums, for pickup and delivery service in homes, offices and hospitals, and for security applications. Or imagine the 21st century home that awaits us. What's cooking, Care-O-bot?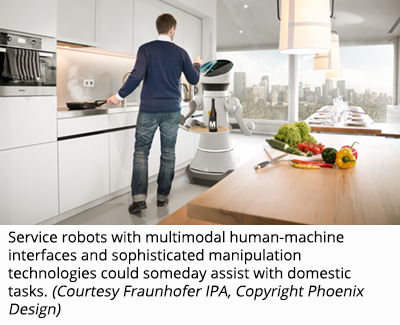 Service robots are moving into the retail realm and other public spaces in greater numbers. Fellow Robots' NAVii robot, aka LoweBot, is deployed at Lowe's home improvement superstores to help shoppers locate products more easily and help employees maintain inventory.
Bossa Nova robots autonomously navigate the aisles of Walmart stores checking for out-of-stock items, incorrect prices and missing labels, among other inventory collection and analysis tasks.
Pepper the social humanoid robot engages shoppers of all ages at Westfield shopping centers in California.
For more information on robots in the retail domain, check out this archived RIA webinar on Robotics in Retail. And don't miss RIA President Jeff Burnstein's presentation at the upcoming Retail Robotics & AI Conference in San Francisco on April 26.
Retailers of prepared foods are also turning their attention to service robots. Severe labor shortages are driving the fast food industry to taste-test robotic technology. Miso Robotics' Flippy, the burger-flipping robot, just started its shift at a CaliBurger restaurant in Pasadena.
Meanwhile, at a KFC concept store in Shanghai customers skip the line at the counter and place their orders for the Colonel's Original Recipe with a robot.
Service robots, especially consumer-facing bots, not only have to get the job done, they need to look good while they're doing it.
Robotic Room Service
Sleek lines and a simple, but elegant design denote the Relay delivery robot from Savioke. The autonomous mobile robot works alongside people in hotels, high-rise residential buildings, hospitals, and industrial settings. This smooth operator owes its moves to the legacy of a scrappy bunch of Silicon Valley researchers celebrated for the advent of the open source Robot Operating System (ROS), and the PR2, a mobile personal robot platform for research, both landmark developments in a robotics revolution.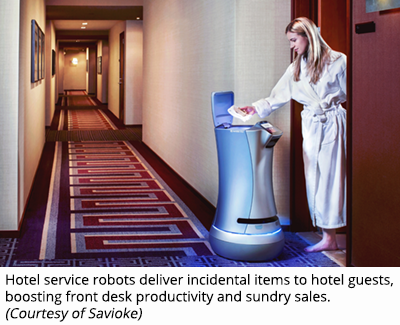 Savioke CEO Steve Cousins, back in the day, was the CEO of Willow Garage, the birthplace of ROS. Cousins is on the roster with several other WG alums that are now headlining their own groundbreaking startups. Founded in 2013, Savioke has some significant backers, including Intel Capital, Google Ventures, and the investment arm of the Singapore government.
Building their robot on the ROS software platform helped Savioke get Relay to market much faster.
"We had a working prototype of Relay in 5 months and launched an alpha version into the world 10 months after we were founded," says Cousins. "At Willow, we had spent a lot of time thinking about what robots can do and what we should do with robots. That gave us a running start with Savioke and Relay."
Relay is now operating in over 70 hotels across the globe. The robot delivers any number of items to guest rooms, including linens, toiletries (like the toothbrush you forgot to pack), and drinks and snacks, whatever fits in its onboard compartment.
ROI of Hotel Delivery Robots
Cousins says Savioke initially focused on hotels because they could clearly see the end-to-end use cases for these types of applications.
"At Willow, we thought we wanted to go into the home. But the problem with the home is you don't have enough repetition of tasks. When you go into a place like a hotel where you have 300 rooms, any task you do for somebody in the hotel, you can do for everybody in the hotel. Hotels, hospitals, elder care facilities, all have a similar situation. If you figure out something you can do for one of them, you can do it for a lot of them. That's positive ROI."
And measurable ROI. Consider this excerpt from a Savioke whitepaper:
If the average round trip delivery cycle time from the front desk to the guest room and back is 20 minutes, it means that a hotel staff member will spend nearly 7 hours a day or 2,433.3 hours per year away from the front desk each day just to deliver incidentals to guests. At a wage of $13.28/hour (based on Glassdoor salary analysis of the average salary of US Hotel Front Desk staff), the property is spending $32,315K in labor per year on guestroom deliveries.
This labor savings doesn't take into account the additional revenue generated by increased sundry sales and optional delivery service fees. Cousins says some hotel general managers have reported big increases in sundry sales because of the robots.
Add the impact of social media, when guests delight in posting selfies with hotel delivery robots and sharing their experiences on sites like Trip Advisor. That's more bang for the buck.
Watch Relay on the job at the Residence Inn LAX. "Wally" knows how to work the halls, and a crowd.
Additional benefits like no tipping, increased privacy, and fast delivery are growing the robot's fan base among hotel guests. The hotel staff like Relay, too.
"We found that now if you take a robot away from a hotel that has one, the people that work there get upset," says Cousins. "You've suddenly added a bunch to their workload. We've basically changed the expectations of what happens in select service hotels."
Simplicity By Design
The Relay robot relies on a blend of sophisticated sensors, including 3D depth cameras, LIDAR and sonar, for its navigation and collision avoidance. It works well in heavily populated public spaces, even navigating among the huge crowds flowing into the lobby of the Las Vegas Renaissance Hotel from the nearby International Consumer Electronics Show (CES) this past January.
Savioke does a good job of hiding all the high-tech stuff in a sleek package. This is by design.
"Design aesthetic matters a lot," says Cousins. "When you have a robot that is aesthetically pleasing and people see it as cute and friendly, they treat it better. Then it can get its job done."
Getting the job done is what it's all about. When a hotel guest calls the front desk to request a delivery, the staff calls on Relay. The staff can either interface with Relay through the touchpad on its "face" or they can use a cloud-based user interface to input the delivery information, i.e., room number, etc., and summon the robot. Relay reports for duty, a staff member presses a button on the touchpad to open the robot's interior compartment, and inserts the guest's requested item.
Relay has already been taught the entire hotel layout by being escorted around the facility, so the robot knows how to get to the right floor and room. Now it just needs to get on the elevator.
"We've generated a lot of intellectual property around how to efficiently integrate with elevators and use elevators in the real world," says Cousins. "Some of these elevator systems are 30 years old and using technology from the '70s and '80s. We can integrate with all of those." (The elevators need a network connection.)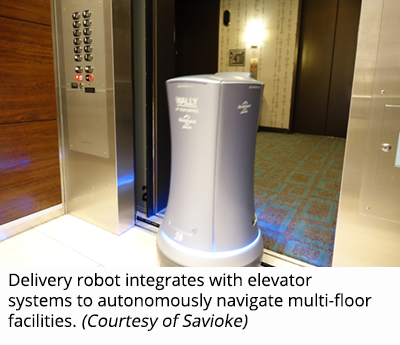 The front desk can monitor the robot through the cloud-based user interface if they wish, but Relay is designed to "send it and forget it" giving the hotel staff the confidence that it will get there. Once Relay reaches the guest's door, it robo-calls the room and announces the delivery. The guest just needs to open her door, hit the onscreen button to open the robot's compartment, and remove her items.
"That's the fundamental interaction," says Cousins. "All the other stuff that we do on the touchscreen is secondary. It turns out that it's delightful and people love answering how was your stay and watching the robot smile, blink and then wander away."
Once Relay completes its task, a confirmation is sent to the cloud-based UI and the robot returns to its dock to charge, or proceeds with the next delivery in the queue.
Relay does not speak or "understand" spoken commands. Instead, the robot has onscreen animations and it beeps and whistles (like R2-D2) to communicate what it's doing.
"We intentionally don't have speech," explains Cousins, "because if you start having the robot talk, then the expectation is that the robot can also understand and then you start getting people disappointed."
Speech recognition and other forms of artificial intelligence have come a long way, but robots still don't truly understand. AI doesn't understand context, which can sometimes lead to frustration on the part of the user. Who hasn't yelled at Siri?
Savioke has a 24/7 call center in case something goes wrong. If Relay is prevented from completing its delivery, due to perhaps an unusually large obstruction in a hallway or an elevator malfunction, then an alert is sent to the call center. Using the robot's sensors, the call center can see what might be causing an issue and then send hotel staff to remedy the situation.
Cousins says they are looking into having Relay available for other tasks in hotels. These could include guiding guests from one place to another or "mingling" with guests in the public areas, which means it's essentially acting as a kiosk to provide information or entertainment.
"One of the things that we're experimenting with is being able to go through (your hotel) and survey your WiFi. The robot has sophisticated navigation technology and knows exactly where it is all the time, and has the ability to go wherever it's told to go, on a schedule. So you can have the robot in the middle of the night wonder all the halls of your hotel and make sure that all the access points are still working."
These robots aren't alone in the hospitality space. Aethon TUG autonomous mobile robots deliver luggage, room service, and directions to hotel guests at the Sheraton Hotel in San Gabriel, California. Watch them in action.
Beyond Hospitality
Savioke has made hardware and software changes along the way as they learn how people interact with the robot in different scenarios. For Relay's hospital applications, Savioke incorporated an RFID reader to scan nurses' ID badges before opening the compartment door, an additional security feature to protect the robot's payload.
Relay is also on the job at FedEx. The courier company is using a fleet of Relay robots to shuttle parts and materials from the stock room to technicians at a repair facility in Tennessee. At one FedEx retail location, a Relay robot is transporting customers' broken mobile phones to the repair area in the basement.
Whether they are delivering guest towels, flipping burgers, or helping kids cope with cancer treatment, service robots are changing the way we view our relationship with machines. As we discover more ways they can be of service and enhance our lives, we learn the value of human-robot collaboration in all its forms.

Service Robots
This content is part of the Service Robots curated collection. To learn more about Service Robots,
click here
.