Service Robots: No More Waiting, They're Here Today
POSTED 09/01/2004
 | By: Winn Hardin, Contributing Editor

Long stigmatized by hype and overactive imaginations in the mainstream media and consumers, the service robot industry has seemed like the industry that was always just around the corner. That's all changing, especially in the wake of the terrorist events of September 11, 2001.
Industry analyst and commentator, Jim Pinto, notes that today there are more than 1,000,000 robots in the world. The Japan Robot Association estimates that the Japanese robot market will be worth approximately $27 billion by 2010, and $72 billion by 2025.
This indicates not only a growing market, but also points to a market in flux. A few years ago, nine out of ten robots built cars for a living, while today only 50% of robots fill that role, according to Pinto. Last year, there were 2,300 demolition robots in operation, 1,600 surgical robots and 3,000 underwater robots. Pinto adds one more number to the pile, estimating that iRobot's (Burlington, Massachusetts) Roomba vacuum robot will grow from 12,500 units sold in 2000 to 500,000 by the end of this year. Add up all these numbers, and the service robot industry is no longer something coming, it's here today.
Injecting Robotics into Daily Lives
According to Chief Scientist at Evolution Robotics (Pasadena, California), Paolo Pirjanian, robots need to deliver on two fronts if they want to transition to the consumer market. First, they should automate activities that people do every day, preferably while working autonomously because people are more likely to use a tool that can work by itself rather than one that requires direction. Second, the robots must be cheap.
''Robotic floor care or vacuuming is very hot right now, and it has been driven by Roomba'' Pirjanian said. Roomba is a small, disk shaped vacuum cleaner that autonomously navigates around your room or building, vacuuming as it goes until ''dirt'' sensors underneath the unit determine the floor is ''clean.'' ''With a $199 price point, Roomba is very attractive to consumers. Prior to that, the first product was from Electrolux in Sweden. The product was rather sophisticated and did a good job, but their $1,500 price point is too high. That's why developing core technologies for OEMs to build low-cost robotics is our main focus. We use a modular design so that OEMs can pick a camera module, chassis, motor, etc. and build a product themselves without having to develop the robotic elements.''
The development of inexpensive CMOS sensors that cost less than $5 in volume is making Evolution Robotics' job easier. Pirjanian and his team are spending time developing easy to use and small factor machine vision algorithms that can deduce a robots location by comparing acquired images to a stored image base using geometric pattern matching techniques that accommodate scale, orientation and size variations between the two image sets. ''It's accurate to about 10 cm,'' Pirjanian said. Similar algorithms help the robot vision module navigate and avoid objects, and even enable visual programming by using cue cards to program robot activities such as ''go to recharge station and dock.''
Modular designs for easy integration is also a driving force behind VIA Technologies Inc. (Taipei, Taiwan) development of computational platforms for service robotics. According to Tim Brown, Robotics Program Manager at VIA, Gecko Systems' (Conyers, Georgia) CareBot intelligent assistant for elderly care; RoboDynamics' (Los Angeles, California) robotic personal assistant; and White Box Robotics' (Youngwood, Pennsylvania) 912 entertainment and security robots all use VIA's x86 architecture. The architecture allows easy integration with existing computer networks and software. ''The reasons being as [service robots] move into the home and service areas and want to interact and connect with the other established devices (computers, and personal electronics equipment), they would need to follow established standards to do so. Also home and service robots need to navigate and do other processing intensive functions that x86 CPUs can handle more easily, and now with VIA's C3 and Eden processors, we are able to meet the low power and fanless requirements needed for reliable, long lasting robots.''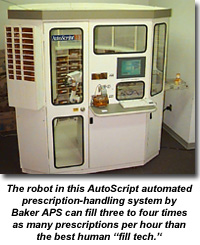 Service Robots: They're Everywhere
Baker Automated Prescription Systems (APS) of Pineville, Louisiana, a division of McKesson HBOC, provides automated prescription-handling systems that are used in many large military hospitals, HMOs, and even in large retail stores. The self-contained AutoScript systems are about the size of a toll booth and use a Motoman six-axis robot to fill individually labeled vials from 145 to 210 storage cassettes. The smaller system can fill approximately 100 prescriptions per hour from 145 product storage cassettes, and the larger system can fill up to 120 prescriptions per hour from 210 product storage cassettes. ''Since even the best ''fill-techs'' can only fill 30-40 prescriptions per hour, these two robotic systems can triple or quadruple productivity,'' says Jamie Vollm, Director of Robotics for Baker APS. Operators use a PC and a Windows®-based interface to run the robotic work cell. ''At large military hospitals, 80 percent of prescriptions are made by Physician Order Entry (POE) directly into a host computer,'' Vollm explains. Direct entry is more efficient and helps eliminate errors made by a third party misreading a doctor's handwritten prescription.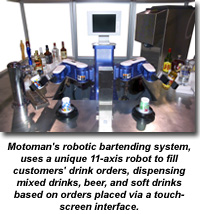 At this year's IMTS show in Chicago, Motoman Inc. (West Carrollton, Ohio) will introduce a complete robotic-bartending system designed to fill the growing needs of the service sector. The system features a unique dual-arm robot with 11 axes of motion that dispenses liquor from bottles, draft beer, and fountain soft drinks (soda and juices). The system is designed to use a magnetic card scanner to authorize drink service. After a valid card swipe, the customer uses a touch screen to choose a beverage. The robot selects a cup, then fills it with the appropriate beverage(s) and ice, if desired. The robot then passes the drink to the customer via an automatic turntable located at the side of the cell, which features a stainless steel bar and safety enclosure. The system can even be customized with a color LCD display screen to add a ''personality.'' This robotic bartender provides more than a captivating, interactive experience for the customer that is ideal for airports, casinos and other entertainment venues. It automates order entry and inventory tracking, minimizes pour losses, and the layout is designed to optimize throughput. ''Just as the automated prescription-handling system allows pharmacists to spend more time consulting with patients, the robotic-bartending system allows bartenders and waitresses to spend more time with their customers – a key to a bar's success,'' says Carl Traynor, Motoman's Senior Director of Marketing.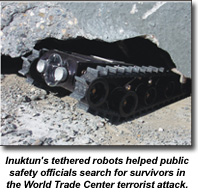 And not all service robots require extensive processing capability, as Inuktun Services Ltd (Nanaimo, British Columbia, Canada) has proven with its line of tethered robots for confined spaces and hazardous conditions. According to Colin Dobell, President of Inuktun, the market for service robots in confined space or hazardous applications has grown since the New York terrorist attack in 2001 at the World Trade Center. Non-tethered, wirelessly connected robots quickly lost their ability to communicate with their operators as they pushed into the concrete piles of rubble. Inuktun provided police and fire and rescue with tethered robots that could search for survivors.
Inuktun has also made inroads in the nuclear industry, where their specialized robots inspect nuclear reactor cores for defects, and as remote bomb disposal devices in Iraq as U.S. troops struggle to combat Improvised Explosive Devices (IEDs).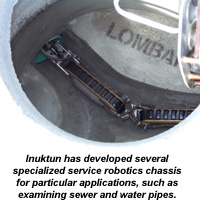 Inuktun, along with other service robot suppliers, has benefited from developments in other industries such as cameras, digital video storage and microprocessors, but Dobell looks for further development in two critical areas: power and communication. ''There's a minimum volume and weight requirement to get a certain power density. This makes it difficult to build wireless systems because of the extra power you need. We've got an excellent vehicle about the size of shoebox that would be great for wireless connectivity, but to have enough power to run it for any expanse of time, you'd have to double the size of the vehicle, and that reduces the attractiveness of the vehicle for confined spaces,'' Dobell explained.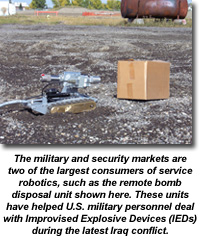 Lastly, end effectors are also critical areas of development for service robots. While service robots do not need the precision of an industrial robot (millimeters or centimeters rather than microns), low cost end effectors would go a long way towards pushing service robots into consumer markets. ''Service robots need to physically manipulate the environment in a positive manner, and cost effective manipulators are a key technology for this industry to roll forward,'' said Evolution's Pirjanian. Low-weight electroactive polymers may be the answer to new end effector designs, he added, because these low weight materials can apply significant force when properly designed.
From Sony's robot pets to Inuktun's robotic saviors, service robots are here today and in growing numbers. As each of the supporting technologies in imaging, image processing, effectors, power supplies and communications continue to improve and drop in price, more of our daily chores will fall into inorganic hands. Then the question becomes, what to do with all that spare time? Play with your robot, of course.

Editor's Note: If you are interested in this article, then you will also be interested in Service Robots by authors Rolf Dieter Schraft and Gernot Schmierer. This 216-page book covers the full spectrum of service robots from agriculture, the construction industry, surveillance, and firefighting; to medicine, underwater, space uses and more. For a more detailed description or to order from the Robotics Online Bookstore, click here.