Seeing and Moving: A Preview of the 2009 International Robot, Vision and Motion Control Show
POSTED 04/06/2009
 | By: Bennett Brumson, Contributing Editor
The biennial International Robot, Vision and Motion Control Show (IRVMCS), taking place June 9-11, 2009, will take on the theme of "Win Globally: Innovate and Automate." Major players in the robotics, motion control and vision industries will gather at the Donald E. Stephens Center in Rosemont (Chicago), Illinois for the automation event of the year. Attendees will have the opportunity to see live demonstrations of vision-enabled robots at the popular Hands-On Highway interactive experience, meet with systems integrators at a special pavilion, and to get a glimpse of the future at the Emerging Robotics Pavilion, featuring Toyota's trumpet-playing Partner robot.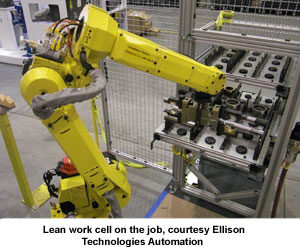 "Ellison Technologies Automation (Council Bluffs, Iowa) supports the International Robot, Vision and Motion Control Show to demonstrate that robotics are viable solution to the economy," says John Burg, Ellison's President. "Automation, while dominated by the automotive industry, has a lot of opportunities in non-automotive manufacturing. Many manufacturers have very little experience with robotics so do not understand their value." Attending the show is an opportunity to help the manufacturing sector implement robotics in their operations.
Integrator Pavilion
A new feature of this year's show is a dedicated area where potential end-users can meet systems integrators. Manufacturers who are considering vision-enabled robotics will have the opportunity to spend a little time with an integrator, who can provide valuable information on any robotic application. Like robot suppliers, robotic integrators at the show will have booths, present demonstrations on the Hands-on-Highway, and lead informative sessions and tutorials to help educate their peers.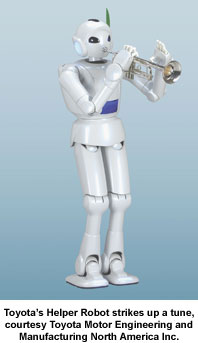 "Ellison is going to be showing our 'lean machine' work cells. Our lean systems are a series of standard work cells that can load and unload machine tools," notes John Burg. "Ellison specializes in integrating chip-making equipment, such as turning machines, milling machines, and grinders. We will also be showing examples of larger, more integrated systems."
In addition to Ellison's demonstration of work cells, John Burg will conduct a tutorial aimed at assisting end-users in coming up with a successful robotic solution to their manufacturing needs. His talk, "Successfully Implementing Robotic Solutions," will focus on the advantages and disadvantages of end-users attempting to integrate a new robotic work cell on their own or to contract with an integrator..
Burg gives an account of why Ellison is at this year's show. "Ellison offers our lean work cells in this economic climate to help our customers to cut costs rather than to increase production capacity. We have made a big effort to retrofit current manufacturing systems to allow end-users to greatly reduce costs on a piece part basis."
Creative Automation Inc. (Ypsilanti, Michigan) will also make its presence known in the integrator pavilion. "We are going to have a small robot with a conveyor system that will demonstrate loading and unloading techniques," says Gerard Walter, Vice President of Operations. In addition, Creative Automation will provide some literature and a video display on their products and those of the robot suppliers they work with.
Walter speaks of some of the products Creative Automation will be introducing at the International Robot, Vision and Motion Control Show. "We will be debuting a robotics application technology that enables end-users to apply various compounds to car body panels and rocker panels. These compounds include gaskets, sealants, and sound-dampening materials."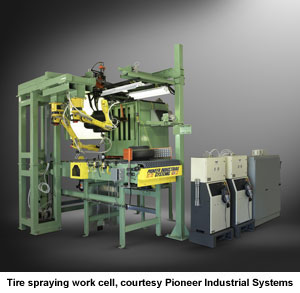 Likewise, Pioneer Industrial Systems (Alvordton, Ohio) will display a tire painting work cell. Todd Hendricks, President of Pioneer explains: "Our booth will showcase our patented process, where we use a vision system to capture images of tires to be spray painted. We acquire the tire's profile using a vision system then dynamically position the robot based on that image."
Hendricks elaborates, saying "Pioneer does not position the robot point-to-point, rather, our system dynamically reacts to the image. As various tire sizes come down the paint line, the robot automatically reacts to reposition the spray gun, fans, and other equipment based on that profile." Hendricks says their work cell puts the exact amount of paint exactly where it needs to be. "If different types of tires pass through our paint booth, the machine senses that and reacts accordingly. This provides for uniform paint coverage no matter what size tire is put through the machine."
Seeing is Believing
The Hands-On Highway interactive experience gives attendees an opportunity to see the power and benefits of vision-guided robotics through a series of self-guided demonstrations. Several robot suppliers and integrators will have actual work cells on the show floor performing a myriad of tasks that motion-controlled robotics can perform.
Stäubli Corp. of Duncan, South Carolina will be among those who have an exhibit on the Hands-On Highway. "Stäubli's demonstration will allow people to explore our software through a tutorial that goes through a step-by-step process to create a simple program to move a virtual robot. Through a few simple steps, people can create an application, teach some points, and see the virtual robot move on a computer," says Chad Henry, Applications Engineering Manager.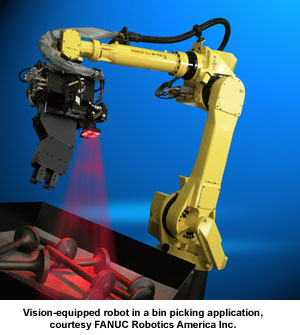 Henry also mentions, "We will show not only how easy the software is to use but also show how powerful it is by illustrating how much programming can be done on a computer through off-line programming." Chad also adds that people can write code, execute that code, and view a virtual robot on a computer, all without having a real robotic system.
In addition, Stäubli Operations Assistant Division Manager, David Arceneaux, says, "We are going to have three demonstrations. One of the demonstrations features a six-axis articulated robot and a selectively compliant articulated robot arm (SCARA) robot working multiple assembly and pick and place tasks." In this demonstration, one robot loads and unloads a simulated injection molding machine then visually inspects the parts utilizing a seventh axis that moves them from station to station.
Other demonstrations will highlight Stäubli's new high speed SCARA robot line performing high speed pick and place with vision guidance and conveyor tracking.
FANUC Robotics also plans a Hands-On-Highway demonstration at the show. "FANUC will demonstrate the latest intelligent robotic solutions for manufacturing," proclaims Edward Roney, National Account Manager for Intelligent Robots at FANUC. "Furthermore, we will be debuting a couple of new products at the show, including our latest generation high-speed bin-picking technology."
In addition to FANUC's demonstration, Steven Prehn, Senior Vision Product Manager will make a presentation on "Advances in Vision Guided Robotics" during the Machine Vision & Robotics Track at the companion conference to the IRVMC Show.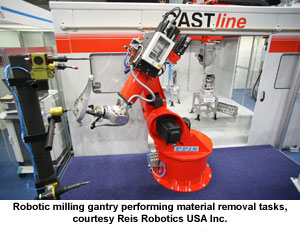 A milling gantry robotic work cell will be the highlight of Reis Robotics USA Inc.'s demonstration. Christopher Clark, Vice General Manager at Reis (Eglin, Illinois) reports, "This system is a five-axis robot for deburring plastic and metal parts. Reis believes our milling gantry takes robotic material removal into a whole new area. It is not like using a standard six-axis robot nor is it as sophisticated as a computer numerical controlled (CNC) machine." Clark suggests Reis' work cell has all the new technologies that can benefit their customers.
Clark goes on to say, "We will show that even during an economic downtime, Reis Robotics is still pushing forward with cutting-edge technologies that help the manufacturing sector be more competitive in a world environment." Clark concludes by contending that robotic technology is helping manufacturers remain competitive through cutting costs.
Erik Nieves, Technology Director at Motoman Inc. (West Carrollton, Ohio) previewed their display. "Motoman is looking forward to the IRVCMS as the best venue to demonstrate the all-new seven and fifteen-axis robots. These actuator-driven manipulators bring real benefit to manufacturers looking to reduce total system cost by simplifying tooling, and in cases where the robot must work in tight spaces. Our live demonstrations will highlight the value that this new technology brings to traditional applications like arc and spot welding, but also how their revolutionary dexterity opens industrial robotics to whole new fields like teleoperation and remote control." Nieves continued, "These robots can replace human operators in environmentally hazardous or ergonomically challenging applications."
Greg Garmann, Software & Controls Technology Leader at Motoman Inc., described vision products to be demonstrated: "Motoman will also be showcasing its new 2D/3D vision products on the seven and fifteen-axis robots. Manufacturers looking to automate their pick-and place applications will find that the benefits of Motoman's vision systems will greatly enhance overall system flexibility and help reduce operating costs. Simple to use, fully integrated, programming without a PC, and part display viewable on the robot programming pendant are just some of the features to be highlighted."
According to James O'Reilly, President, MCS Vision Inc. (Glen Ellyn, Illinois), "MCS Vision will show a new vision system product that is used to inspect labels on bottles." O'Reilly explains that bottles are rolled out for 100 percent inspection and that the presentation of the labels to the inspection system influences the design of the labels itself. Finally, O'Reilly observes, "MCS finds value in attending the International Robot, Vision and Motion Control Show because we can look at products in a different manner and take the opportunity to get ideas as to how to fine tune our inspection system."
The Future is Now
The Emerging Robotics Pavilion at the IRVMCS will include concepts that are on the cusp of revolutionizing manufacturing, the robotics industry and personal lifestyles.
"Mobile robotics that will assist workers in manufacturing or aid traditional industrial robots are just around the corner," predicts Thomas Benson, Director of the Readybot Project, Pleasanton, California. "Our robots can tend traditional robot arms, convey parts, and load parts into machinery." Benson is thinking of tending CNC machines. "Some CNC processes use hazardous chemicals that are dangerous to human health. Some CNC owners want their factory floor to be 100 percent robotic, with humans controlling the robots from behind safety glass."
Readybot will perform a variety of tasks to demonstrate its flexibility. "We will show a fully-functional device by demonstrating Readybot doing kitchen cleaning, then performing a spray painting application," Benson says.
Cornell University (Ithaca, New York) will present one of its prototype robots that is able to create an image of itself. "We will show a robot that can create a simulation of itself. This approach allows complex machines to be made that are too complex to model directly," states Dr. Hod Lipson, Associate Professor of Mechanical and Aerospace Engineering at Cornell. "Machines that can model themselves to accelerate the development process. This saves time and makes the robot more resilient." Lipson explains that a self-modeling approach allows robots to be more resilient to adapt to unanticipated conditions.
Toyota Motor Engineering and Manufacturing North America Inc. (Erlanger, Kentucky) will have its Partner Robot at the show. "Toyota's Partner Robot is designed to assist humans in a variety of activities, including manufacturing, housekeeping, elderly care, and personal mobility. In a manufacturing setting, the Partner Robot can carry heavy objects for an employee or undertake dangerous tasks such as in the welding shop," asserts Tania Saldana, External Affairs Specialist at Toyota North America.
Saldana describes other industrial applications for the Partner Robot. "Our robot can help lift heavy boxes by assisting the employee to put the box on a conveyor line, or any other activity that poses an ergonomic danger to a person's back, knees or elbows." In short, Toyota's Partner Robot is to assist and add safety on the plant floor.
Toyota's Partner Robot will not just be performing menial tasks at the International Robot, Vision and Motion Control Show. Expect to hear it blow its horn; literally. "The Partner Robot will perform several songs on a trumpet at the show, three to four times each day," Saldana says. "The robot has an air compressor, 'artificial lungs', that expel air, mimicking the vibration of a human mouth. The trumpet's valves are manipulated by mechanical fingers that have human-like dexterity."
Seeing and Being Seen
The benefits of attending the premier robot and vision show in North America are countless. Integrators will be at the show to assist manufacturers with any application, while the general public can learn about the flexible power of industrial and personal robotics. Meeting with industry leaders in the presence of the latest and greatest vision-enabled robotic technology will be a valuable experience. Ed Roney sums this up when he says, "FANUC hopes to create excitement in the market with its practical, real-world application demonstrations."
For additional details on the International Robot, Vision and Motion Control Show and Conference in Rosemont (Chicago), Illinois, USA, June 9-11, 2009, including show hours, conference agenda and registration, click: More.