Rugged Machine Vision Manages Harsh Environments
POSTED 12/20/2012
 | By: Winn Hardin, Contributing Editor
Fables are fictional stories that have a seed of truth. And the oft-told machine vision fable – that computer-vision systems are "touchy," "finicky," and "constantly need attention" – falls into this category of myth, legend, and fable.



As the story goes, once upon a time, way back in the 1980s, machine vision technology was still climbing the technology curve. It was little understood, required great technical skill to do properly, and didn't even think about going outdoors without a warm jacket and hat.

Today, machine vision helps track booster rocket separation from the space shuttle. It makes sure giant conveyors carrying tons of ore-carrying rocks in mining operations are optimized and won't pose a danger to workers. It helps locate terrorists in desolate areas from remotely piloted planes. In short, it's moved out of the lab, through the production floor, and into harsh environments where consumer electronics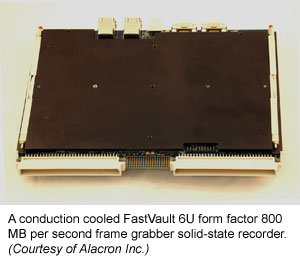 wouldn't dare to go. Thanks to tough new board architectures and a host of enclosure standards that provide environmental benchmarks for every conceivable location – from the frozen vacuum of outer space to the ocean floor – machine vision systems are taking names and…succeeding.
Making Electronics Tough
Ten years ago, if you had a conversation about rugged electronics, you turned to military specifications, or "milspec" documents. These documents defined how long a product needed to survive in various environmental conditions such as temperature, moisture, altitude, shock, vibration, explosive gasses, radiation, and corrosion, according to Paul Stanton, Director of Engineering for camera maker FastVision, LLC (Nashua, New Hampshire) and President of frame grabber specialist Alacron Inc.
"Today, the military specifies industrial components that have assembled with conformal coatings, rigid heat sinks, and other ways to achieve the same milspec requirements," says Joe Sgro, CEO of Alacron and FastVision. "It's not like the new engineer can go to a single place for standards to guide them through ruggedizing a machine vision system. Europe has their collection. The military has their collection. NEMA has specifications for enclosures. There is quite a learning curve."
Alacron and FastVision specialize in ruggedizing their frame grabbers and cameras for numerous industries, from food and beverage inspection to agriculture and military applications. "There are different approaches for ruggedizing a processing board, for example, compared to a camera," explains Sgro. "When it comes to boards in enclosed containers, you'll use convection if there's enough air flow inside the sealed container. But in many cases, there isn't enough airflow in an enclosure, so you use conduction cooling. By bolting heat sinks to both sides of the board in a crosshatch pattern, you get rigidity as well as a way to move the heat from the board, to the rails, and then to a cooling plate beyond the VME backplane, for example."
"If it's an airborne or underwater application, you may also apply a conformal coating to the entire board that looks like you've covered the entire board in varnish," adds Stanton. That keeps the water, salt, and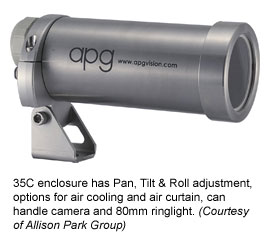 corrosive elements away from the electronics."
Consider the Environment
Compared to a military UAV, food processing may not seem that hazardous. However, food doesn't always stay in the containers. Unlike boards, cameras typically have their own enclosures, which are then placed in a second enclosure, usually stainless steel in food processing applications.
"When you're building enclosures for food processing, you have special requirements that go beyond wash down," explains Chris McGeary, President of Allison Park Group, Inc. (Allison Park, Pennsylvania), which specializes in industrial enclosures for machine vision systems. "There can't be anything above the line that might fall into the food. No glass. No plating. Very few types of paint are rated for these installations. You also have to make sure you don't have any moisture traps, areas that might not get hit by the regular wash-down cleaning. And, of course, the enclosure has to handle high-temperature pressure washing with some sort of cleaning agent."
According to McGeary, Ingress Protection (IP) rating 69K (IP69K), originally defined for construction equipment and other applications, is a good guide when developing enclosures for food-processing applications. The standard requires that an enclosure withstand 176 degree water at 1200 psi from a spray nozzle placed within 4-6 inches of an enclosure that is rotating once every 12 seconds.
"And that's just for water penetration," adds McGeary. "Different locations will use different chemicals for wash downs. One facility may use a chemical that damages acrylic, while another's chemical may attack polycarbonate."
McGeary suggests that you consider your environment in detail. "Stainless steel enclosures are not good at conducting heat, so if you use a smart camera or a light that generates a lot of it, you need to figure out how to get that heat out of the enclosure without affecting the IP rating. The most cost effective method is generally air cooling. Thermo-electric cooling is another option, and liquid cooling works best for higher temperatures.
"Bulkhead connectors, where you run a cable from the camera to the inside enclosure wall, and another cable from the outside of the enclosure to another device, can add considerable cost to the system because you need specialized cables and connectors." Adds McGeary. "We supply a two-piece cord grip that you can drill to fit specific cable sizes, which simplifies running cables and conduits through an enclosure."
Smart Integration
For mining operations in Australia, enclosures don't just keep out dust, moisture and excessive heat, they also have to keep out sunlight, which can be above 200,000 lux in places like the deserts at the top end of Australia. "While Adept Turnkey Pty. Ltd. Is primarily a value-added distributor, we do manufacture the Ore3D rock fragmentation system we licensed to commercialize from the CSIRO, the Australian government science organization," explains Marc Fimeri, Managing Director of Adept Turnkey (West Australia). "The Ore3D system uses a laser profile camera system to collect 3D data on the surface of the ore on a moving conveyor, to generate a full size distribution measure continuously. With high light levels in some regions, low-power lasers struggle to overcome the strong ambient light yet higher power lasers post a safety danger to operators."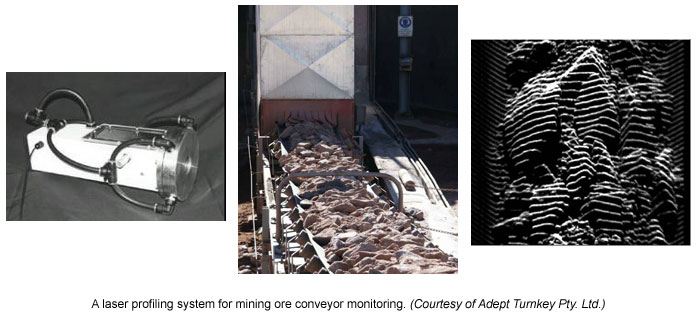 Adept Turnkey uses separate enclosures for laser illuminators and the camera-processing system. Both include air conditioning to cool the systems from high ambient heats, to remove moisture from the air and to keep dust out. The air is cooled to below the dew point to remove moisture, then warmed again to a moderately cool temperature above the dew point using some of the heat generated by the exchanger. The cooled air is then bled through our enclosures to keep our electronics cool and to create a positive pressure for dust. Dust filters remove contaminates from the cooled air, and we have a proprietary device that works on positive air pressure that keeps the windows clear from contamination. We have spent a great deal over time over the years improving our systems to combat the harsh environments they face and we have installations that have run for over 10 years with some that have run continuously 24/7 for 3 years without maintenance, with only periodic calibration routines to verify operation.
"The biggest tip I would give someone looking to install a machine vision system in a harsh environment is don't skimp on the product," adds Adept's Fimeri. "A camera that saves you $20 can bring down a multimillion dollar line. Also, be sure to carefully look at the environment for the system and compare that to the operating specifications for all your components. If they can't survive the natural environment, then you have to build an environment that will support the system."
Unfortunately, the enclosure is often the final consideration for a machine vision system. "If you don't think about how temperature and humidity can affect your camera, for example, you may spend several thousand dollars learning the hard way," says Allison Park Group's McGeary. "Look at the environment. Look at the risks. And don't forget the small things, such as making the enclosure big enough. A camera may be small, but a cable with a strain release can be several times larger than the camera. Think about everything that will go into the space, and don't forget the cabling."