Robots with an Appetite for Food
POSTED 03/06/2014
 | By: Tanya M. Anandan, Contributing Editor
Too often in the food industry we hear the term Dirty Dozen. Usually it refers to unsavory hygienic practices.
In robotics, we have the Three Ds. If there was ever a dull, dirty and dangerous job ripe for robotics, food processing earns the spoils. The work can be uncomfortable and tedious at its best. In more extreme cases, where sharp implements are the norm and animal carcasses are floating by in all directions, the job can be downright inhospitable to humans. Not a scene for the faint of heart.
"These are not pleasant environments for people to work in," says Mark V. Ewing, VP–Sales and Marketing at JLS Automation in York, Pennsylvania. "Most of the operations where we're installing systems are below 40 degrees Fahrenheit. They're wet, it's noisy. You have to go through an extensive process to sanitize yourself when you go in and out of these production rooms, and it's a lot of manual labor at a pretty good pace."
"On average in the meat and dairy industries, especially frozen foods, the absentee rate of the labor force is roughly 15 percent every day, which is a burden to the company (food producer) and indicative of the overall quality of the job," adds Ewing.
More Sanitation, More Growth
Robots, on the other hand, excel at repeatability and speed, work tirelessly without hesitation, and don't have to be reminded to wash their hands, or cover their mouths. In the world of automation, a virtual food frenzy is underway. Hot on the heels of an upsurge last year, the food sector was added to our industry watchlist for continued growth in 2014.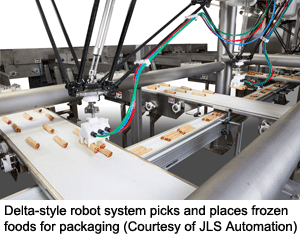 Washdown-ready robots are rising to the occasion with sophisticated vision capabilities and innovative end-of-arm tooling. With the cost of these technologies coming down, food processing and packaging automation is being served up at price points even smaller food producers can stomach.
Secondary food packaging has been in the robotics material handling mix for many years now. Primary food packaging and food processing can involve anything from harping large vats of cheese curd to sectioning and packing chicken parts. These kinds of applications requiring direct food contact are increasingly being automated. This is where the hygienic quality and dependability of robots really shines.
"Labor for these kinds of jobs is hard to find," says Bob Rochelle, Food & Packaging Segment Manager for Stäubli Corporation in Duncan, South Carolina. "Some of the pork and poultry processing plants are in remote areas with limited labor pools."
The labor gap and cost-effective technologies are helping boost automation in the food industry. Another catalyst is the Food Safety Modernization Act (FSMA). Signed into law in 2011, the FSMA shifts the Food and Drug Administration's focus on food safety problems from reactionary to preventative. Automation is expected to play a significant role in helping prevent foodborne illnesses.
The Robotic Industries Association (RIA) is also taking a proactive approach. Stäubli's Rochelle is working with RIA to draft a new robot sanitary standard to emulate the provisions of the stringent 3-A sanitary standard that covers dairy and meat processing. Robotics-related companies with vested interests in the food industry can learn more about the new 3-A standard here. For additional information or to participate in the standard committee, contact Pat Davison, RIA Director of Standards Development, at 734-994-6088.

While robotic automation is being more readily adopted in food processing and primary packaging, it's not without significant challenges, namely biology, product variability and cleanability.
Biologically Speaking
The fact that we're handling a biological product with inherent differences poses its own unique challenges. It's a far cry from the automotive assembly line.
"It's not the same fender coming down the line every time, where you know exactly what size and shape it is," says Rochelle. "You're dealing with a biological product. That's a challenge vision-wise. Say I'm processing tomatoes and I need to get the rotten ones out of there. How do I determine which ones to pull out? The tomatoes early in the season are one size, but later in the season they're big monsters. It's grown, it's not produced. Even with bread, which is pretty standard in loaves, the yeast can rise differently from one to the next."
"We have these nuances and differences, whereas a robot is a repeatable device," he adds. "How do we deal with these non-repeatable items that are not uniform?"
By using high-speed, high-resolution cameras, LED illumination and 3D computer modeling, apples, tomatoes and even bell peppers can be sorted by color, size and shape. Produce with imperfections are detected and removed. The automated process is a feast for the eyes in this interactive article.
Yield Pays
Sophisticated sensing technology and robotics also play a role in the high-stakes business of meat processing. In this sector, yield directly impacts the bottom line and efficient deboning is one of the key ingredients to profitability.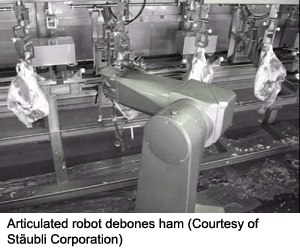 "Yield is big," says Mark Ivers, Sales Manager of the Food Process Division at Mayekawa USA Inc. in Elk Grove Village, Illinois. "It's all about how much meat you get off the bones."
Mayekawa, or MYCOM, is best known for its extensive line of industrial refrigeration compressors. The 90-year-old Japanese manufacturer even put the cool in all the ice arenas and bobsled/luge tracks for the 1998 Winter Olympic Games in Nagano.
Lesser known is Mayekawa's line of robotic deboning systems for pork and poultry processing, even though online videos of the machines have captivated thousands of viewers.
Both the Hamdas pork ham deboning system and the company's newest system, the Wandas pork shoulder deboning machine, use 6-axis articulated robots made by Swiss manufacturer Stäubli to skillfully separate the meat from the bone. Mayekawa also has robotic deboning systems for chicken and turkey.
This video shows the automated ham deboning system in action from start to finish.
"The meat you can get off the bone is typically higher, or a higher percentage, than what they can currently do manually," says Ivers. "The feedback on the yield has been very good. Our customers are amazed at how much the machines can debone."
According to Mayekawa, the ham system can debone up to 500 hams per hour and the pork shoulder machine can debone up to 600 pieces per hour.
Superhuman Butchers with X-ray Vision
These superhuman meat processors have an advantage, X-ray vision. Both the ham and shoulder deboning robots have an X-ray detection system that not only automatically determines the left or right side of the ham or shoulder, but it also measures the length of the bones to locate the joints and ensure a better yield.
"At one of the first stations, it measures the length of the bone," says Ivers. "That information is fed to the PLC, so for all the cuts afterwards, it knows how far to cut down with the blade."
According to the manufacturer, the system doesn't cut the meat off of the bone, but rather debones it by dismantling. This spares the meat from knife damage. Also, force sensors identify the appropriate cutting torque with feedback control.
This video shows the new Wandas pork shoulder deboning machine with blade-wielding robots and X-ray vision in play.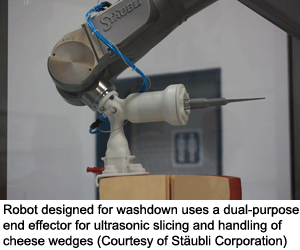 Sealed & Washdown-Ready
Famed for their dexterity, articulated robots as well as their ultra high-speed cousins, delta and SCARA robots, have multiple joints and moving parts. This means a lot of nooks and crannies where food particles and contaminants can collect. Stäubli has a line of humid environment robots designed with these challenges in mind.
"We made alterations for the food industry, so we have less nooks and crannies," says Rochelle. "We've added a coating that has been proven not to crack and fall off. It's made to be wiped down, washed down and cleaned with a high-pressure hose. It's sealed to the point that hydrogen peroxide doesn't enter into the electronics or the motors of the robot. On washdown, we have a small purge inside so that air is forced out, not allowing water in to cause rust or get into the electronics."

Rochelle says that if a food processing or primary packaging operation uses robotics that is not adequately designed for direct or incidental food contact, the required cleaning process can actually negate the gains from automation.
"Certain robot designs must be 'disassembled' for cleaning," says Rochelle. "It can take up 4 to 5 hours to disassemble the robot, clean it, reassemble and perform verification swabs. This cleaning is required after every 8-hour shift. Adding this manual cleaning procedure to your automated process just doesn't make sense."
He also says robot covers are not the answer. "The typical response from a robot sales guy when putting a robot into a wet environment is, 'Put a cover on it.' This doesn't work in food plants because the condensation under the cover creates a mess of contamination. Although technically covered, the contaminants are still there."
Rochelle also recommends using a robot with cable connections under the base, not to the side, so that the robot can be sealed to its mounting plate to avoid any chance of water making contact with the connections.
"It also tidies up the entire area so you don't have to clean cable runs and connections," he adds.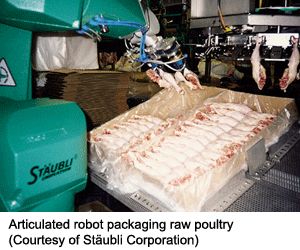 Packaging on the Fly
Robotics solution provider JLS Automation also uses washdown-ready robots in its food packaging systems, specifically the stainless steel version of the ABB FlexPicker® robot. According to ABB, the stainless model complies with USDA/FDA standards for sanitary operations.
Established in 1955, JLS zeroed in on the food industry about a decade ago. The company's roots were in power transmission equipment and later in the '90s, integrating motors, drives and controls mainly used in printing automation. Then came digital technology and the company saw its market dry up. JLS turned its focus to a sector with sky-high potential.
The company has a series of modular primary and secondary packaging systems with a branding strategy centered on an avian theme. JLS' sales manager explains.
"Our customers have come to know that the Heron loads food products into a tray," says Ewing. "The Talon loads and prepares product to be packaged in a vacuum packaging machine or carton, and the Osprey is a case packer."
The 'birds of prey' reference is no accident, as the robot's long-reach arm swoops in for the grab. This video courtesy of JLS Automation shows a Talon system at work packaging pocket sandwiches and samosas.
The systems ship as complete units. This often shortens the integration time and provides a lower-cost alternative to full customization for food applications.
"By standardizing some of the components, we've been able to focus on specialized end-of-arm tooling, product handling and product flow, product inspection, and a working knowledge of upstream and downstream processes in the customer's production flow, and really become experts in those areas," says Ewing.
"We help our customers maintain a low cost of production, maintain a consistent production capacity, improve overall product quality, and in many instances, improve safety as well. After all, most food product contamination is caused by humans."
"Anybody can do what JLS has done," he adds. "It just takes 10 years and 20 million dollars."
Understanding the Variations
Ewing says there was a lot of trial and error in those early days when they first set their sights on the food industry.
"We've learned a lot on the fly. We discovered that our customers don't really know all of the variables, variations and deviations of their product. They don't measure it as finitely as we need to (in order) have a full understanding of it. Especially if we're automating a manual process, they haven't had to really measure and track product variability because the humans innately take care of it."
"It's virtually impossible to replicate the product conditions as it's coming out of the upstream process," says Ewing, "so there's always a level of tweaking, adjusting and re-engineering to reach the customer's performance expectations after the system is delivered."
"The fresh product coming into the packaging system is very different," Ewing explains. "It may be more fragile. It may be more pliable, it could possibly have more moisture content. We often have products sent to us for factory authorization testing prior to shipment of the system. But because the product changes as soon as they put it in a container and ship it to us, by the time we receive it, it has different characteristics than what we would experience during production."
JLS has learned to expect these nuances and differences, and adapt accordingly.
"We have to take the product from the customer's process and get it oriented, spaced, and positioned in such a way that we can look at it with a camera, inspect it, and identify its location and orientation so we can pick it," says Ewing. "Understanding all the variations and variability in the customer's product is important because it impacts the end-of-arm tool design and the capability of the vision system."
Ewing says 95 percent of JLS packaging systems use an ABB delta robot, which interfaces with a Cognex In-Sight® camera and the ABB robot controller for robot guidance and conveyor tracking.
"In the majority of our systems everything is in motion," he says. "The camera is primarily used to identify the location and orientation of the product, so the robots can pick it effectively. But with that same hardware and software, we can provide product inspection capabilities. If the tortilla is supposed to be 8 inches in diameter and a tortilla comes into the vision area of the system and it's 6 inches in diameter or moon-shaped, the system knows to leave it alone."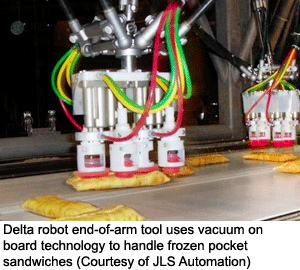 "A Talon system can handle frozen food products up to 1200 ppm," says Ewing. "The 1200-ppm system is an 8-robot Talon system. Because it's designed as a modular system, we can simply scale it up (add more robots) to meet the production rates required by specific customers."
This video courtesy of JLS Automation shows a Heron primary packaging system in action loading sausage into trays.
Specialized EOAT
Ewing says 99 percent of JLS' end-of-arm tooling (EOAT) is developed in house. The integrator already has one patent and others pending. Vacuum on board, or VOB, is one of those specialized technologies JLS refined for the food industry.
"For one of the first frozen food packaging systems we deployed, we were trying to get away from a remote vacuum-type of configuration because of the amount of vacuum hoses and everything else you have to manage and make room for in these systems," Ewing explains. "In a food packaging application, anything that potentially could be contaminated by food has to be cleaned."
The VOB terminology emerged when JLS placed a Venturi-style vacuum generator in the EOAT.
"All of the vacuum creation is done right at the end-of-arm tool, so we don't have excess vacuum hoses," says Ewing. "We don't have anything to clean outside of the EOAT and it gives us better response time. We had to develop a vacuum generator that had larger porting and larger orifices that would allow any particulate, moisture or fat to flow right through it."
JLS' latest patent-pending design is a tortilla-picking EOAT based on Bernoulli's principle, which explains how airplanes stay afloat. The air travels a longer distance and moves at a higher velocity across the top of the wing then it does at the bottom of the wing. That's what creates lift.
"In effect, by blowing air across the top of the tortilla, we create lift," says Ewing.
The specialized EOAT, which resembles a Frisbee, picks up the tortillas and places them in stacks. Then downstream systems wrap and bag the tortilla stacks.
"We've handled upwards of 600 tortillas per minute," adds Ewing.
This video courtesy of JLS Automation shows a specialized packaging system and end-of-arm tool designed for handling frozen meat patties in the fast food industry. Ewing says the system has also garnered interest for bulk case packing of cookies, bagels, pancakes and similar disk-shaped food products.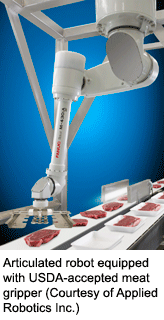 Meat Gripper on Board
Applied Robotics Inc. in Glenville, New York, designed the ARI Meat Gripper after a customer approached the end-of-arm tooling manufacturer requesting a gripper for handling chicken breasts.
This video courtesy of Applied Robotics shows the meat gripper in action.

According to Henry Loos, Application Engineer at Applied Robotics, the gripper is manufactured from lightweight stainless steel and high-density polyethylene.
"The trick is that both maintain a very high level of polish," says Loos. "That allows for very good cleanability and close tolerances between moving components, and makes the gripper very quick, meaning it can open and/or close in less than 65 milliseconds."
"It stands up to caustic cleaning, which is an FDA requirement," continues Loos. "And with such a low level of permeability in the stainless steel and polyethylene, it does not capture or keep organic material."
According to the company, the meat gripper can be customized to each customer's application and can be used on just about any kind of robot. It can also be used to handle fresh, cooked, or frozen fish, cheese, bacon and other non-uniform products.
"That customization is the difference between picking up a small Delmonico steak and a big porterhouse," explains Loos. "As it goes out in the field, each one gets custom dimensions, custom strokes, and very often, custom fingers because they're designed to slip underneath a section of meat or some other semi-solid food material. They need to slide quickly between the food and the conveyor without causing any damage to the surface of the food."
Slick end-of-arm tools and sensors, fastidious robots, and the intricacies of biological products are spurring automation adoption. Food producers looking to spare money and time worrying about labor and foodborne illnesses are eating it up.
RIA Members featured in this article:
Applied Robotics Inc.
Stäubli Corporation