Robots Take Furniture Industry into Their Own Hands
POSTED 11/24/2004
 | By: Winn Hardin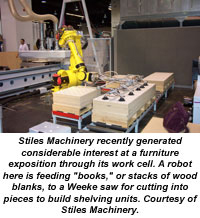 The automotive industry generally led the economic rebound for the robotics industry in 2003 and 2004. Today, industry insiders like Craig Jennings, Past-President of the Robotic Industries Association (RIA) and President of Motoman Inc., West Carrollton, Ohio, believe that smaller manufacturing industries will help sustain growth through coming years.
Furniture manufacturing is one of these niche industries that has not traditionally been a major user of robots, but offers significant opportunity for robot technology suppliers and integrators, and numerous advantages to the user.
''Much of the furniture industry is still using very labor intensive methods within their production, while many other industries seem to have been quicker in adapting to automated equipment and robotics'', explained Joseph Keilen, product manager - material handling at Stiles Machinery Inc., Grand Rapids, Michigan, a company that specializes in the panel processing industry, and a corporate partner of FANUC Robotics America, Inc., Rochester Hills, Michigan. ''Much of the panel processing industry is very manual and very labor intensive. However, it is sometimes very difficult for companies to get capital approval for robotic automation projects. One of the biggest issues we deal with in justification is that many companies are working just one shift. Although robotics can pay off in one shift applications, most return on investments look much better in multiple shift operations.''
Welding Speed
As with other manufacturing industries, robots perform many tasks for furniture manufacturers, including machine tending and robot machining, material handling, all types of welding from spot to plasma and arc welding variants, and palletizing and packaging.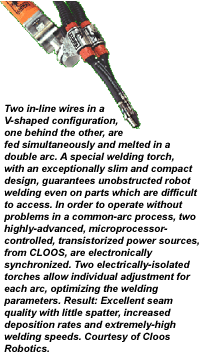 According to Ron Prillwitz, National Sales Manager for Cloos Robotic Welding Inc., Schaumburg, Illinois, European furniture manufacturers are embracing robotic manufacturing faster than their U.S. counterparts. ''We've been pushing tandem wire in Europe, which is for long seams that do not have to be thick,'' Prillwitz said.
Although Cloos has done little with spot welding in the furniture industry, Prillwitz said the industry regularly uses MIG, TIG, Powder Plasma Arc Welding (PPAW) and other welding variants based on the type of materials being welded and the design needs of the application. Speed and throughput are big issues for his customers, which is why the dual wire and PPAW approaches have gained such attention.
''The big advantage for tandem wire welding is that you decrease floor space and increase throughput. Compared to manual welding, robots make your welds more durable, consistent, and of higher quality. Customers have concerns that when you go tandem you generate twice as much heat, but the truth is that tandem systems also dissipate heat faster and you get better penetration because the first wire is forced into the opening and the second fills it in,'' Prillwitz explained.
''We have an application in Germany making controller cabinets. They're enclosures that are about four feet wide and seven feet tall. We use PPAW because it's two to three times faster than single wire, while for other applications tandem can go four to six times faster than single wire,'' Prillwitz continued. ''In the end, the customer determines what welding approach we use based on heat input, distortion and what they can deal with in terms of splatter and finishing. The customer determines the type of finish they need and we'll base the welding process on what the customer needs.''
Robots Take Machining into Their Own Hands
While Stiles' Keilen estimates that machine tending dominates robotic applications in the furniture industry, there are some applications where the robots take care of the machining themselves.
Century Furniture Industries, Hickory, North Carolina, manufacturer of higher-end home furnishings, uses a six-axis Motoman robot and controller, equipped with multi-function, End-Of-Arm (EOA) tooling, to perform a furniture distressing operation. The robot uses its custom EOA tooling to create simulated ''worm holes,'' dents, and other distress marks on several styles of dining-room chair subassemblies to simulate age and wear.
''Tools rotate into position, and the robot uses a small cylinder type punch tool, an air file to smooth edges, a small hatchet-like tool, and a metal 'rock' to perform various portions of the distressing operation in turn,'' says Scott Furr, Century Furniture's Manager for CNC/Robotic Programming. ''Distressing wood is a very labor-intensive operation when done manually. The robot provides a consistent high-quality look and it's been extremely reliable,'' he continues. ''The distressing operation on the chairs is one of the few operations where we have enough volume to make it worthwhile to program the robot to do it.''
The chair assemblies are manually clamped into custom recessed forms made of an epoxy-type material that holds them securely for robotic processing. ''We use the robot on dining-room chair back assemblies and front assemblies. The robot does a great job and provides consistent quality, and it has been highly reliable for many years,'' Furr concluded.
Stiles has also placed a router motor on the end of a robotic arm for cutting out contour patterns from contoured fiber-glass parts, but in most cases, Keilen says robots are better at tending machines than making precision cuts. ''One of the problems with placing the actual machining tool on the end of the robotic arm is that by the time you add the tool and the bit to the end of the arm, it can be difficult to maintain some of the required tolerances in the furniture industry. Robotic speeds also limit the amount of production one robot could complete, therefore, in most applications it is better to let the robot tend a CNC machine, rather than complete the machining itself,'' he said.
Stiles recently demonstrated a ''Solution Cell'' with a robot manning a CNC Homag edgebander and CNC Weeke machining center. The work cell could produce ''one-at-a-time'' cabinets for kitchens, bathrooms, utilities, entertainment centers, etc., at about 100 boxes per shift.
''When much of the furniture industry hears the word robotics, the first thing that comes to their mind is elimination of labor. Although that can be a very significant factor, that is also only a very small example of the benefits of robotic automation. Some other very significant factors can be producing more consistent product, less damaged product, increased spindle utilization on your existing machine tools, etc. Another significant factor beyond labor savings is the reduction in workers-compensation claims and insurance premiums, as well as the reduction in on-the-job injuries. Also, in several instances one robot can automate several operations, so these factors can be multiplied over several different machines,'' Keilen said.