Robots Rally CNC Operations Against Offshore Competition
POSTED 12/17/2007
 | By: Jack Browne, Contributing Editor
Robots have traditionally served CNC applications and systems by loading and unloading tools and work materials. While this is still an important part of the robotic CNC relationship, robotic systems are increasingly substituting for larger and costlier fixed-bed CNC platforms for certain applications.

Robots have aided larger computer-numerically controlled (CNS) systems for years, often by loading and unloading tools and work materials. As the performance of four-, six-, and even seven-axis robots continues to improve and fit into ever-smaller footprints, the value of adding one or more robots to a CNC-based operation can have tremendous benefits in terms of increased productivity, reduced labor costs, and even improved safety conditions in the workplace.
In many cases, robotic capabilities are being built into newer CNC platforms. David Arceneaux, Business Development-Marketing Manager for Stäubli Corporation. (www.staubli.com), points out numerous examples of customers manufacturing CNC solutions and integrating his firm's robotics into the system, such as Index-Werke (www.index-werke.de) and Technica Ltd. (www.technicaag.com).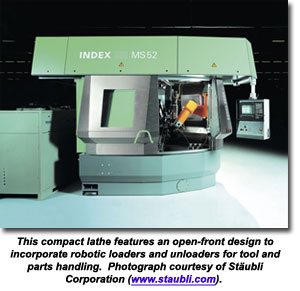 German machine-tool manufacturer Index-Werke produces a compact lathe that is accompanied by robotic loaders and unloaders. The lathe, which can machine complex metal parts from bar stock, features an open-front design that allows the use of industrial robots. The open-front layout was made possible by locating the control panel on the top of the lathe. By incorporating spray-proof robots from Stäubli, the multi-spindle can run with high efficiency due to automated loading and unloading of tools and materials
The Swiss company Technica Ltd. has developed an innovative rotary transfer machine that incorporates 14 separate CNC machining units. In the standard model, materials are handled by a six-axis robot from Stäubli integrated into the system. The rotary transfer machine is equipped with an air curtain to protect the robot from oil and dust contamination.
Integrated robotics improve the efficiency of fixed-bed CNC platforms, but what about CNC systems that have been designed without robotic handlers? John Clark, National Sales Manager for Epson Robots, offers a typical scenario: ''I am talking to a customer now with a small CNC machining center which is manually operated. He wants to increase his throughput, but he doesn't want to increase his labor costs. He is going to automate his machine-tending operation with the addition of a robot so that the CNC machine can run three shifts a day. All it requires is for an operator to load parts for the shift and walk away.''
Clark adds that the robot helps his customer remain competitive in an area with a limited labor pool: ''In this customer's case, the issue is really twofold: trying to reduce labor costs and operating in a small town without a large labor pool waiting.''
By teaming the robot with the CNC machine, this customer also realizes the full value of his investment not only in the robot but in the CNC machine. ''Instead of having the CNC machine running for one shift a day, it runs for three shifts each day,'' Clark comments, ''so that the return on investment (ROI) just comes zooming back.'' In turn, the improved productivity and capacity afforded by better machine utilization allow the customer to attract more business without having to raise his prices.
Clark notes that the capital investment in robotics for CNC support can help build confidence, ''Particularly for companies doing a lot of contract manufacturing, you want to be able to show your customers that you have invested in the latest technology, because that increases their confidence in you. They want to invest in a supplier who has invested in the future, and they want to know that they are dealing with a company that will still be around 5 or 10 years from now.''
Although a common scenario with robotics working in CNC applications is for high-volume production, Tom Sipple, Handling Technology Leader for Motoman (www.motoman.com), observes, ''We see that changing, as people are recognizing that small robots can also be used for lower-volume and prototyping CNC applications. With batch processes, it's possible to operate the machine manually on the first shift and schedule longer runs overnight.''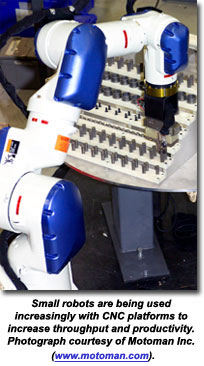 Sipple concurs with Epson's Clark, in the basic appeal of combining robots with CNC platforms: ''Customers are trying to leverage their resources. In a CNC environment, you have a fixed asset that you want to use as much as possible. If you are currently operating a single shift, it's possible to double your production through the addition of a robot that enables a second shift.''
Sipple explains that numerous factors can affect the decision to add a robot to a CNC process, including machining cycle times and labor costs. ''We have one customer with a requirement that every cell run unattended for 8 hours,'' he notes. ''It's not an exciting process to watch, as the robot sits idle during some long machining cycles but, at the end of each cycle, it is (exciting) and it allows the cell to operate unattended for a long time,'' Sipple comments. A robot may not be justified for every CNC application with long machining cycles but, in many cases, it can help double the output of your machine tools by adding a robot,'' he adds.
For those with shorter machining cycles, the addition of a robot can often still be justified, depending upon labor costs and other factors. The justification will depend upon the length of the machining times and the labor costs. Sipple explains, ''Motoman has some customers with extremely short cycle times who have justified adding robots to their processes.''
''I can think of one customer with batch processes and cycle times of 4 to 5 seconds for a part,'' he notes. Adding robots to their operations has allowed greater throughput per operator. ''This particular customer has a press operation, and adding robots has allowed them to cut their labor costs in half,'' Sipple says. He adds, ''They have also improved safety by keeping the operators' hands out of the press.''
Sipple cautions that management needs to re-evaluate their thoughts on ROI when adding a robot to their system: ''Businesses have developed a kind of mindset that the ROI on an investment like a robot has to be two years or less. I would like to invest my own money and receive a 100% return in two years--if you know of any investments like that, sign me up; I want part of the action.''
Sipple notes that the return on adding a robot to a CNC platform can be impressive if considered over the actual life of the robot. ''The lifespan of a robot can be as long as 15 years,'' he explains. ''Our calculations indicate that a moderate system, including initial cost, installation, training, maintenance, and power, can cost less than $3.50 an hour over a 15-year expected life,'' says Sipple. If you look at the value, it is outstanding,'' he elaborates.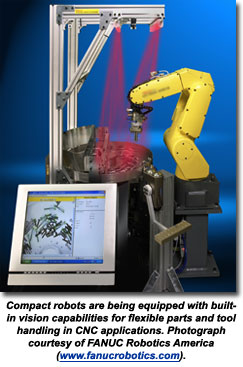 FANUC Robotics (www.fanucrobotics.com ) has long been involved in various aspects of different CNC processes, as a suppler of robotic automation. Dick Johnson, the company's General Manager for Material Handling, explains that new built-in vision capabilities have made their robots even better suited to CNC operations: ''In the past, you've had to locate parts in precision fixtures so that the robot can find and pick the part to load into the machine tool. With the added vision capabilities, we have the ability to eliminate the expensive precision fixtures and use something as simple as a belt conveyer for parts.'' Johnson adds that the integrated vision capabilities help save money and boost productivity: ''It makes the job much simpler, more cost effective, and with a higher ROI.''
FANUC Robotics' Johnson refers to robots for CNC operations as ''the poor man's machine tool'', capable of rough, but not necessarily finish machining. His firm offers a line of robots geared for machining applications based on six parallel ball screws that help maintain the integrity of the robotic structure for precision machining.
Kevin Kozuszek, Director of Marketing for KUKA Robotics Corporation, sees certain applications where a robot may even substitute for a CNC machine: ''We've seen demand for our machines in robotic milling and in rapid prototyping. It really depends on the type of material. We've been asked to work with everything from wood, for forming banisters and doing trim work, to rapid prototyping of foam, starting with a drawing and making a physical model. Robots offer the flexibility to get into tight or difficult places to do these things.''
He admits that robots still can't match the absolute accuracy of a fixed-base CNC platform, but their accuracy is improving: ''On the robot side, we are seeing a demand for increased accuracy, and the accuracy of robots has improved dramatically over the last several years. We still really can't do CNC-type operations on hard materials with a robot yet since a six-axis robot lacks the rigidity and stiffness of a fixed-base CNC machine in order to achieve absolute accuracy.'' For some customers without the absolute accuracy requirements, however, he offers that ''using a robot helps to keep the price down.''
Because of the cost advantages of robots over traditional CNC machines, Kozuszek sees a growth of robotics in manufacturing processes: ''One thing we are seeing is that, since the price of a robot is lower than a CNC machine, new industries are using the technology in their manufacturing processes. They are starting to see the benefits of automation that they never would have seen before.''
Of course, many of the applications for robotic systems in CNC processes still involve loading and unloading the larger machining system, but an increasing number of robots themselves are being applied for machining purposes, including a line of machines that KUKA offers for milling and other machining processes.
Kozuszek notes that some of his customers have been quite creative in their application of robotic automation for traditional CNC-type processes: ''I can even point you towards one customer that uses one of our robots for stone work, for products that they used to make by hand.''
Motoman's Sipple also sees an increasing trend toward robots taking the lead in CNC operations: ''Traditionally, robots have been used to load and unload CNC machines, but we are starting to see more and more their use as an alternative to CNC machines where precision is not the chief requirement.''
Sipple explains that many of those applications are not in metalworking, but in other materials: ''A robot is not as accurate as a machine tool, so the applications are typically not in steel. But we've seen very good use of robots for making holes for such things as hot tubs, in fiberglass, foam, rubber, and other typically softer materials.''
Greg Garmann, Motoman's Software & Controls Technology Leader, includes solid modeling as a growing CNC-type application for robots and explains that his company provides PC-based software that can simplify the transition of a CNC process to a robot. The software translates CNC programs into ready-to-run robot programs.
Garmann says, ''We have the ability to take CNC computer language in G-Code and convert it into a robot program. It is relatively easy for users, once they have determined the layout of their robotic cell.'' The software, which can interpret a wide range of G-Code formats, automatically translates large processes into multiple subroutines that a robot can perform and allow mapping of custom machine functions to standard robot functions.
Garmann also finds that some customers are now trying to decide between a CNC machine and a robot: ''We are finding that customers who want to perform functions that typically might require a CNC machine, but don't have demanding tolerance requirements, can complete those functions with a robot and they can save themselves considerable capital expense.''
He notes that the tolerances achieved by a CNC machine still can't be matched by a robot, but the robots are improving: ''We are getting down to 20 thousandths of an inch or better tolerance with robots, and in some cases as good as 10 or 15 thousandths of an inch with fairly large working envelop, six-axis articulated arms.''
Epson Robots' John Clark, who points out the high accuracy of his firm's robots for handling small parts, quotes repeatability for SCARA robots in the 10 to 25 micron range and for six-axis robots of about 30 microns. He explains, ''Some years back, if you had achieved tolerances of 25 or 30 thousandths of an inch, that was great. But those days are long gone. Now everyone wants tolerances that are 1 thousandth of an inch or below.''
Motoman's Sipple concludes that automation and robotics can help even smaller CNC-based job shops: ''The big opportunity is for these job shops that are trying to compete with low-cost labor overseas. By being more creative in applying automation, they can learn to compete. Many of these small shops are literally in combat with low-cost nations.''
Editor's Note:
This article has been reviewed by members of the RIA Editorial Advisory Group.
For more information, you may contact any of the experts listed in this article or visit Robotics Online, Tech Papers.
David Arceneaux, Business Development-Marketing Manager, Stäubli Corporation, Robotics Division, (864) 486-5416, [email protected]
John C. Clark, National Sales Manager, EPSON Robots, (972) 964-8890, [email protected]
Greg Garmann, Software & Controls Technology Leader, Motoman Inc., (937) 847-2668, [email protected]
Dick Johnson, General Manager, Material Handling, FANUC Robotics America, Inc., (248) 377-7000, [email protected]
Kevin Kozuszek, Director of Marketing, KUKA Robotics Corporation, (248) 819-0230,
[email protected]
Tom Sipple, Handling Technology Leader, Motoman Inc., (937) 847-3364
[email protected]