Robots Minus Burrs Equals A Good Finish: Robotic Material Removal
POSTED 04/04/2006
 | By: Bennett Brumson, Contributing Editor
When manufacturing metal or plastic products, a material removal procedure such as grinding and deburring is inevitably part of the process. It is rare that there is not a need to remove a sharp burr along an edge, grind off excess welding material, or remove a gate on a casting. Due to the hazards faced by workers manually performing these tasks (and quality issues), it makes sense for manufacturers to deploy robotics for material removal operations.
''Manufacturers are using robotics for material removal to save time and money. Media costs go down because there is more control over the material removal process,'' says FANUC's, Virgil Wilson, Senior Engineer for Material Removal at FANUC Robotics America, Inc., Rochester Hills, Michigan. FANUC is a robot manufacturer and systems integrator.
Scrap Down, Efficiency Up
Labor expenses, stemming from manual material removal operations, are a considerable cost for companies. James Hoffmann, Senior Applications Engineer at Rimrock Automation, New Berlin, Wisconsin, believes in lowering costs through robotic material removal.
''Manual material removal costs a lot. In some manufacturing facilities, people doing manual material removal are among the highest paid,'' Hoffmann says. ''Investing in material removal robotics makes economic sense. If a company is manufacturing complex cosmetic parts, it is easy to justify the investment in robotics.''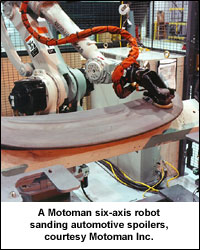 Manufacturers cannot always find the right people at a cost they can afford to do material removal due to the fact that it is a difficult job. Retaining people to perform this disagreeable job is often a losing battle, whereas the return on investment for material removal work cells is typically 18 months.
''Ergonomic concerns or the presence of hazardous materials, especially in high-value products such as medical implants or those produced in very high volumes, are justifications for investing in material removal robotics,'' Hoffmann says.
Ergonomics and hazardous materials are also a justification for investing in material removal robotics according to Dean Elkins, Senior General Manager at Motoman Inc., a robot manufacturer and systems integrator headquartered in West Carrollton, Ohio. Elkins says, ''Consistency, safety issues with the breathing of the hazardous material coming off a part while grinding, and ergonomics justify investing in material removal robotics.''
Minimizing or eliminating waste is another justification for investing in material removal robotics. Because robots are able to perform their chores consistently, there is less potential for wasting material. Such waste could be quite costly, especially when the material is expensive, such as titanium.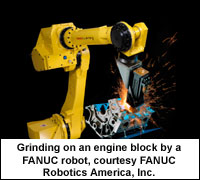 Virgil Wilson of FANUC Robotics speaks to this:
''If a person fails to grind a part manually, the part ends up as scrap. If this happens at the end of the process, all the time and money going into making that part is wasted,'' Wilson says. ''Robotics provide more control over the material removal process than manual labor does, with all the benefits that go along with it.'' The benefits that Wilson includes are saving time and money on material as well as the cost of workers' compensation should people who perform manual material removal get injured on the job.
Likewise, David LaRussa, Sales Manager for the Automation and Robotics Group at Vulcan Engineering Company, Helena, Alabama, says that robotics in foundries are ideally suited to perform in that dirty and hazardous environment. ''The main task of robots in foundries is metal removal because it is a disagreeable job. It is hard to maintain employees in this environment.''
LaRussa says that few people want to work in the grinding area of foundries due to the noise, dust, repetitive motion injuries and other hazards. ''Because of high turnover in this job, there is a constant need to train new employees. The quality of grinding degrades very rapidly,'' LaRussa says. He points out that grinding is often the last phase of production and is performed by the newest employee with the least amount of training. ''That new employee can damage that part before it gets shipped to the customer. If manufacturers use robotics, a consistent, high-quality casting is being shipped.''
Due to the higher quality and consistency, LaRussa adds that one of Vulcan's end-users charge more for castings ground with robotics. ''The casting manufacturer charges a premium for castings ground robotically over those ground manually.''
Contortionist
Parts with several edges having a lot of contours that require material removal enable robotics to show their value. Parts with convoluted edges are more difficult for manual material removal to be done correctly and consistently. Today, many material removal work cells use compliant end effectors and simulation to improve the process.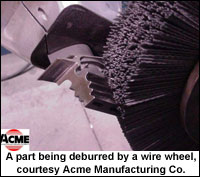 Joseph Saad, Director of Sales at Acme Manufacturing Company says, ''To deal with parts with a lot of contours, Acme builds compliance into the grinding head or in the arm of the robot. This is done with a teach pendant.'' Acme is a FANUC systems integrator located in Auburn Hills, Michigan. Building compliance into the material removal tool or the robotic arm is the traditional manner used to handle edges with a lot of contours. Compliance is the robotic removal tool acting within a predetermined set of parameters.
Saad continues by pointing out that off-line programming is also used to manage contours on a part. ''A more current technology is to use off-line programming and model simulation. These allow integrators to program the robot's path on a computer, then download the data into the robot,'' Saad says. He went on to say that off line programming and simulation are replacing the use of a teach pendant to create the robot's path and will be the norm in the not-so-distant future.
Robert Hagarty, Vice President of Ultra Tech Machinery, Inc., Cuyahoga Falls, Ohio also speaks of the use of simulation as a means of programming a part's convoluted edge for robotic material removal.
''Ultra Tech uses FANUC's simulation package, where we can program the robot's path. A complex part with multiple contours is easier to program (using simulation) than using a teach pendant. A three- dimensional model of a part is downloaded into a computer to teach the robot what areas you want it to work,'' Hagarty says. He went on to give the example of making a slot in a complex contour on a part.
''Integrators generate that slot and move the robot around within the simulation. They use a virtual robot rather than a real one to generate the robot's path,'' Hagarty says.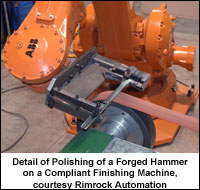 Thanks to computers and modern technology, it has become quite easy to have material removal robots deal with parts that have intricate edges. ''There are two ways to handle contours. One is to program the nominal contours by incorporating force sensors to generate a constant tool offset in relation to pressure on the part,'' says Motoman's Dean Elkins. ''Another way of dealing with contours is to generate an external tool reference point. If integrators can reference a tool reference point to a buffing wheel, for example, they can program that in relation to a point in three-dimensional space,'' Elkins continues.
James Hoffmann of Rimrock Automation offers another take on how material removal robots can manage contours on parts. ''We at Rimrock Automation try to get access on how the part is being processed manually. We look at the type of abrasive media, such as wheel diameter. If the part is very convoluted, integrators could use more than one type of material removal equipment with the robot,'' Hoffmann explains. The challenge for integrators is to have as few tools as possible in a work cell in order to keep costs down.
Media Literacy
Robotic material removal is part art and part science. Choosing the best type of abrasive media to use for a particular application is based upon several variables, including the material being worked, the operation being performed, and the amount of material that needs to be removed. There is a difference between removing a burr on thin sheet metal as opposed to grinding off a gate on a casting.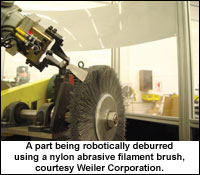 Brushes for material removal are a good choice when deburring, says Rick Sawyer, Engineering Solutions Manager at Weiler Corporation, Cresco, Pennsylvania. Weiler is a manufacturer of wire and nylon abrasive brushes for robotic deburring applications.
''A brush deburrs a part without changing it dimensionally because brushes do not remove base material,'' Sawyer says. He adds that the main advantage of nylon abrasive deburring brushes is their built-in compliancy. Sawyer contrasts brushes with fixed-carbide deburring tools.
''The disadvantage of carbide deburring tools is that integrators have to program the robot to precisely trace a part's edge. When deburring with a brush, there is room for variation in the part,'' Sawyer says. He goes on to offer an example of deburring a part produced by a casting process.
''Castings vary from part to part by a few thousandths of an inch, depending on the age of the mold. A deburring brush can absorb that difference.'' Sawyer went on to say that if a grinding wheel is pushed with too much force, it could remove base material. That, in turn, could weaken the structure of the part or impair its functionality. He concludes by saying that brushes speed up work cell programming because the robot does not have to follow a part's edge exactly.
For Vulcan's LaRussa, the main challenge in material removal in castings is getting repeatable results with castings that vary from one to the next. LaRussa says there are two ways to deal with varying castings.
''One way to get repeatability is to set the robot's speed and feed rate for the largest gate and grind all castings at a slower pace regardless if there is a gate or not. That way, there will be enough time to finish the grind,'' LaRussa says.
''The other way to deal with varying castings is to measure each casting, using vision, lasers, or gauges, then compensate for the variation within the robot's program,'' says LaRussa. After the size of the gate is measured, the robot automatically offsets its path to compensate for the variation.
Not only is it important to compensate for part variation, but also for media wear. According to Acme's Joe Saad, overseeing the media is an important facet of material removal work cells.
''End-users have to manage the media as the tool wears out because of the need to have consistency from the first part it is used on to the hundredth part,'' Saad says. He also cautions for the need for a particular type of media to be applied with the proper amount of force. ''Integrators need to have robust tools and the proper horsepower for media heads.''
The need for sufficient power to properly use abrasive media was also on the mind of FANUC's Wilson. ''Rapid material removal often involves using a belt sander with a lot of horsepower and a very rigid robot that can apply a lot of pressure,'' Wilson says. The end user is well advised to work with the abrasives supplier when assessing proper media selection. This is an ideal time to make changes that can help save money in terms of consumables.
Let the Robot Move it and Remove it
Material removal applications are often combined with other processes, such as material handling.
''If a part cannot be deburred by hand because it is not safe to do so or because it is awkward to pick up and manipulate by hand, Acme will combine the material removal process with material handling,'' says Joe Saad. Because of tolerance requirements, robotics would provide the consistency that a manual operation cannot.''
Look to see more material handling operations in combination with material removal in an effort to save time, money and valuable factory floor space.
Editor's note - For more information, you may contact any of the experts listed in this article or visit Robotics Online, Tech Papers.
Acme Manufacturing Company, Joe Saad, 248-393-4208 [email protected]
FANUC Robotics America, Inc, Virgil Wilson, 248-276-4240, [email protected]
Motoman, Inc. Dean Elkins, 937-847-3294 [email protected]
Rimrock Automation, James Hoffmann, 262-432-0600, [email protected]
Ultra Tech Machinery, Inc. Robert Hagarty, 330-929-5544, [email protected]
Vulcan Engineering Company, David LaRussa, 205-685-4424, [email protected]
Weiler Corporation, Rick Sawyer, 800-835-9999, [email protected]