Robots in Consumer Goods
POSTED 04/13/2011
 | By: Bennett Brumson, Contributing Editor
As robots and their control systems become more powerful and flexible, robotics are moving from heavy industrial applications into producing consumer products we all use in our daily lives. Fickle consumers demand products in new forms, which plays to the strength of robotics' inherent flexibility to change while keeping production local. Vision-enabled robots are also used in warehouse distribution systems and to test consumer goods for quality control.

"Robots are used in a very broad swath of consumer products, from food and beverage, to office supplies, to building materials. Robots are gaining broad acceptance in the consumer arena for primary packaging in the food sector through palletizing at the end of the production line," declares Dean Elkins, Senior General Manager at the Motoman Robotics Division of Yaskawa America Inc. (West Carrollton, Ohio)

Range of Products, Range of Motion
Consumer products vary much more than automobiles or aerospace items and manufacturers require flexibility to keep up with ever-changing customer demand. These demand changes could occur over the course of a single production run, presents Philip Baratti, Applications Engineering Manager with EPSON Robots (Carson, California) "EPSON integrated an application for an energy drink, where the robot received four different types of product. The packaging and size were the same but the labels were different. The robot identified the product's type and orientation," expresses Baratti. "We singulated the product into its individual package."

Unlike automotive applications, Baratti explains that EPSON's drink packaging application was both high mix and high volume. "The differences are the environment and payloads. Consumer products are lighter, have higher cycle rates and are made in greater quantities than heavy industrial applications," Baratti adds.

Elkins also talks about the rise of robotics in the food industry. "We see broader acceptance of robotics in food applications. Manufacturers must meet sanitation standards and robots are more compliant to meet those standards, particularly where the robot is directly touching the food prior to primary packaging." Elkins says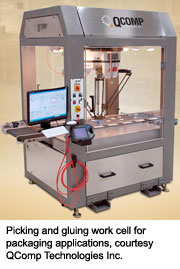 food-handling robots must use food-grade grease and have high quality paint to withstand cleaning requirements in these facilities. "Additionally, robots in the food industry must be designed to insure the safety of the product being produced."

Likewise, John Schwan, Director of Sales and Marketing with QComp Technologies Inc. (Greenville, Wisconsin) sees both openings as well as challenges for robotics in the food industry. "The biggest opportunity I see for robotics is in the food industry. Inconsistency from product to product is a challenge but I see progress in getting right sized robots into direct food contact applications. Some food processors have welcomed the robots and see the advantages robotics can bring while others are very skeptical due to United States Department of Agriculture (USDA) inspectors not allowing certain robots in food zones."

Schwan contends that relatively few small size robots meet USDA sanitation requirements. "Robot manufacturers are making progress in designing robots for the food area. Food manufacturers must work with inspectors to determine how robots can be used safely in their industry."

Robotics help save time and energy in the food industry. In a commercial bread baking example, Dick Motley, Senior Account Manager for FANUC Robotics America Corp. (Rochester Hills, Michigan) recalls how. "An end-user in the baking industry manually loaded and unloaded ovens. Bakeries are not an ergonomic place to work due to bending and burn hazards. A robot is able to fill all slots, realizing an 80 percent increase in the oven's capacity," Motley reports. "Ovens are no longer wasting energy on empty air slots so the end-user saw a 50 percent increase in energy savings."

Keeping pace with erratic consumer taste is on the mind of Kenneth McLaughlin, P.Eng, Automation Systems Director at JMP Engineering Inc. (London, Ontario, Canada) "Products vary from day to day. Producing a particular product is simply a matter of selecting the right program on the robot and the vision system's camera. If manufacturers get a new requirement due to fickle consumers, end-users have a system that is reprogrammable and re-deployable. If the product becomes a different color, size or shape, robotic technology is flexible enough to handle those changes."

McLaughlin uses chainsaw manufacturing as an example of the ability to reprogram robots on the fly, an impossibility with hard automation. "Compared to cars, the volume of chainsaw production is much less but with much more variability. A big chainsaw is much larger relative to a small chainsaw compared to large and small cars." A large car is not three times the size of a small one, but a large chainsaw can be three times the size of a smaller model, McLaughlin argues.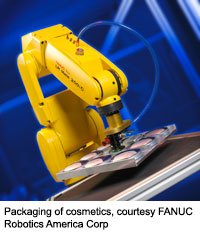 Manufacturers of personal care products increasingly use robotics in their facilities. "Electric shavers are an example of where robots act as an enabler to production. Electric shavers have a complex assembly, consisting of a large number of small components," points out Rush LaSelle, Global Sales and Marketing Director at Adept Technology Inc. (Pleasanton, California) "To enable the production of a wide range of electric shavers, one manufacturer elected to use robotics to bring loose or randomly orientated parts to the assembly area. Using a vision system, the robot identifies parts and does inspection in some cases."

LaSelle notes that robotics are also used more and more in the cosmetic industry. "Cosmetics manufacturers look to offer greater flexibility in marketing and how their products are packaged. The demand to satisfy more stock keeping units (SKUs) and faster package changeovers drive producers of cosmetic products to employ robotics in applications previously served by conventional or custom machinery."

Warehousing
Robotics are not only producing commodities but also palletizing items for store-specific distribution and delivery, submits Motley. "Robots are moving into warehouses for supply chain distribution and getting products to market. Stacking order-specific loads onto pallets for shipment to the point of sale involves a complex set of decisions that were notoriously difficult to automate. Due to breakthroughs in software algorithms, a robot can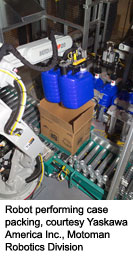 now build a stable three-dimensional puzzle of dissimilar products of different sizes and shapes for shipment."

Continuing, Motley postulates that building order-specific pallet loads were unfeasible until recently. "Robotic customized pallet loads are feasible and currently in production, an exciting advancement."

Motoman's Dean Elkins also envisions great potential for robotics in warehouse distribution applications. "I see robots used more frequently at the distribution level for mixed load palletizing. Robots load several different products onto a pallet for delivery. Controls systems and software must understand case attributes and delivery sequences of a particular load." These attributes include weight and size of merchandise on the pallet. "The robot places light-weight products on top of heavier ones to prevent crushing. Case sizes are arranged to ensure the robot is building a stable load on the pallet."

Automated guided vehicles (AGVs) will become progressively more important in automated warehouses, anticipates LaSelle. "I see more activity immediately adjacent to packaging and manufacturing lines, which is why Adept has invested in AGVs. Manufacturers incur a lot of cost in moving parts around within a plant. Companies use AVGs for intralogistics to increase throughput and traceability." AGVs for bringing subassemblies to the production line represents a big growth area for robotics, maintains LaSelle.

Pushing Buttons
Robotics play a key role in quality control and the testing of consumer products prior to packaging and shipment. Baratti cites an example of robotics used to test touch screens for hand-held electronic devices. "Manufacturers use robots to test touch screens and use a peripheral device to determine the reaction of that screen. A robot loads a light-emitting diode (LED) screen into a tester to measure if the backlight is giving off the proper lumen output."

According to Baratti, robots are also used to test car stereo systems. "The robot will measure the amount of pressure required to push stereo buttons."

Motoman robots are also used to test consumer goods, including electronics. "Robots are used to repetitively push buttons to determine the life expectancy of electronic devices. Robots are used to load products into fixtures for testing," describes Elkins. "Robots sweep a human-like form over fabric to look at the durability of the fabric over time."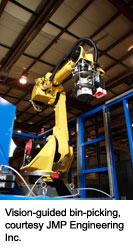 FANUC robots are also used to test a fabric's longevity. "We installed a system that simulated a person getting in and out of a seat thousands of times a day to test fabric wear," Motley says. "That application is typical of repetitive life testing, putting a product through its paces to ensure everything works as the consumer expects."

Kenneth McLaughlin of JMP Engineering recites the value of vision-equipped robots in testing and quality control. "A robot used in conjunction with vision can check quality in every step of the manufacturing process to prevent adding value to a bad product. The vision system catches the problem early so as to not make many bad products."

Domestic Production
Robots play an important role in keeping production at home rather than offshore. "Manufacturers face many risks of moving offshore, including delivery time and quality issues. If engineers encounter a quality issue but already have six boats on the ocean full of bad product, the problem was caught too late," says Motley. "Robotics ensure quality, flexibility, and efficiency."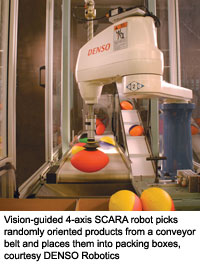 Peter Cavallo, North America Robot Sales Manager with DENSO Robotics (Long Beach, California) has a similar take on the role of robotics in bringing manufacturing back home. "The production pipeline is five to eight months long if manufacturing is moved offshore. Engineers have difficulty making changes quickly and the substitution of materials as well as poor quality control are problems," Cavallo remarks. "With robotics, production is local so engineers have more control over it. Robots are precise and do exactly what programed to do and changes take affect immediately."

What's New
Due to mercurial consumer tastes, products seem to change monthly. Robots can keep pace with this constant change, unlike hard automation. "Consumers are constantly looking for the next new thing, what is exciting. Robotics are about flexibility and change. The ability to change fits nicely with consumer product manufacturing because flexibility is what robots are all about, the 'What's Next' syndrome," concludes Peter Cavallo.