Robots in Consumer Goods
POSTED 10/24/2007
 | By: Bennett Brumson, Contributing Editor
While industrial robotics have been the mainstay of the automotive industry for many years, the use of robotics in producing consumer items is still on the rise. ''Consumer production with robotics is a growing area,'' says Jarrell D. Sills, Sales Application Engineer at Remtec Corp., an integrator based in Cincinnati, Ohio. ''Robotics are used for more assembly operations that filter down from the automotive industry to consumer products.''
The increasing role of robotics in consumer product manufacturing stems from their inherently flexible capability to assemble an ever changing array of commodities and styles of goods. The tasks that robotics are called on to perform range from assembly packaging and palletizing.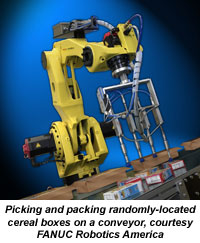 Consumption Function
Laxmi P. Musunur, Material Removal, Palletizing, Packing and Assembly Manager at FANUC Robotics America, Inc., Rochester Hills, Michigan, sums up the role of robotics in the consumer good market. ''Picking, case packing and palletizing of beverages and health care products are popular applications for robotics. Case packing of canned food products, which are then loaded into trays and then palletized, are one example.''
Musunur says, ''Robots are used for loading trays in packing applications. Picking operations are of individual products, such as blocks of cheese, frozen dough, or candies, which are loaded into trays then packaged and palletized by robots.''
Picking, packing and palletizing of consumer products are also what QComp Technologies, Inc., Greenville, Wisconsin, a systems integrator, does for its end-users. Thomas J. Doyle, P.E., President of QComp, says, ''QComp works in two areas of consumer products, high speed picking and case palletizing. We have integrated vision-guided robotic picking and placing of products into a case or carton.''
Doyle goes on to speak of palletizing work cells. ''We have integrated work cells for foods and consumer goods. Robots are picking envelope packets of food products and inserting them into a package. Our systems are also picking sealed cups and placing them inside containers.'' In addition, Doyle says that QComp has put together systems that pick up plastic parts and loads them into machines for further processing.
Packing applications are also on the mind of Richard Tallian, Segment Manager of Consumer Industry at ABB Inc., Auburn Hills, Michigan. Tallian says, ''The main portion of ABB's business in consumer products is the packaging of foods. We have seen a push in both primary packaging and palletizing applications. Palletizing has been a traditional mainstay of our business in the consumer product market. The upsurge in ABB's robotic sales have been in the primary packaging of foods.''
Remtec specializes in the packaging aspect of consumer product production, Jarrell Sills says. ''Remtec is involved in the packaging of consumer products. After items have been produced, our systems do the packing of the products and the palletizing of cases. Packing and palletizing are areas that are big for Remtec and we have done more business in these areas recently than other market segments.''
The robotic process that consumer products go through is not too different from some processes in the automotive industry. Thomas Sipple, Handling Technology Leader at Motoman, Inc., West Carrollton, Ohio, states ''Robots are involved in a huge number of consumer product applications. In many cases, consumer product tasks are not too much different from those in the automotive sector, such as welding. And if the task is press tending, the end-user is still transferring stampings from press to press.''
Variety is the Spice of Robotics
The products that robots are used to make range from food to common household items. Richard Tallian gives a brief rundown of ABB's work in the consumer sector. ''Most of our business in the consumer product market is in food packaging, while the second biggest is personal care products such as health care products. The next largest portion of ABB's consumer market is household goods, like laundry detergent or any type of bottled cleaning product for the home.'' Tallian observes these areas are where ABB's business is coming from in the last few years.
Likewise, Laxmi Musunur of FANUC speaks of food products in the robotic consumer market. ''Each item is individually picked and loaded into a small tray, which goes on to be packed.''
Other products that robotics handle include flow-wrapped merchandise, irregularly shaped containers, frozen foods, bag in box (e.g.., breakfast cereal), bottles, jars, tubes, vials, thermoforms, stand-up pouches, sachets, pillow-style pouches, hardware, blister packs, squeeze tubes, light bulbs, among other consumer durables.
Robotic food packaging is divided into two areas: Primary and secondary.
Primary packaging has robots putting the food itself into the first layer of packaging. Examples of robotic primary packaging includes hamburger patties or frozen dough being inserted into a plastic wrapper.
Secondary packaging has robots putting those primary packaged products into a tray or box, where they move onto the robotic packing and palletizing phase of the operation.
Remtec's Jarrell Sills offers an example pertaining to the assembly of safety deposit boxes. ''Remtec has been involved in using robots for adhesive and sealant dispensing applications as part an assembly operation of safety deposit boxes. Robots apply a high strength adhesive to a casting then assembles that with a stainless steel faceplate.''
Sills reports, ''The safety deposit box assembly work cell doubled production over the end-user's old system. The manual system used a silk screening process to apply the adhesive, which was less accurate and was messy with the adhesive.''
The variation and seemingly endless changes in products, styles, and packaging offered by the consumer industry are the principal reasons that end-users invest in robotics. Tom Sipple of Motoman talks about the benefit of flexible robotics in the consumer segment. ''Robots can be programmed based on inputs and are suited for a wide range of products. Robots are the ideal solution because of their programmability and their ability to handle a wide range of products.''
Sipple further says, ''In many situations, the end-of-arm-tool may need to be changed to handle different products a production line is running. The programmability of robots make them an ideal tool for a high changeover of consumer products and to accommodate a wide product mix.''
FANUC's Laxmi Musunur says integrators try to accommodate as many products a possible with one end-of-arm-tool. ''Trying to use an adaptable end-of-arm-tool can only go so far because some products cannot be accommodated with a single gripper, so a quick change is needed. When a different gripper is required, the robot undocks with that gripper and docks with another.''
Musunur suggests that semiautomatic gripper changeovers can be useful for handling a wide a range of consumer products. ''The robot goes into a maintenance position and an operator puts the next gripper in place, then selects a new part style in the robot's software interface.''
Tom Doyle of QComp agrees with Musunur that the wide range of consumer products robots are called on to handle can be met with flexible end-of-arm-tools. Doyle uses palletizing to make his point. ''In palletizing consumer products, we use automatic changeovers where a barcode is read to change pallet patterns. If only a tool change is required, software can make that change automatically.''
When end-of-arm-tools are changed automatically, the software chooses a different vision model and a different program for the new part style. Doyle adds that the ability to change tools and software protocols for picking applications are the same as in palletizing applications.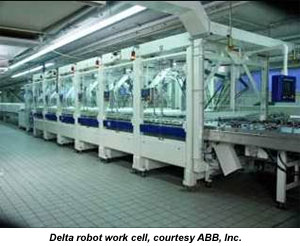 Richard Tallian of ABB also expresses the benefits of deploying flexible robotics in the consumer product market, saying, ''With changing products, robotics offer a huge benefit to end-users. ABB can integrate different sizes of product, different carton counts, or get 'four ounces free when you buy shampoo' offers. Programming robots through software and vision systems gives end-users the ability to add additional products into their interface.''
Tallian, like Tom Doyle of QComp, illustrates his meaning by using palletizing applications as an example. ''Through powerful software, operators can change a pallet pattern off line without loosing a step of production. A lot of engineering initiatives put into robots are for ease of use.''
Product Handling Robots
Robots used in the consumer industry generally are four- to six-axis articulated pedestal types, along with some delta style robots. ABB, a maker of delta robots, targets their use in the food packaging market.
Richard Tallian lays out the advantages of delta robots for the food segment of the consumer products market. ''Our delta robots meet United States Department of Agriculture (USDA) and Food and Drug Administration (FDA) requirements and are compatible with direct contact with raw food products. Deltas can be washed-down with caustics or wiped down with detergents.'' These capabilities are important so that the robot will not rust. ''Wash-down robots for the food industry is where ABB is seeing growth, particularly in the sanitary aspect of the raw food handling business,'' comments Tallian.
Jarrell Sills of Remtec prefers to integrate articulated pedestal robots for consumer product production and packaging. ''We use large four-axis articulated robots for moving heavy cases to and from pallets. Ergonomic issues as well as the benefits of high speeds and labor savings justify investing in robotics for the consumer sector. Four-axis robots are used for de-palletizing cases or cartons that need to be put onto high-speed cartoning equipment.''
FANUC'S Laxmi Musunur says, ''Four- or five-axis pedestal robots are ideal for primary and secondary food packaging. For packed foods, we recommend secondary food-grade robots, which are less expensive because they do not have to meet USDA requirements.''
Musunur adds, ''Four- and five- axis robots are the most popular for palletizing consumer products.'' Although some SCARA (selectively compliant articulated robot arm) robots are used for some assembly tasks, four-axis articulated robots for palletizing applications are generally considered to be the fastest and most cost-effective.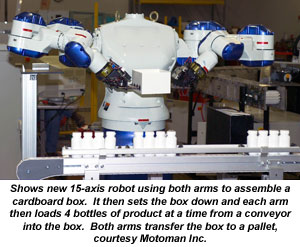 ''New 11- to 15-axis dual-arm robots with human-like flexibility are able to perform complex case and tray packing applications that include handling of not just the product, but also the packaging. For example, the robot can utilize two arms working together to assemble a cardboard box and then pack the product into it with both hands -- all in a very small footprint,'' adds Motoman's Ron Potter, Senior Director of Distribution and Emerging Robot Markets.
Consumer Robot Futures
The potential for robotics in the consumer product market is virtually unlimited. As new software and end-of-arm-tooling are developed, the intrinsic character of robotics can be leveraged to assemble, pack, and palletize a gamut of consumer products that is currently performed manually.
Jarrell Sills of Remtec sums up the possibilities for robotics in the consumer sector by saying, ''In the next few years, I see more palletizing, which is still a potential market because so much is currently done by hand. Robots will be doing more de-palletizing at distribution centers, to be re-palletized onto mixed or 'rainbow' pallets, destined to retail stores.''
Editor's Note:
This article has been reviewed by members of the RIA Editorial Advisory Group.
For more information, you may contact any of the experts listed in this article or visit Robotics Online, Tech Papers.
Richard Tallian, Segment Manager of Consumer Industry, ABB Inc., 248-391-9000, [email protected]
Laxmi P. Musunur, Material Removal, Palletizing, Packing and Assembly Manager, FANUC Robotics America, Inc., 248-377-7000, [email protected]
Tom Sipple, Handling Technology Leader, Motoman Inc.
937-847-6200, [email protected]
Ron Potter, Senior Director of Distribution and Emerging Robot Markets, Motoman Inc.
937-847-6200, [email protected]
Thomas Doyle, P.E., President, QComp Technologies, Inc., 920-757-0775, [email protected]
Jarrell D. Sills, Sales Application Engineer, Remtec Corp., 513-860-4299, [email protected]